Do you experience Hulu app can't fast forward and rewind on your Smart TV or streaming devices? Several factors can cause this issue such as a temporary software glitch, outdated Hulu app, you might be watching Hulu+ live TV, or cor111rupted cache. To fix can't fast forward or rewind issue with the Hulu app, you will need to perform several troubleshooting steps.
Hulu is a subscription-based streaming service available in the United States that offers a large library of TV episodes and movies. It features original programming from a variety of companies, including Disney, Fox, BBC America, Showtime, TLC, CBS, ABC News, Animal Planet, Complex, Freeform, and FX, to mention a few. It competes directly with Netflix and Amazon Prime Video, with over 45 million customers subscribing to the service.
Fix Hulu App Can't Fast Forward Or Rewind On your Smart TV, Roku Device, Or Other Streaming Device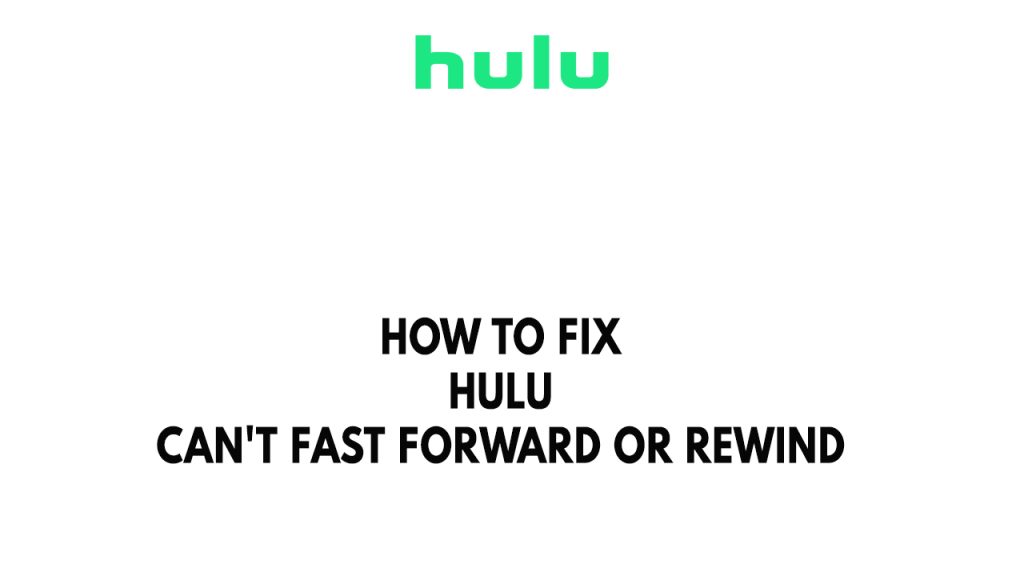 One of the issues that you might experience when you are using the Hulu app is you can't forward or rewind when watching. This can be a frustrating experience if you want to forward or rewind a particular scene on the show you are watching.
Here's how to fix Hulu can't fast forward or rewind issue on your Smart TV, Samsung TV, Fire TV, mobile device or other streaming devices that you use to watch Hulu.
Before starting the troubleshooting steps, make sure you are not watching live TV since this will not have rewind and fast forward and you cant skip commercials during the ad break. Some content will have ad breaks even if you have no ads subscription or have Hulu paid plan and will have no rewind and fast forward feature because of the streaming services rights restrictions.
Fix #1 Restart Hulu app
The first thing to do if you experience fast forward and rewind issue is to close the Hulu app then launch Hulu app again. The issue might be a temporary glitch and can be resolved by closing the app and reopening it.
Android phone and tablet
Go to Settings > Apps > All apps > Hulu > select Force Stop.
Android tv
Go to Settings > Applications > Hulu > select Force Stop.
Fire TV's and Fire TV Stick
From the Home Screen, select Settings > Applications > Manage Installed Applications > click on Hulu and select stop.
Fix #2 Power Cycle
The next thing to do when you still experience rewind and fast forward issue with Hulu app is to power cycle your devices. You might be experiencing a temporary software glitch that could be causing the issue when you watch
Power cycle TV
Step 1: Turn off the Smart TV using the remote control.
Step 2: Unplug the power cord of the streaming device from the wall socket.
Step 3: Wait for at least 5 minutes.
Step 4: Plug the power cord into a wall socket and then turn on the device.
Try to check if the rewind and fast forward issue still occurs when you watch the show.
Fix #3 Check internet connection
Your streaming device's Hulu app needs a fast and reliable internet connection to function properly. Hulu may not function properly on your device if your internet connection is slow.
Checking the network's internet connection speed that the device is connected to is what you should do.
Checking internet connection
Step 1: Open your browser on your streaming device.
Step 2: Type speedtest.net to have your internet speed check. Speedtest site is one of the most popular web tools to check your connection speed.
Step 3: Press the Go button. Pressing Go button will start the speed test.
Step 4: Wait for the results of the speed test to be completed. Find out how fast is your download and upload speed.
Hulu advises that your internet connection be capable of attaining at least the following sustained download speeds for a consistent, high-quality viewing experience:
3.0 Mbps for Hulu's Streaming Library
8.0 Mbps for live streams
16.0 Mbps for 4K content
You can also check if the issue is with your network devices and it might need a reboot.
Step 1: Unplug the power cords from the power socket on your Modem and Router.
Step 2: Reconnect your modem and router to the power supply after a minute and turn on the devices.
Step 3: Wait for the lights to come on again.
To have a stable signal. You can do these steps:
Step 1: While using Hulu, try to disconnect any other streaming device that are connected to the same WiFi network. This allows Hulu to utilize the maximum amount of bandwidth.
Step 2: Bring the streaming device closer to the modem. This will allow the devices to receive a significantly stronger reception.
Step 3: If you have a dual-band device, try connecting the streaming device to the 5GHz channel rather than the 2.4GHz band.
Fix #4 Update Hulu app
On your streaming device, make sure the Hulu app is up to date. This update will include various improvements and bug fixes that may resolve the fast forward or rewind issue you are encountering. Hulu can be updated through your device's app store.
Step 1: Access your TV's App Store.
Step 2: Type Hulu on the search bar field.
Step 3: Select Hulu.
Step 4: Tap the Update button.
Step 5: Wait for the app to finish updating.
Step 6: Relaunch Hulu.
After you install update, check if you are still getting the issue.
Fix #5 Clear cache Hulu app
Your streaming device's corrupted cache may be the cause of the can't fast forward and rewind issue on Hulu. You must clear the Hulu app's cache to resolve the problem. Your Hulu account needs to be re-logged into after completing this step.
Clearing cache
Step 1: Tap the settings icon on your streaming device.
Step 2: Select Applications.
Step 3: In Manage Installed Applications, select the app you are having trouble with.
Step 4: Select Clear Cache, and then Clear the Data.
Step 5: Open Hulu, then re-login account.
Try to check if the can't fast forward or rewind issue has been fixed.
Fix #6 Reinstall Hulu
Sometimes the problem can already be caused by a corrupted installation of the app. In order to fix Hulu fast forward or rewind issue, you will need to reinstall the application on your streaming device.
Reinstalling hulu
Step 1: Open the TV and click the Menu/Home button on the TV remote.
Step 2: Go to the Apps option.
Step 3: Click Hulu from the list.
Step 4: Delete Hulu.
Step 5: Go to the Application Store.
Step 6: Search for the app and click Install.
Fix #7 Update Roku firmware or Streaming device
If at this point you are still getting the issue then you can update your streaming device to the latest version as this will have performance improvements and bug fixes for your device that can fix the issue you are encountering with the Hulu app.
Updating on Roku platform
Press the HOME button on your remote then scroll up or down until you see SYSTEM.
Select System.
Go to System Update.
If there is an update, download and install it.
Updating on Smart TV's
Step 1: Press the Menu button on the remote.
Step 2: Locate the System tab and select check for updates.
Step 3: If any update is available then download it.