Are you experiencing the Roku green screen issue? There are various factors that can cause this problem experienced by many Roku users such as a software update issue, problem with the HDMI cables connected, Roku tv screen issue, just to name a few. To fix this Roku green issue you will need to perform several troubleshooting steps.
Roku is a brand of hardware to create digital media players. They provide accessibility to web services that stream media. In May 2008, the initial Roku model—which was created in cooperation with Netflix—was released. The idea of inexpensive, small-form-factor set-top boxes for streaming media consumption is credited to Roku devices. Roku has also licensed its platform as middleware for smart TVs.
Roku green screen problem? Here's how to fix it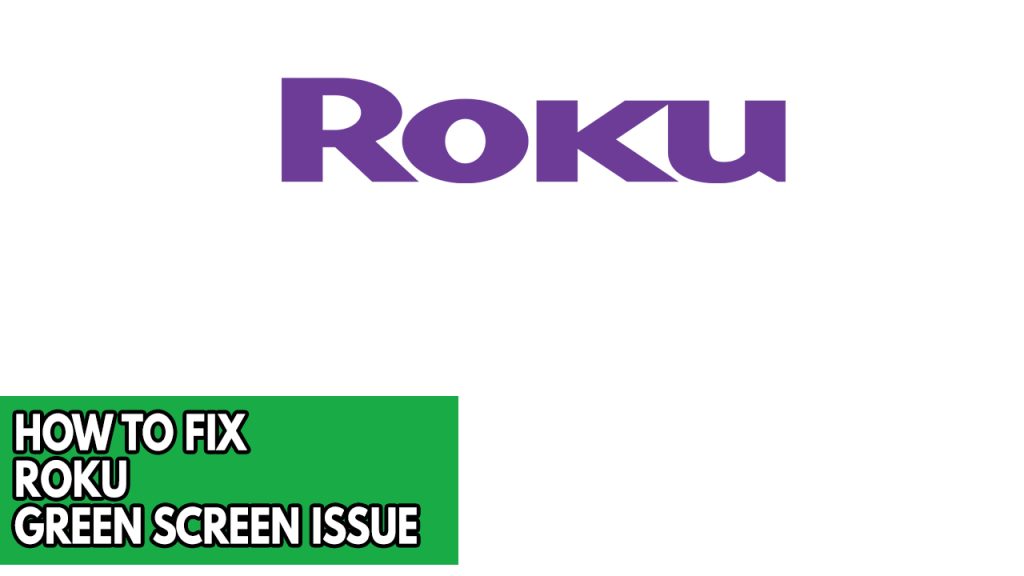 The green screen issue is one of the many problems you can run across when watching your favorite program on your Roku. This might be a bothersome problem, especially if all you want to do is unwind and watch the show.
Below are the troubleshooting method to resolve the green screen issue is as follows.
Fix #1 System restart Roku tv
Your router and streaming device's cached data may become corrupt, which is one of the causes of the Roku green screen problem. A power cycle will delete the devices' cached data and update their software.
Power cycling Roku
Step 1: Turn off your television using the power button on your Roku TV remote control, then wait 15-30 seconds before turning it back on.
Step 2: If the black screen remains, switch on your television and unplug it from the wall outlet. Wait 60 seconds before proceeding.
Step 3: Reconnect the power cord to the outlet and turn on your television for 60 seconds to see whether it works.
If you are using the Roku device Stick, unplug then re plug the stick. Follow the instructions below:
Plug and re plugging the Roku stick
Step 1: Remove the Roku stick from the TV if you're experiencing a green screen problem when using it.
Step 2: Remove the wall plugs from your TV and Roku stick at this time.
Step 3: Wait five to ten minutes.
Step 4: Now turn on both your television and your Roku stick after plugging both devices in.
Step 5: Ensure that the Roku stick is correctly plugged into the television. Green screen issues may be brought on by a faulty Roku stick connection.
Fix #2 Check HDMI cables connected, HDMI ports and Roku TV HDMI settings
Make sure the wires connecting your Roku TV are secure and tightly fastened. The HDMI cables, power cables, and even audio cables fall under this category. Check also the HDMI splitter if you have and unplug unnecessary HDMI cables.
It's extremely likely that the HDMI cable connecting your Roku TV to a multimedia device is defective if you experience the Roku green screen issue. Check to see if using a fresh HDMI cable fixes the green screen issue with your Roku TV.
Sometimes you will still have the green screen problem even after trying several different HDMI cables. Try connecting the HDMI cords to a different HDMI port on your TV if it has one, as the HDMI port you are now using could be the source of the issue.
Checking Roku TV HDMI Settings
Step 1: Access the Roku TV settings.
Step 2: Select the TV inputs option by scrolling down.
Step 3: After choosing HDMI, choose HDMI mode.
Step 4: Change it to HDMI 1.4 or 2.0 now and see whether the green issue is resolved.
Using HDMI 1.4 and 2.0 will allow you to determine which one is best for you to fix green screen problem.
Fix #3 Switch between live tv and Roku streaming app
If restarting the power didn't clear the green screen on your TCL Roku TV. To solve this problem, you can then try toggling between the local TV channels and the Roku streaming app. If you're experiencing a green screen while streaming on YouTube TV, Hulu, or any other Roku TV app, switch to a local or live TV for a short period of time, and then return to YouTube app or any other Roku TV app. This will allow you to stream online content on Roku without experiencing a green screen. If the problem persists, try the alternative solutions listed below.
Fix #4 Factory reset Roku TV
This issue can occasionally be brought on by faulty TV settings or a bug in the TV software. You will have to conduct a factory reset in order to fix this. Your TV can return to factory defaults using this.
Step 1: To access the Roku home screen, press the home button on the Roku remote.
Step 2: Scroll down and select Roku settings.
Step 3: Scroll down and select System.
Step 4: Click on advanced system settings now.
Step 5: Choose factory reset from the menu now.
Step 6: By entering the password, confirm the factory reset.
Fix #5 Contact Roku customer service
You should get in touch with Roku customer support if the problem still exists after you've tried all the troubleshooting techniques listed above because it may already be the result of a malfunctioning hardware component.
Frequently Asked Questions
How much does Roku cost per month?

There are no monthly fees associated with watching free channels or using a Roku device. Only subscription channels like Netflix, cable-replacement services like Sling TV, or movie and TV show rentals from services like Apple TV require payment.

How do I get to the Roku secret menu?

Press the Home button five times, then the directional pad on the remote's Up, Left, Up, Up, Up buttons to enter this secret menu.

Can you install 3rd party apps on Roku?

Yes, Roku allows the installation of APKs or Non-Certified Channels.

Can you get ABC NBC and CBS on Roku?

Major network apps on Roku include ABC, NBC and CBS. These let you watch some content for free, but for the latest episodes of your favorite shows, you'll need to sign in with a valid paid TV subscription like a cable TV login.

Is a Roku TV worth it?

Roku TVs are relatively affordable and have some pretty good screen sizes to offer. They feature a fantastic operating system loaded with all the apps you could possibly need, and the Roku TVs also deliver some outstanding performance.