Are you experiencing Samsung TV Plus not working on your Samsung Smart TV? Several factors can cause this issue such as an internet connection issue, outdated Samsung TV plus app, DNS settings, or software glitch. To fix Samsung TV Plus not working, you will need to perform several troubleshooting steps.
Samsung TV Plus is a free live streaming and on-demand streaming service that is accessible on select Samsung TVs, mobile devices, and refrigerators. You can watch as much entertainment as you want for free. Choose from over 200 live TV channels as well as thousands of movies and shows on demand, all for free.
Fix Samsung TV plus not working on Samsung Smart TV and Galaxy devices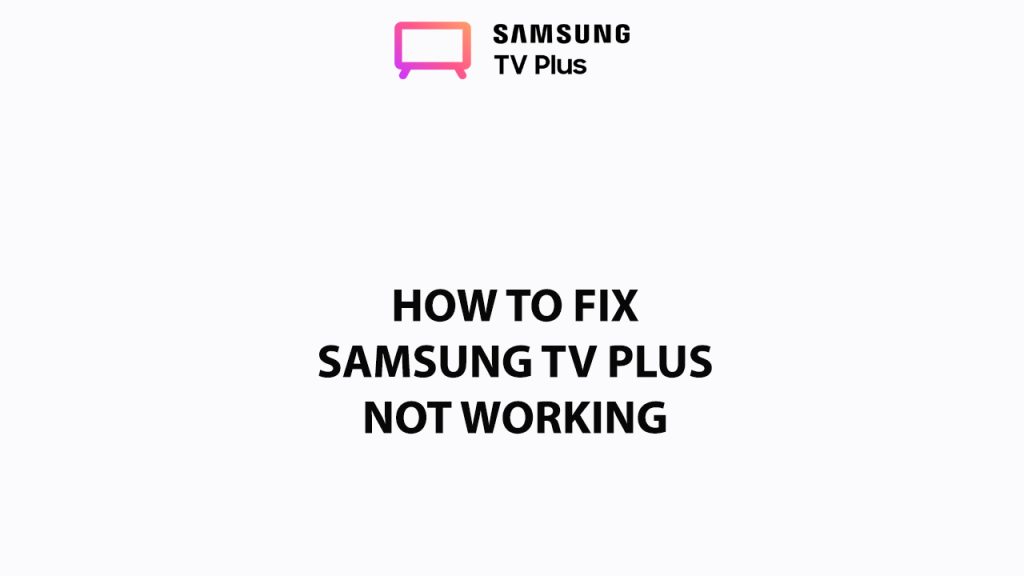 One of the issues that you might experience with Samsung TV plus is when it is not working with your Samsung Smart TV or Samsung Galaxy devices. You will know that you are having this particular problem when the service does not open or the movies or tv shows does not load.
Here's how to fix Samsung TV plus not working issue on your Samsung TV or Samsung Galaxy device.
Fix #1 Check internet connection
The first step should be to ensure that your computer has a stable internet connection, as a poor internet connection may cause Samsung TV Plus not working issue. Speedtest.net and other online speed tests allow you to see how your internet speed is currently performing and whether you have a stable connection.
Time Needed : 3 minutes
Checking internet speed
Open your browser on your computer, smartphone or smart TV.

Choose any internet browser you want.



Type speedtest.net to have your internet speed check.

Speedtest site is one of the most popular web tools to check your connection speed.


Press the Go button.

Pressing Go button will start the speed test


Wait for the results of the speedtest to be completed.

Find out how fast is your download and upload speed.

You will experience Samsung TV plus not working if your internet is slow and your connection drops out frequently.
The recommended speed for standard definition is a minimum download speed of 4 Mbps, For High Definition a minimum of 6 Mbps and for Full HD you need 25 MBPS to receive a better streaming quality.
Samsung TV Plus users should have a stable internet connection to use the service. If you do not have an internet or are experiencing slow, intermittent, or no internet, restart your network device or router. A reset can help if you are having issues with your internet. An issue with your router or internet service provider may momentarily stop you from using Samsung TV Plus. This problem can be resolved by simply rebooting your network devices.
Step 1: Turn off network devices.
Step 2: Remove the power cords from your Modem and Wi-Fi router.
Step 3: Reconnect your modem and Wi-Fi router to the power supply after a minute and turn on the devices.
Step 4: Wait for the lights to come on again.
To have a stable internet signal with your Wi-Fi connection, Samsung TV plus app users can do the following steps:
Step 1: While using Samsung TV Plus app, try to disconnect any other devices that are connected to the Wi-Fi router. This allows the gadget to utilize the maximum amount of internet bandwidth.
Step 2: Bring the device closer to the router. This will allow the gadget to receive a significantly stronger Wi-Fi signal.
Step 3: If you have a dual-band router, try connecting the streaming device to the 5GHz channel rather than the 2.4GHz band.
Step 4: If your device has an ethernet port, use a ethernet cable to connect.
Fix #2 Check Samsung TV for server issues
One of the reasons why Samsung TV Plus app is not working because there is a service outage. To view the current status of the Samsung Plus server use a third-party server checker like DownDetector.
Another method to check for server downtime is to monitor Samsung TV Plus social media profiles, such those on Twitter. You can also check the Samsung TV Plus website; if there are any server issue, they will usually let you know.
To use Samsung TV Plus , you will have to wait until the outage has been resolved.
Fix #3 Power Cycle Smart TV
It's possible that the app has crashed and that's why Samsung TV Plus isn't working. You will need to restart your Smart TV in order to resolve this issue, as doing so will refresh it and resolve the majority of issues brought on by software bugs, one of the most frequent causes of the Samsung Smart TV to not work with Samsung TV Plus app.
Power Cycling Samsung TV
Step 1: Remove the power cord cable from the back of the Samsung TV or from the outlet, whichever is more convenient to power cycle.
Step 2: Hold down the power button on the Samsung TV's side for 3-5 seconds.
Step 3: Connect the power cord to the Samsung TV and turn it on.
Step 4: Launch Samsung TV Plus.
Fix #4 Clear cache and data of Samsung TV Plus app
Corrupted app cache data is one of the main reasons why the Samsung TV Plus app doesn't work on your Samsung TV. Clearing the cache of the Samsung TV Plus app is necessary to get rid of this corrupted data.
Clearing cache of samsung TV plus app
Step 1: Press the Home button Home button on your Samsung remote control and then select Settings on the TV screen.
Step 2: Scroll down to the Cloud icon with a question mark in it. Support tab and select Device Care.
Step 3: A quick scan will be performed on your device. Select Manage Storage from the bottom of the screen.
Step 4: To view more details, clear the cache or clear data of an app, go to the app of your choice, press the down directional button on your remote control and press enter when View Details is highlighted.
Step 5: Highlight Clear Data or Clear Cache on your remote control and press enter. Then select Ok to clear Samsung TV Plus app.
Fix #5 Update Samsung TV Plus app
You need to make sure that you are not using an outdated Samsung TV Plus app. The latest app update will have several improvements as well as bug fixes that could possibly fix the problem you are experiencing on your Samsung TV Plus.
Update Samsung tv plus
Step 1: Press the Home button on your Samsung TV remote to open up the TV's Home screen menu.
Step 2: Navigate to APPS, and then select the Settings icon in the top right corner.
Step 3: Next, navigate to Auto Update.
Step 4: Make sure it is selected to automatically update all of your apps whenever updates are available.
Fix #6 Change DNS settings of your Samsung TV
Try to change your DNS settings if the app is not working on your Smart TV. Typically, the default DNS settings are those that are designed to give you the best connection to Samsung TV Plus which is given by your internet service provider . You can switch your DNS in to Google DNS to see if the problem has been resolved.
Changing DNS settings or IP settings
Step 1: Press Menu on your remote.
Step 2: Select Network.
Step 3: Select Network Status.
Step 4: Select IP Settings.
Step 5: Select DNS Setting.
Step 6: Select Enter Manually.
Step 7: Input Google DNS.
After you have change network status, try to check if the app is now working.
Fix #7 Reset Samsung Smart Hub
The intelligent menu system for Samsung Smart TVs is called Smart Hub. You have access to all of your TV's features through the Smart hub, and you can even download apps, games, and browse the internet. Your TV's capabilities are expanded with Smart Hub both online and off, and it is also made simpler to use. Your Smart Hub might be having issues, you can reset Smart Hub to fix the issue.
Steps for smart hub reset
Step 1: Power on your Smart TV and press Smart Hub button from your Remote Control.
Step 2: Once the Smart Hub screen displays, press the blue letter D button from your Remote Control so as to open Setting options in Smart Hub.
Step 3: Select the Reset option and press enter from remote control. A password screen will be displayed.
Step 4: Enter the default password as '0000' . Smart Hub automatically resets and displays 'Reset Complete' confirmation message.
Step 5: Press 'OK' to complete the reset process.
After you have reset Smart Hub, try to check if the app is now working.
Fix #8 Smart TV software update
The app might not be functioning if your Samsung TV is using an outdated software version. You must download the most recent software update for Samsung Smart TVs because it contains the most recent performance improvements and bug fixes that can solve this issue.
Updating Samsung Tv software
Turn on your Samsung TV
Connect your Samsung TV to the Internet.
Press the Menu or Home button on your Samsung remote.
Select Settings menu by using the Samsung TV remote.
Find Support in the left panel and select it by the TV's remote.
Select Software Update.
Select the option of Auto Update to set your Samsung Smart TV update automatically
You can also manually update your Samsung TV software by following these steps.
Search for your TV's model code on the Samsung Support website and then download the Upgrade file.
Unzip the contents and store it on your USB drive.
Insert the USB drive into the USB slot on your Samsung TV.
The firmware update will start automatically.
Fix #8 Factory Reset Samsung TV
A factory reset may be an option if you're still having trouble with the app to work on Samsung TV. This will reset the TV to its original factory settings and, in most cases, resolve any issues brought on by corrupted Samsung TV software.
Factory reset Samsung TV software
Open Settings, and then select General.
Select Reset
Enter your PIN (0000 is the default).
Select Reset.
To complete the reset, select OK.
Your TV will restart automatically.
Frequently Asked Questions
Is Samsung TV plus free?

Yes it is completely free.

Does Samsung TV plus have local channels?

Yes it has local channels.

Is there a guide for Samsung TV plus?

Yes you can access it by press CH on the Samsung Smart remogte or pressing guide on a standard remote.

Is Samsung TV plus any good?

Yes it is good.

Can you add channels to Samsung TV plus?

Yes you can add channels.