Is your Samsung Galaxy Z Flip 4 not charging properly? There are several factors that can cause this problem such as a software glitch, faulty cable, faulty Samsung charger or wireless charger, or even interference from third party apps. To fix this you will need to perform several troubleshooting steps.
The Samsung Galaxy Z Flip 4 is a premium Android smartphone model that uses a foldable form factor. When folded it is a compact device that can easily fit in your pocket but when unfolded it can be used just like a regular smartphone. Some of the best features of this model include its use of a 6.7 inch Foldable Dynamic AMOLED display, Snapdragon 8 Plus Gen 1 chip and a battery capacity of 3700 mAh.
Why is my Samsung Galaxy Z Flip 4 not charging when plugged in?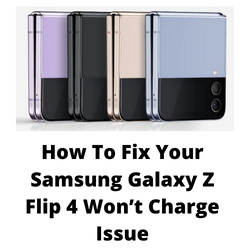 One of the issues that you might experience with your Samsung Galaxy Z Flip 4 is when it refuses to chare whether through wired charging or wireless charging. This can be an annoying experience especially if the battery is drained as you won't be able to use the phone.
Here's what you need to do to fix Samsung Galaxy Z Flip 4 charging issues.
Solution 1: Check the Samsung Galaxy Z Fold 4 charger
The first thing you will need to do when facing charging problems with your Galaxy Z Flip 4 is to check the charger that you are using. Examine the wall charger the charging cable, and the charging port of the phone for any signs of physical damage.
This smartphone supports a wired USB C charger of 25W. If you are using a wireless charger then make sure that it has an output of at least 15W.
Use the official Samsung charger
Since Samsung does not include a fast charger with the phone package you can purchase an original Samsung fast charger separately if you don't have one available.
If you can't get a Samsung charger then any charger will do as long as it has an output of at least 25 watts via USB PD 3.0, Quick Charge 2.0,or Adaptive Fast Charging.
When using a different charger on the Galaxy Z Flip 4 make sure to check if it charges other devices first.
Try using a different USB-C cable
One of the reasons your Galaxy Z Flip 4 will not charge is a damaged charging cable. This is usually the case if you are using wired charging and the cable gets constantly bent, pulled, or has debris stuck in its port.
To eliminate the possibility of this cable causing the problem you should try to use a new USB-C cable.
Clean the charger USB port
There's a possibility that the USB port of your charger will has dirt, lint, or debris stuck in it which can prevent the power to be transferred to your phone battery.
Unplug the charger from the power outlet.
Check its charging port.
If you can see dust or dirt try gently blowing into the charging port to remove dust and debris.
If the charging port remains clogged you can try using a different charger.
Do the same for the USB port of the phone.
Use a wireless charger
If you are unable to charge the Galaxy Z Flip 4 using a wired charger then try using wireless charging.
When using wireless charging make sure that the charger you will be using has an output of at least 15W.
To charge your smartphone wirelessly just lay it on its back on top of the wireless charging pad. You might have to move your device around on the wireless charging pad to establish the strongest connection.
If you experience issues charging the phone wirelessly then this might be caused by your phone case. It's best to remove this case or cover before you charge the phone.
In case the smartphone will charge using a wireless charger then this might be an indication that the charging port assembly of your device has a problem in which case you should have this checked at a service center.
Solution 2: Soft reset your Samsung Galaxy Flip 4
The next thing you should do when experiencing Galaxy Z Flip 4 battery charging issues is to perform a soft reset. This refreshes your phone's operating system and will fix any issues caused by a firmware crash or software glitch.
The soft reset will reboot the operating system of the phone and reload all of its services. Your personal data, files, and apps will remain unchanged.
Soft reset Samsung Galaxy Z Flip 4
Turn off the Galaxy z Flip 4 by pressing and hold the Bixby button and the volume down button on the side of the device.
Choose Power off.
Choose Power off again. The phone will turn off.
Wait for a few seconds.
Press and hold the Bixby button on the side of the device to turn on the Samsung device.
Try checking if your flip phone now charges.
Solution 3: Check if your Galaxy Z Flip 4 is too hot
Your Samsung Galaxy Z Flip 4 will pause the charging process if it detects that it's temperature is too high. This is a safety feature that Samsung has implemented which prevents the phone battery from getting damaged when the temperatures are too high since charging a hot battery will degrade it further.
It's easy to check if your phone is hotter than usually by simply touching it.
In case your phone seems to be overheating then this can be caused by various factors such as:
Too many apps open.
Gaming for an extended period of time.
Streaming large amount of content.
Leaving the phone under direct sunlight.
If the phone is too hot then you should cool it down first before charging it.
To avoid overheating issues on your Galaxy Z Flip 4 here's what you can do.
Avoid hot environments
Even if your Galaxy Z Flip 4 is designed to work in hot or cold environments you should still avoid using it in extreme temperatures. The ideal temperature range of your phone is between 0 degree Celsius to 35 degrees Celsius. If your phone gets hot make sure to cool it down.
Remove your Samsung Galaxy Z Flip 4 case
Although phone cases and covers are designed offer protection to your Galaxy Z Fold 4 it can also prevent the heat generated by the device to dissipate properly. Try removing the phone case when you feel that your device gets hot when you use it.
Close background apps
Third party apps running in the background on your Samsung Galaxy Z Flip 4 device can cause your phone to heat up to a considerable amount. If you must keep apps open try to limit it to up to three apps.
You can close background apps by following these steps.
Tap the Recent key to view all running apps.
Then tap the Close All button to close all these apps at once.
Reset all settings
Performing this step will reset your phone as well as app settings to their default conditions. This will allow you to check if a phone or app setting is causing the overheating issue.
Go to Settings
Tap on General management
Tap on Reset
Tap on Reset all settings
Tap on Reset settings button
Type in the passcode if prompted
Tap Reset to confirm the reset
Solution 4: Check for water or moisture on your Samsung Galaxy Z Flip 4
Your Galaxy Z Flip has a sensor that detects the presence of moisture or water in its charging port. If liquid is present in the port then you won't be able to charge the device. This is a safety feature that prevents a short circuit from happening which will most likely damage the phone circuitry.
If water or moisture is present then you should let it naturally evaporate. You will need to wait for a few hours before you can charge your phone. You can also blow gently into the port or expose it to cool dry air.
If you need to use your Galaxy Z Flip 4 and its battery is drained then in the meantime you can use a wireless charger to charge your phone as this is not affected by water or moisture.
If the moisture detected warning appears even if the port is dry then you should try to clear the cache of the USB settings app.
Open Settings.
Tap Apps.
Tap Filter icon.
Tap the switch to show system apps.
Tap Ok.
Scroll down to USBSettings.
Tap Storage.
Tap Clear data and Clear cache.
After performing these steps try checking if you can charge the phone.
Solution 4: Check for any available software update
One of the common causes of this charging issue is a software bug. Samsung will usually release monthly software updates for this device to further enhance its capabilities and fix software bugs.
Take note that you need an internet connection to get the software update. It's best to use a WiFi connection and not a mobile data connection as the former is more stable and faster.
Manual software update
Open Settings, and scroll all the way down.
Find and tap Software update.
Tap Download and install to check for a new update.
After installing the update try to check if this fix Samsung Galaxy Z Flip 4 charging issue still occurs.
Solution 5: Start the Samsung Galaxy Z Flip 4 in Safe Mode
There's a possibility that an app you downloaded is preventing the phone form being charged. In order to check if a downloaded app is the culprit you will need to start the phone in Safe Mode.
Safe Mode will only allow the default apps to run in your Galaxy Z Flip 4 making it easier to determine if a third-party app is the culprit.
Safe Mode
Press and hold the Power button and Volume down button (right edge) until the 'Power off' prompt appears on the screen then release.
Touch and hold Power off until the 'Safe mode' prompt appears then release.
To confirm, tap Safe mode.
Wait for up to 30 seconds for the process to complete. When your device reboots "Safe Mode" will appear on the lower left side of the home screen.
Try to charge your phone in this mode. In case you can charge your phone then you will need to find out the specific app that is causing this problem and uninstall it.
After uninstalling the app you can exit from safe mode.
Exit Safe Mode
Press and hold the Side key.
Tap Restart > Restart.
The device will restart in standard mode and you can resume normal use.
Solution 6: Perform a hardware test using the Samsung Members app
If a hardware component in your phone is is faulty then this can result to charging problems. In order to check if your phone hardware is functioning properly you can use the Samsung Members app.
To perform a hardware test
Open Samsung Members.
Tap on Get help.
Under Diagnostics tap on Start.
Choose all possible selections.
Tap Start to run the test.
If the test fails then you need to contact the nearest Samsung service center in your area.
Solution 7: Factory reset your Samsung Galaxy Z Flip 4
In case the charging issue is caused by a corrupted system software then a factory reset is highly recommended.
Before proceeding with this step you need to backup your phone files. Any photos, files, contact lists, or notes just to name a few that you have saved in your phone will be deleted.
Factory reset
Turn off your Samsung Galaxy device.
Simultaneously press and hold the Volume up and side buttons until the device vibrates and the Android Recovery screen appears then release all buttons. Allow up to 30 seconds for the recovery screen to appear.
From the Android Recovery screen, select Wipe data/factory reset. You can use the volume buttons to cycle through the available options and the side key to select.
Select Factory data reset. Allow several seconds for the factory data reset to complete.
Select Reboot system now. Allow several minutes for the reboot process to complete.
Set up your Android phone.
After reset has completed don't install any third party apps yet. Try checking first if you can charge your phone.
Solution 8: Contact the Samsung service center
If the above troubleshooting steps fails to fix the problem then you should contact the nearest Samsung service center in your area and seek assistance regarding this matter.
Frequently Asked Questions
Why is my Samsung Galaxy Z Flip 4 not charging?

Your phone might not charge because of an issue with the charging adapter or cable. It can also be due to a software bug in your phone or if the USB port is wet.

What to do when Galaxy Z Flip 4 battery drains quickly?

Try checking what app is using up most of your phone battery life then manage the said app by updating it or uninstalling it.
Open Settings.
Tap on Battery and device care.
Tap on Battery.
Tap on Battery usage chart.

How do I force stop an app in Z Flip 4?

You can perform this procedure by going to Settings > Apps > Select the App > Force Stop at the bottom > OK.

How do I clear app cache data in Z Flip 4?

Open your Settings and tap Apps.
From the list of Apps that appears, tap on the app that is causing the issue.
Tap Storage > Clear data or Clear cache.

What are the color options available for the Samsung Galaxy Z Flip 4?

There are four colors available. The choices are Bora purple, Graphite, Pink Gold, and Blue.