The #Samsung #Galaxy #S5 is a former flagship device released by the South Korean giant in 2014. Although it is already an old model there are still a lot of people using the phone. The primary reason behind this is that the phone still works quite well. Its hardware is still powerful enough to handle almost all of the apps available at the Google Play Store and its software is constantly being updated to ensure that the phone works smoothly. While this phone has proven itself as a reliable daily driver there are instances when issues can occur which we will be addressing today. In this latest installment of our troubleshooting series we will tackle the Galaxy S5 system software not authorized by AT&T issue & other related problems.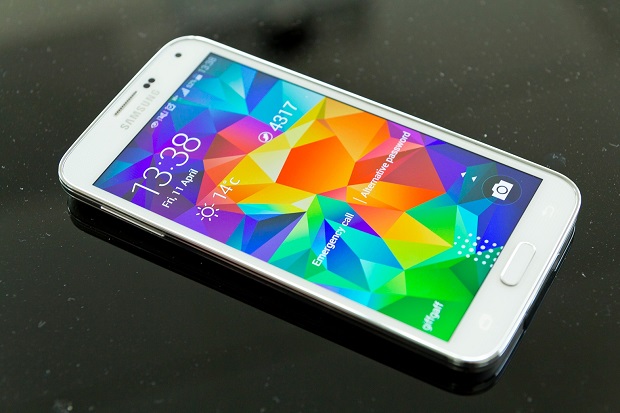 If you own a Samsung Galaxy S5  or any other Android device for that matter then feel free to contact us using this form. We will be more than happy to assist you with any concern that you may have with your device. This is a free service we are offering with no strings attached. We however ask that when you do contact us try to be as detailed as possible so that an accurate assessment can be made and the correct solution can be given.  
If you would like to browse the previous parts in this series then check out this link.  
You may also reach us at our Facebook and Google+ social media accounts.
S5 System Software Not Authorized By AT&T
Problem: Hi. I am using AT&T. I have got an issue that when I switch on my phone a message is appeared on the screen "the software is not authorized to AT&T". The mobile phone get switched off then. Please help me to fix this problem. I am really confused now.
Solution: It's either your phone is rooted or it is running on a custom software. Try restarting the phone and check if the issue still occurs. If it does then you will need to flash your phone with its updated stock AT&T firmware file. You can get the firmware file of your specific model from the Sammobile website. Instructions on how to flash your phone are also provided in that website.
S5 Software Update Notification Keeps On Appearing
Problem: I own a Samsung S5 and received a notification earlier this year to update software and so I did accepted the notification. However, after a while I received a notification for a software update once again and whenever I press install, the notification pops up again and now it never leaves my notification panel. I have the Android version 5.0 at present.
Solution: It's very likely that the problem is caused by a software glitch. Try restarting your phone then check if the issue still occurs. If it does then you should proceed with wiping the cache partition of your phone from the recovery mode. This will delete the temporary system data which could be causing the problem. If the issue still persist then you will have to do a factory reset, Just make sure to backup your phone data before doing the reset.
S5 Stuck In Samsung Screen After Software Update
Problem: I just downloaded an update for a Samsung s5 mini, download completed then it instructed me to reboot it. I did as it said, it went off and now it fails to start. It ends with "Samsung" flashing on the screen, it can't switch on or go further than that.
Solution: To fix this problem you should first try to remove the battery and microSD card ( if your phone has one installed). Press and hold the power button for at least a minute to discharge the phone circuit and clear out its RAM. Reinsert just the battery then turn on your phone. If it still gets stuck in the Samsung logo then you need to start the phone in recovery mode then wipe its cache partition. Restart the phone then check if the issue is resolved. If it isn't then you will need to perform a factory reset from the recovery mode. Take note that this procedure will delete your phone data.
S5 Stuck In Samsung Logo
Problem: My Galaxy s5 mini sticks on the Samsung Logo and a blue light stays on in the top left corner, I have tried all the tips (wipe cache partition, wipe data / factory reset) and it's still on the Logo. What to do?
Solution: Try removing the battery of your phone and the microSD card ( if you have one installed) then press and hold the power button for at least a minute. This will discharge the phone circuit and clear its RAM. reinsert just the battery then try to turn on your phone.
If the issue persists try restarting your phone while it is connected to its charger. If the phone starts normally then the problem could be caused by a faulty battery. Try replacing this battery with a new one.
If the above steps fail to fix the problem then you should consider manually flashing your phone with its updated stock firmware file.
S5 Recovery Is Not Seandroid Enforcing Error
Problem: Galaxy S5 SM G900FZHUIAND1 attempt to reflash  6.0.1 from 4.2.1 android firmware using Odin – obviously the wrong firmware version.  Couldn't find the correct version on the net – not at any site I could find.  One site assured that the version I loaded was suitable for all G900F versions. After attempt, phone now stuck on boot screen with  Text at top of boot screen is : Blue "Recovery Booting" Red  "Recovery is not Seandroid enforcing Yellow "Set Warranty bit : recovery" Phone is unresponsive and will not factory reset.  Battery removal and replacement makes no difference.
Solution: For this particular issue you will need to manually flash the updated stock firmware of your phone. Try downloading the correct firmware from the Sammobile website. You will also find the instructions on how to flash your phone from that website.
S5 Cannot Activate Device
Problem: I recently purchased a used galaxy s5 from my friend who had att i'm a tmobile customer . I put in my sim card but i cannot activate my device . Some functions work but not all .
Solution: What specific error message are you getting and what functions are you able to access? If you can't access the network services then the phone might still be locked to the AT&T network. You will need to have this unlocked so as to use the SIM of another network.
S5 Cannot Use Snapchat
Problem: Hello, I have a Samsung galaxy s5 and I've encountered problems with using snapchat on it. I can download the app from the play store and it opens to the point where it says login in. I put in my login information and then a box comes up that leads me to a website, the website informs me that I cannot use snapchat because there are some third party app/plugins on the phone that may use snapchat to hack the account. I want to know how can I identify the third party apps it's referring to and get rid of them to use snapchat, thanks.
Solution: You will have to do a trial and error method in identifying what app is causing this problem. Uninstall an app then check if the issue still occurs, if it does then uninstall another app. Continue with this step until the issue does not occur after uninstalling an app which is very likely going to be the source of the problem.
Another way of doing this is to backup your phone data then do a factory reset. After the reset install the Snapchat app first.
S5 Not Downloading Apps From the Google Play Store
Problem: I bought my unlocked Galaxy S5 in England. I now live in the US. When I try to download apps from the app store it tells me they are not available in my country. I changed my account to US with the app store, still won't download apps. My google location in turned on. How can I get this corrected so that I can get much needed apps.
Solution: Try clearing the cache and data of the Google Play Store as well as the Google Play Services. Restart your phone then check if the problem still occurs. If it does then backup your phone data then do a factory reset. Once the reset is complete check if the issue still occurs. If it does then try creating another Google account this time with the US as the country of origin.
Feel free to send us your questions, suggestions and problems you've encountered while using your Android phone. We support every Android device that is available in the market today. And don't worry, we won't charge you a single penny for your questions. Contact us using this form. We read every message we receive can't guarantee a quick response. If we were able to help you, please help us spread the word by sharing our posts with your friends.