Text messaging is one of the most basic services your phone can offer. A mid-range smartphone like the Samsung Galaxy A7 should be able to send and receive text messages without any issues but it seems like many are complaining about some problems while texting. Of course, not all texting problems are about failing to send or receive messages as there are other issues that also concerns the messaging app.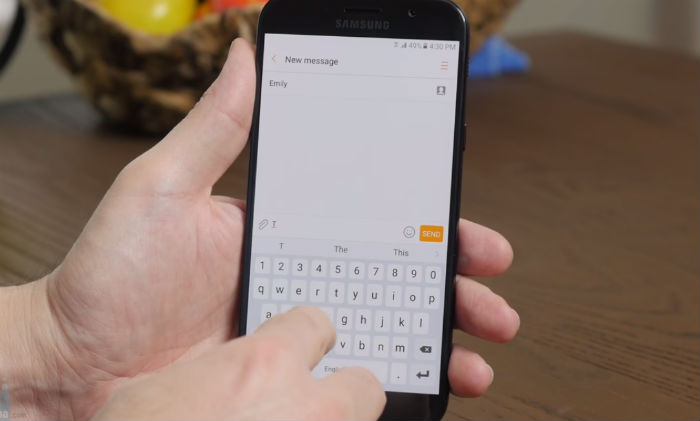 In this post, however, I will be tackling the basic texting problem. So, I will walk you through in troubleshooting your Galaxy A7 that can neither send nor receive text messages. We will take into consideration every possibility and try to rule them out one by one until we can pinpoint what the cause of the problem is and formulate a solution that might fix it for good. If you own a phone like this and currently having issues while texting, then continue reading below as this post may be able to help you.
But before we actually jump to our troubleshooting, if you have other issues with your device, then try to visit our Galaxy A7 troubleshooting page for we have already addressed the most commonly reported issues with this device. Try to find issues that are similar with yours and use the solutions and workarounds we suggested. If they don't work for you or if you need more help, then feel free to contact us by filling up our Android issues questionnaire. Just give us the information we need and we'll help you solve your problem.
How to troubleshoot Galaxy A7 that can't send text messages
To be able to send text messages, your phone should be properly provisioned by your carrier or service provider. It should also indicate that it's getting decent signal from the tower so that it can connect to the network and gets service. These are the most basic pre-requisites but there are also other things that have to be set up in your phone so that you can use it properly and the best example of this is the Message Center Number, which is very important in transmitting text messages via cellular network. Of course, your account should also have enough balance and not barred from using the service. If your phone just stopped from sending text messages without apparent reason, then you need to try to troubleshoot it to continue using the service. Here's what you need to do:
Step 1: Make a phone call to any number in your contacts list
You can tell immediately if your phone is receiving signal from the tower by simply looking at the signal indicator on the status bar. If it does and this problem happens, then we have to resort to knowing if it has something to do with your service. So, try to make a phone call to any number just to know if your phone is still capable of doing so because if not, then as early as now, you should call your service provider and get the problem fixed because obviously it's an issue with the network and only your carrier or provider can fix it.
However, if your phone can still make phone calls, then the problem might just be in the settings.
Step 2: Make sure it has the correct Message Center Number
The Message Center Number is actually just a series of number that looks like an actual phone number but is very important so that your phone can successfully send out messages. Contrary to what everyone things that a text message is directly sent to the phone of a person you intend to contact, it's actually sent to your provider's servers or message center. From there, it's sent to the phone number you indicated on the contacts field. Needless to say that without it, there's no way your text message can reach the people you intend to contact.
So, make sure your phone has the correct one or if it has a center number set. Here's how you check it…
From the Home screen, tap the Apps icon.

Find and tap Messages.

Tap the menu icon (3 dots on the upper right corner of the screen).

Touch Settings.

Now tap Text messages.

Touch Message center.  
You may then search online for the correct center number used by your provider but to be sure you have the correct one, call your carrier and ask for it.
Step 3: You need to reset your phone
You only have to do this if the first and second steps failed to fix the problem. It's necessary prior to bringing your phone back to the store and have the tech there take a look at it. A reset can possibly fix this problem especially if it started without apparent cause.
Back up data on the internal memory. If you have signed into a Google account on the device, you have activated Anti-theft and will need your Google credentials to finish the Master reset.

From the Home screen, tap the Apps tray.

Tap Settings > Cloud and accounts.

Tap Backup and restore.

If desired, tap Back up my data to move the slider to ON or OFF.

If desired, tap Restore to move the slider to ON or OFF.

Tap the back button to the Settings menu and tap General Management > Reset > Factory data reset.

Tap Reset.

If you have screen lock turned on, enter your credentials.

Tap Continue.

Tap Delete all.
I hope this troubleshooting guide helps but if you still have the same problem after this, then you need help from your service provider.
How to troubleshoot Galaxy A7 that can't receive text messages
Text messages when received are automatically downloaded to your phone regardless whether they're just SMS or MMS. Your phone should also be properly connected to your carrier's network to receive service and your account should be in good standing to enjoy this service. Basically, if your phone cannot receive text messages, we have to look into the possibility that maybe the issue is with your phone, then we'll take into consideration that maybe it's just an issue with your provider. Here's what you need to do about it:
Step 1: Check if there's still enough storage space in your phone
As I said just awhile ago, messages are automatically downloaded. Needless to say, they occupy space in your phone's internal storage and if there's not enough space in there, your phone won't be able to receive those messages as they couldn't be downloaded. So, if you're positive enough that you can send but not receive text messages, then check for available storage space in your phone:
From any Home screen, tap the Apps icon.

Tap Settings.

Tap Storage.

View the Available space value.
If the space is around 200MB or less, then our suspicion is correct. You to transfer some of your files to a computer or SD card to make some space. In this case, the moment you free up some space, you may start receiving text messages immediately. Please, also consider doing the following to free up some more space in your phone's storage…
Delete unnecessary text messages (SMS) and picture messages (MMS)

Transfer pictures and media to a computer to remove them from the phone memory

Clear the browser cache, cookies, or history

Clear Facebook app cache

Manage applications. See section below

Delete the call logs
Step 2: Make a phone call, send text to your own number
If you've verified that there's enough storage space in your phone's memory or if you've already freed up some for your messages, then it's time to make sure you phone is getting good service. The first thing you have to do is make a phone call to any number just to know if it's successful because if not, then the problem isn't with your phone but maybe with your account or the network.
Assuming you can make phone calls just fine, try sending a text message to your own number to know if it goes through and if you can actually receive it. If it goes through but not received, then it's time to reset your device as the problem might be rooted in the firmware itself.
Step 3: Backup your files and data, then reset your phone
Usually we would suggest you reset the messaging app by clearing its cache and data but this time especially when we know that you can actually send text messages. So, you'll have to go straight to resetting your phone but before that, make sure you make a backup of your important data as they will be deleted during the process. After the back up, disable the Factory Reset Protection so you won't be locked out of your device after the reset.
How to disable Galaxy A7 Factory Reset Protection
From the Home screen, tap the Apps tray.

Tap Settings > Cloud and accounts.

Tap Accounts.

Tap Google.

Tap on your Google ID email address if multiple accounts are setup. If you have multiple accounts setup, you will need to repeat these steps for each account.

Tap 3 dot icon.

Tap Remove account.

Tap REMOVE ACCOUNT.
How to Master Reset your Samsung Galaxy A7
Turn off the device.

Press and hold the Volume Up key and the Home key, then press and hold the Power key.

When the Android logo displays, release all keys ('Installing system update' will show for about 30 – 60 seconds, then 'No command' before showing the Android system recovery menu options).

Press the Volume down key several times to highlight "wipe data / factory reset.

Press Power button to select.

Press the Volume down key until 'Yes — delete all user data' is highlighted.

Press Power button to select and start the master reset.

When the master reset is complete, "Reboot system now" is highlighted.

Press the Power key to restart the device.
I hope that this troubleshooting guide can help you fix the problem with your phone.
Connect with us
We are always open to your problems, questions and suggestions, so feel free to contact us by filling up this form. This is a free service we offer and we won't charge you a penny for it. But please note that we receive hundreds of emails every day and it's impossible for us to respond to every single one of them. But rest assured we read every message we receive. For those whom we've helped, please spread the word by sharing our posts to your friends or by simply liking our Facebook and Google+ page or follow us on Twitter.