Are you experiencing the Sling TV crashing issue? There are several factors that can cause this problem such as a a slow internet connection, corrupted or outdated app, or even a service outage. To fix this you will need to perform several troubleshooting steps.
Sling TV is a streaming television service that allows you to watch several live TV shows using the internet instead of a cable subscription. You can use any internet connected device to watch your favorite channels such as the Disney Channel, ESPN, the History Channel, and NBC just to name a few. This service is currently available only in the United States and Puerto Rico and has nearly 2.5 million subscribers.
Why does my Sling TV app keep crashing?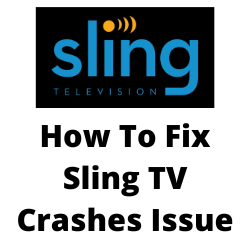 One of the issues that you might experience with the Sling TV app on your Apple TV, Roku TV, or Samsung Smart TV is when it crashes. The app crashes randomly or does not start at all. This can be a frustrating experience especially if you have an important live TV show to watch.
Here's what you can do to fix the Sling app crashing problem.
Solution 1: Check the internet connection
One of the most common reasons why the Sling TV app crashes is if there is a slow or no internet connection. You need to make sure that the Sling Tv app has access to a fast internet speed so that it can stream videos.
To check the current internet speed you need to run an online speed test.
Checking your internet speed
Open a browser on the device the Sling TV app is installed ( this could be your Roku TV or Smart TV ).
Go to speedtest.net. This is an online speed test tool that is free to use.
Click on Go. This will start the speed test.
In order to prevent any Sling TV app issues you should have a good download and upload speed result. The results should match your subscription plan from your internet service provider.
Streaming Sling TV content requires the following speeds:
3 Mb/s or higher if you are using a portable streaming device such as tablets or smartphones.
5 Mb/s or higher for a single stream user.
25 Mb/s or higher for households with multiple multiple streaming device or multiple users.
If you have a slow internet then you can check if the network problem is caused by your equipment.
You should try to power cycle your devices. Power cycling refreshes software of your devices and re-establishes the connections.
Turn off your stream device ( example: Roku device).
Unplug the power cord of your Modem and Router from the power source.
Wait for a minute then plug your modem and router back into the power source.
Wait until the lights turn back on.
Turn on the stream device.
Reconnect your stream device to the internet.
Here's what you can do to get a stable connection.
Try to disconnect other devices connected to the Wi-Fi router while you use the Sling app. This will allow the Sling app to use the maximum internet bandwidth.
Move the stream device closer to the router . This will allow the device to get a much stronger Wi-Fi signal.
If you have a dual band router try to connect to the 5Ghz band instead of the 2.4.
Solution 2: Force stop the Sling app
Sometimes the problem can be caused by a temporary glitch in the Sling app. Restarting the app will usually fix any minor glitches that could be causing this problem.
Fully close Sling app then relaunch it.
Amazon Fire
Go to settings> applications> manage installed application> select sling> now force stop sling. Now go home and launch sling tv on your firestick.
Smartphone
Fully close the sling tv app and restart your device. After restarting your smartphone open the sling tv app on your device.
Roku device
Press home on your Roku device remote to close the Sling tv app. Now relaunch the Sling tv app.
Samsung tv
Press and hold the back button on your Samsung remote until you're on the home screen. Relaunch the Sling TV app again.
Solution 3: Check the Sling TV server
Whenever a service interruption due to server issues occurs you won't be able to use your Sling app properly. You can check if the Sling app server is down by using the DownDetector website. In case an outage is reported then you will have to wait for this to be fixed before you can use the Sling app.
Solution 4: Clear Sling TV cache files
Another reason why the Sling TV is crashing is because of a corrupted cached data stored by app. Most apps will store the most commonly used data to the cache memory since this will help improve the overall user experience. Sometimes though, this cache can become corrupted which can lead to issues.
In order to fix this you will need to clear cache files of Sling TV.
Clearing cache of Sling Tv on your android smartphone
Open Settings.
Tap Apps. Select All apps.
Select Sling TV from the list of available apps.
From the App info screen, open Storage.
Tap Clear cache.
After clearing the app's cache try to check if the Sling TV still crashes.
Solution 6: Update Sling TV
You need to make sure to use the latest version of Sling TV since this will come with several bug fixes and have new features. Updating the app to the latest version will most likely fix the download playlist error you are experiencing.
Update Sling TV on Android
Access Play Store app .
At the top right, tap the profile icon.
Tap Manage apps & device. Apps with an update available are labeled "Update available."
Tap Update.
Solution 7: Reinstall Sling TV
If installing the latest version of the Sling TV app does not fix the problem then the next step is to uninstall the app and reinstall it again .
Reinstalling Sling TV on Android
Press and hold the home button.
Choose Settings menu.
Select the Applications option.
Select Manage Installed Applications.
Scroll down and highlight Sling TV app.
Select Uninstall and confirm to make a change.
Go to the search bar and download Sling TV.
Log in to your Sling TV account then check if the problem still occurs
Solution 8: Perform a system update
If the device that's running the Sling TV app has an outdated software then this can also cause the crashing issue to occur. You need to make sure that your Firestick, Android smartphone, or Roku devices has the latest system updated installed.
Solution 9: Reset device to factory defaults
If the Sling TV app still keeps on crashing or having a black screen then you should try to reset the device it is running on to factory defaults.
Solution 10: Contact Sling
If you have already performed all of the troubleshooting steps listed above and the issue still persists then you should try to contact Sling regarding this matter.
Frequently Asked Questions
What to Do When Sling App is Not Working on Firestick?

Clearing the cache and data of the app will usually fix this problem.
Go to the menu and open setting on your firestick.
Go to apps.
Choose to manage the installed application.
Select sling tv.
Force stop the app then clear cache and clear data.
Launch Sling TV again to see if it is working or not.

Why does my Sling keep freezing?

If the show you are watching keeps on freezing then this can be due to internet connectivity issues or you might have an older software version of the app.

Do I get my money back if I cancel Sling TV?

Sling does not give refunds for partial months of service.

How do I activate Sling TV on Roku?

You can activate Sling TV on Roku by opening the Sling TV app, then sign in to your Sling TV account.

Can I access my Sling account outside of the United States?

You will not be able to use Sling outside of the United States. If you really must access Sling then you should consider using a VPN.