Are you experiencing the Hulu green screen problem? Several factors can cause this issue on your LG Smart TV, Samsung TV, or Sony TV. Software update issues can cause this, problems with picture settings, and energy savings settings, to name a few. You will need to perform several troubleshooting steps to fix this Hulu green screen problem.
Hulu is a well-known online streaming platform that provides a vast library of movies and TV series from numerous networks, including ABC, NBC, and FX Networks. Hulu Original programming is its own line of content. The Hulu app must be downloaded on your Android, Apple, or Smart TV in order to use this service. Although the app itself is free to download, a plan must be purchased in order to access the service.
Hulu green screen problem or green flickering screen? Here's how to fix the issue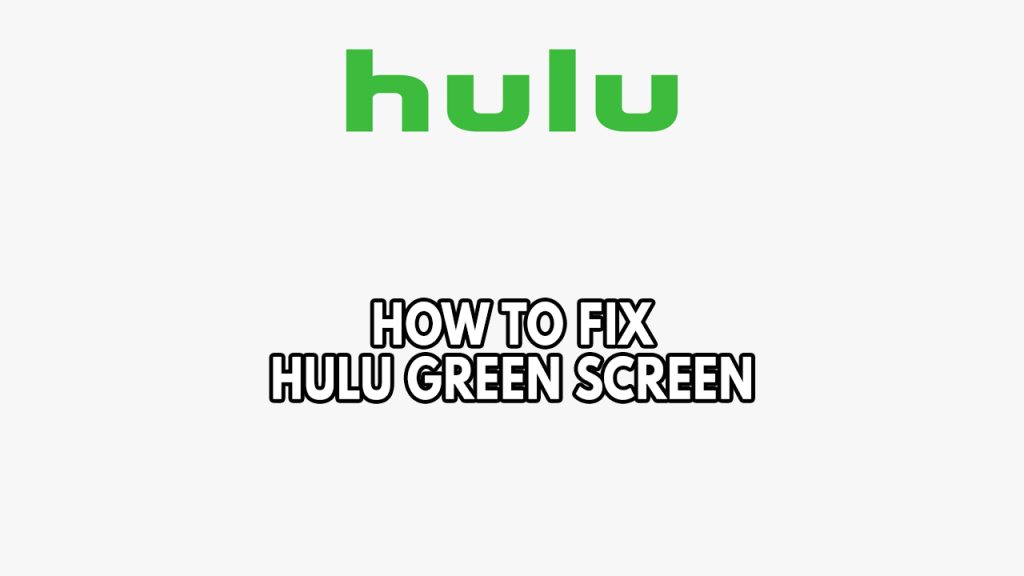 The green screen or green flickering screen problem is one of the many problems you can run across when you stream Hulu. This might be a bothersome problem, especially if all you want to do is unwind and watch your favorite show on Hulu.
Fix #1 Power Cycle Smart TV
One common factor that can cause the Hulu app have green screen issue is a temporary software glitch. This can be due to the TV's internal memory being overloaded or the TV's software firmware has crashed.
In order to fix this you just need to power cycle your Smart TV.
Power cycling smart tv
Step 1: Turn off your Smart TV using the power button on your TV remote control, then wait 15-30 seconds before turning it back on.
Step 2: If the green screen remains, switch on your Smart TV and unplug it from the wall outlet. Wait 60 seconds before proceeding.
Step 3: Reconnect the power cord to the outlet and turn on your Smart TV for 60 seconds to see whether it works.
If you are using the Roku device, Roku Stick, or other streaming device unplug then re plug the device. Follow the instructions below:
Plug and re plugging device
Step 1: Remove the streaming device from the Smart TV if you're experiencing a green screen problem when using it.
Step 2: Remove the wall plug from your Smart TV and multiple devices connected on your Smart TV.
Step 3: Wait five to ten minutes.
Step 4: Now turn on both your Smart TV and the devices connected.
Step 5: Ensure that the device is correctly plugged into the television. Green screen issues may be brought on by a faulty connection.
Fix #2 Try closing other apps
If you have too many apps running on your Smart TV then there's a chance that you will get a green screen problem. This is because of the limited amount of RAM available in the device. Try closing all running apps then check if the green screen problem still occurs. Also, try to close the streaming service Hulu app and then reopen it.
Fix #3 Switch between live TV and Hulu app
You can try switching between the local live TV channels and streaming the Hulu app. If you're experiencing a green screen while streaming on YouTube TV, Hulu, or any other streaming service app, switch to a local or live channel for a short period, and then return to the Hulu app and try to rewind and do fast-forwarding if these fixes the green screen problem.
Fix #4 Update Hulu app to the latest version
The Hulu app on your TV has to be updated so that any issues can be resolved. This update will include a number of improvements and bug fixes such as green screen problem.
Updating Hulu app
Step 1: Access your Smart TV's App Store or streaming device's app store.
Step 2: Type Hulu on the search bar field.
Step 3: Select the app.
Step 4: Tap the Update button.
Step 5: Wait for the app to finish updating.
Step 6: Relaunch Hulu.
Fix #5 Clear Hulu app cache and date
A corrupted app cache data is one of the main reasons why the Hulu app is getting a green screen on your TV. You must clear the Hulu app's cache in order to get rid of this corrupted data. Keep in mind that before moving forward, you should be familiar with your Hulu account name and password since you will need to enter them after completing this troubleshooting step.
clearing cache Hulu App
Step 1: On your TV go to the Settings section.
Step 2: Go to Apps and select Hulu.
Step 3: Go to storage and click the Clear cache option.
Step 4: Go back to Home, select the Hulu app, and check if it is working.
Fix #6 Disable energy saving mode
You will sometimes have green screen problem when you activate the energy saver on your TV. You can try to disable the feature to check if this is the reason why your Hulu is getting the green screen problem.
Turning off power saving mode or energy saving mode
Step 1: On your TV remote, press the Menu button,
Step 2: Choose Settings from the list of options.
Step 3: Select Energy Saving Mode from the drop-down menu and turn it OFF.
Fix #7 Turn off picture mode
The OLED screen on many TV models turns to green screen when you turn the picture mode on. To solve the problem, disable the calibration of the picture panel of the TV screen in the picture settings.
Turning off picture reset mode
Step 1: Go to the Settings menu on your TV.
Step 2: Depending on the model of your TV, choose select retail mode settings, Device Preferences, or Picture reset mode.
Step 3: Disable the option of picture reset mode and check to see if the turning green screen problem is fixed.
Fix #8 Reinstall Hulu
There's a possibility that the problem is already caused by a corrupted Hulu on your TV. In order to fix this you need to uninstall Hulu and install a fresh version.
Uninstall then reinstall hulu
Step 1: Open the TV and click the Menu/Home button on the remote.
Step 2: Go to the Apps option.
Step 3: Click Hulu from the list.
Step 4: Delete the Hulu.
Step 5: Go to the Tv App Store.
Step 6: Search for Hulu and click Install.
Frequently Asked Questions
Why does my screen turn green when watching Hulu?

Several factors can cause this issue on your LG Smart TV, Samsung TV, or Sony TV. Software update issues can cause this, problems with picture settings, and energy savings settings, to name a few.

Is Hulu free with Amazon Prime?

No, Hulu does not come with Amazon Prime. To access the on-demand selection of films and television series, you must purchase Hulu individually. Despite the fact that Amazon Prime is a top-notch service, it does not provide packages with Netflix, HBO Max, Hulu, or any other streaming platform.

What does the 5.99 Hulu plan include?

The $5.99 Hulu starting package includes limited commercials and full, on-demand access to the complete Hulu library. You'll also get the option to stream content simultaneously on two devices. Film and television classics

How long does it take for Hulu to get new episodes?

New episodes are often uploaded on Hulu 24 hours after they appear on television.

Does Hulu have a free trial?

New Hulu members can test the Hulu plan of their choosing for free after joining up. For 30 days, both the Hulu (ad-supported) and Hulu (No Ads) plans provide you unrestricted access to our streaming collection. After the free trial period, you will be billed on a monthly basis.