This post shows how to reset advertising ID on the Galaxy S21. Read on if you need help configuring the Galaxy S21 settings to opt out of receiving customized ads and clear out all collected data that are linked to your previous advertising ID and thereby stops the device from prompting relevant ads.
Reset Advertising Ads
Every device has a unique advertising ID that's provided by Google Play services. This ID offers developers with a simple standard system for them to monetize their apps. In Samsung mobile devices, the unique advertising ID serves as the basis for the Ads service to determine which type of ads is pushed. This is mainly the reason why most if not all the apps catered to your device meet your personal preferences and interests.
The advertising ID in Samsung smartphones are non-persistent and resettable. And should you wish to stop seeing these ads, there is also an option for you to opt out.
Tackled in this quick walkthrough is the process of resetting the advertising ID and opting out of personalized ads on the Galaxy S21 smartphone. Here's how it's done.
Easy Steps to Reset Advertising Ads on the Galaxy S21
The following method is also applicable when resetting advertising ads and opting out of personalized ads on other Samsung Galaxy smartphones that have the same OS or One UI version with that of the Galaxy S21.
1. To get started, access the Apps viewer by swiping up from the bottom of the Home screen. From the Apps viewer, locate and then tap the Settings icon.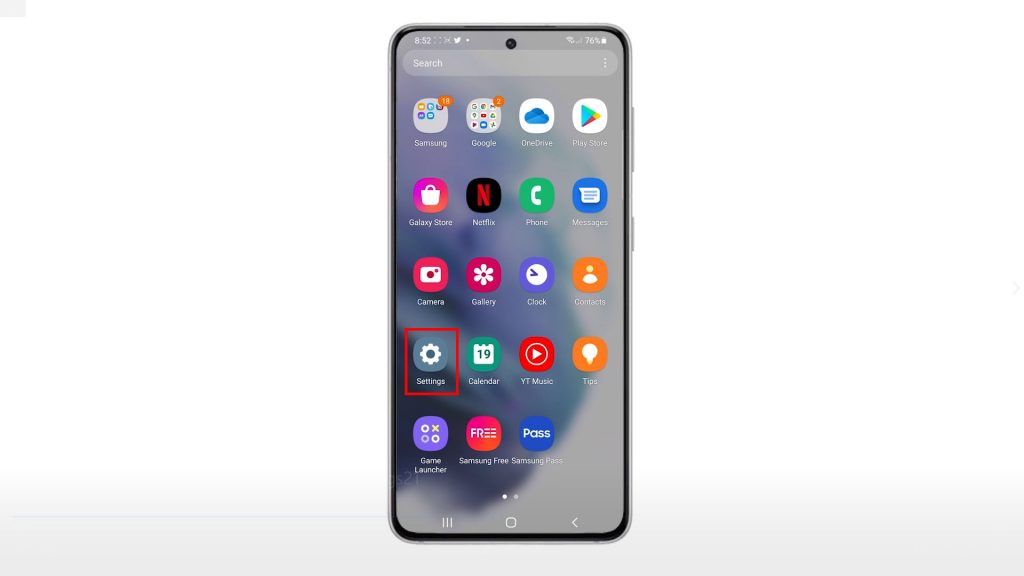 Doing so will launch the main settings menu, where basic and advanced features and settings are listed.
2. Scroll down to view more items on the lower section. Then, tap Privacy.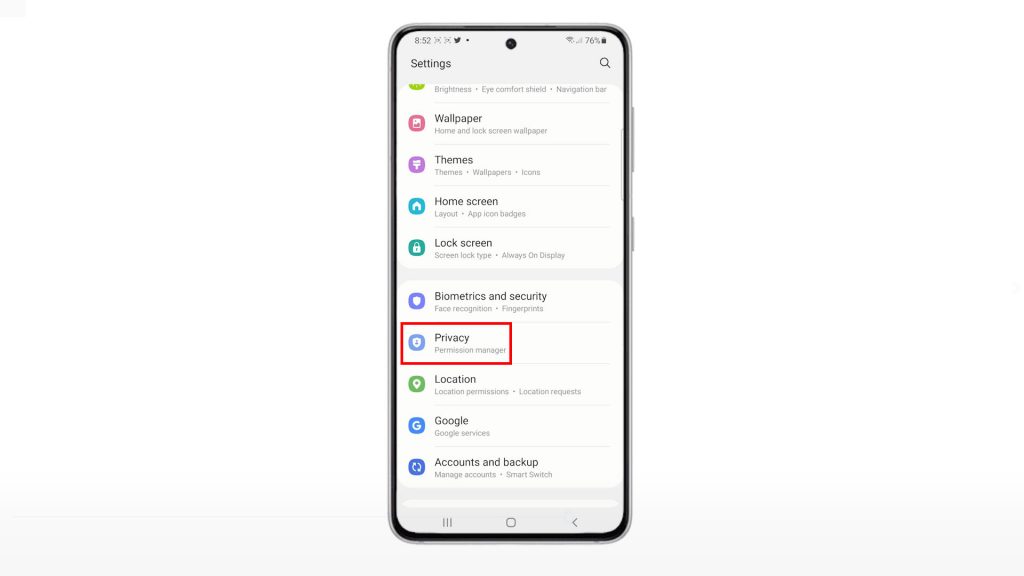 The Permission manager will load up next. Here, you will see the controls to enable and disable relevant features including permission to send diagnostic data, receiving marketing information and the like.
3. Scroll down to the bottom part of the list and then tap Ads.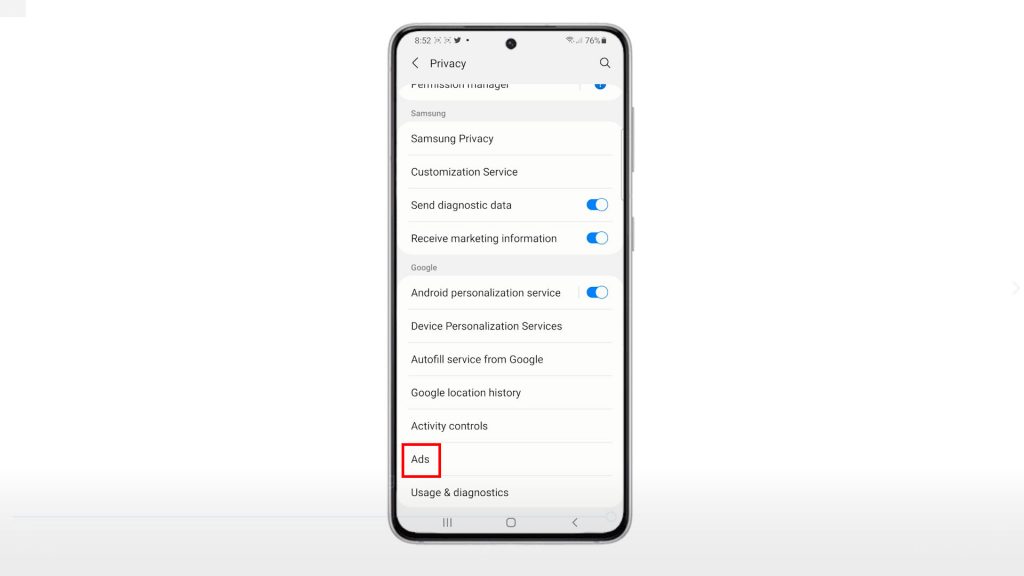 On the next screen, you will see another set of features relevant to ads permission.
4. To reset the existing advertising ID on your phone, tap Reset advertising ID.
5. If prompted, read and review the pop-up message then, tap OK to confirm.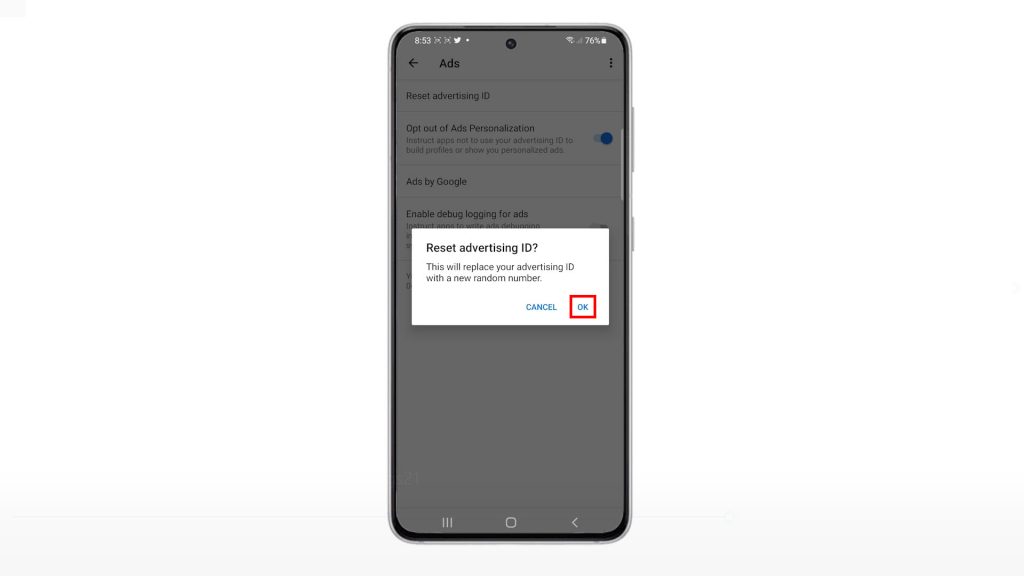 The existing advertising ID on your phone will then be erased and be replaced with a new random number.
6. To stop personalized ads from showing up on your phone, tap to enable the switch next to opt out of ads personalization.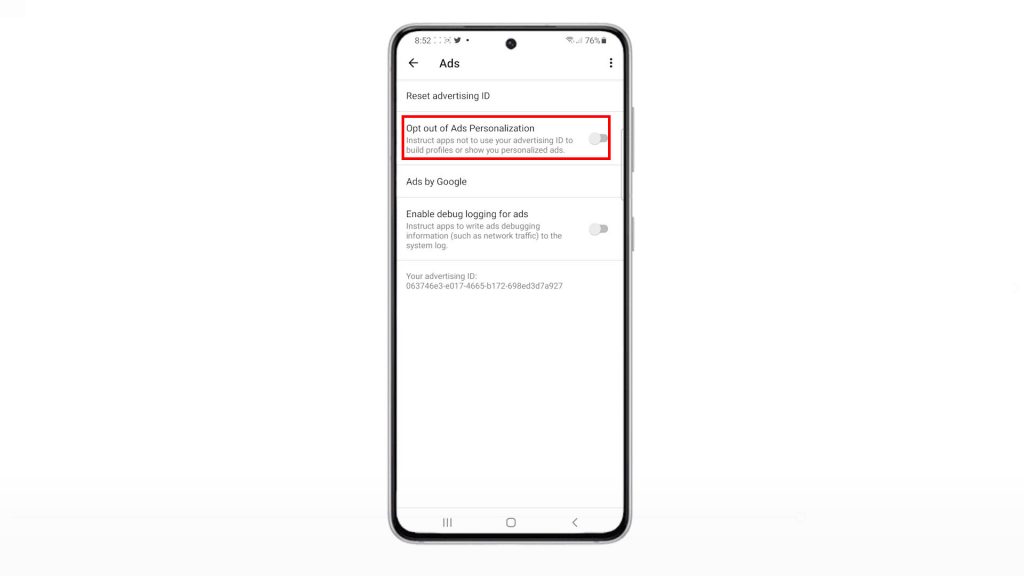 7. If prompted, read the confirmation message and then tap OK to proceed.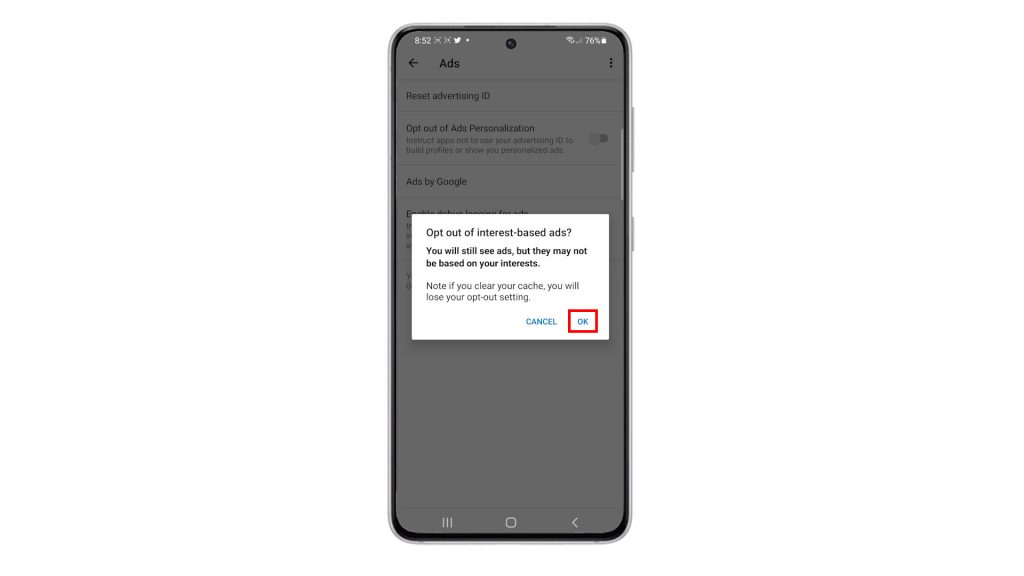 Doing so will prompt apps not to use your advertising ID to create profiles or show personalized ads on the phone.
What Happens After Resetting Advertising ID?
While it is not mandatory to reset the advertising ID on your device, you can do so if you want to generate a new Advertising ID to get a fresh start with the interest-based ads that you're getting.
Enabling the opt out of personalized ads switch on the other hand will make the Advertising service to ignore your advertising ID. That said, random ads are displayed on your phone's screen.
Please note that the current opt-out settings will become void the moment you clear cache. That said, you may have to consider reconfiguring the ads settings on your phone again.
And that's all about resetting the advertising ID and opting out of ads on the Galaxy S21 smartphone.
More Video Tutorials
To view more comprehensive tutorials and troubleshooting clips on different mobile phones and tablets, feel free to visit The Droid Guy channel on YouTube anytime.
You might also want to read: