If you are looking for a Galaxy S21 gimbal stabilizer, scroll down and read further.
---
At A Glance:

5 Best Gimbal Stabilizer For Galaxy S21 in 2022
---
* If you buy through links on our site, we may earn an affiliate commission. For more details, please visit our Privacy policy page.
A gimbal is equipped with sensors and motors that enable the digital camera to rotate evenly through an axis. The most common type of gimbals being used nowadays are the 3-axis gimbal stabilizers. These gimbals balance the camera while being tilted or rolled. These also help you record videos steadily even if you are moving or in motion.
In this article, we will review some of the best gimbal stabilizers for Galaxy S21. If you own this type of smartphone or other Galaxy S series, and often use the mobile phone for filming or taking photos, this post should help you choose the best stabilizer that fits your need.
Things To Consider When Buying Gimbal Stabilizer
Aside from keeping your smartphone steady, gimbals also have built-in features and advanced algorithms that can transform your shaky videos into a hypnotically smooth footage.
Here are the things you must know before you buy a gimbal for your Samsung Galaxy S21.
Compatibility
Before you purchase a gimbal for your smartphone or galaxy S21, the first thing you need to check is the compatibility of the gimbal with your phone. Most gimbals are designed to work with specific phone brands and models. So, before adding it to your list of options, better check if the particular gimbal works with your phone.
Application Software
Just like smartphones, most gimbals have installed applicable software which is designed to enhance not only the tool features, but also your phone camera app. This is the main reason why it is essential to verify the compatibility of your smartphone with the gimbal stabilizer and vice versa.
Heaviness
Typical gimbal stabilizers usually weigh at least a pound. When choosing a gimbal for your Samsung Galaxy S21, it is ideal to go for the one with light weight. The lighter the gimbal stabilizer, the better the video or photo output you can get. But just a heads up, it does not always follow that lighter gimbals guarantee professional footage or finest images. You still need to realize features which are exactly what you want.
Batteries
Another thing you need to consider when buying a gimbal stabilizer for your Samsung Galaxy S21 is its batteries. A high-end filming tool won't be that ideal if the batteries drained quickly.
Gimbals that are battery-powered usually use standard alkaline batteries that need to be replaced regularly. While some use rechargeable lithium-ion batteries which tend to have shorter battery-life than the standard alkaline batteries.
Axis Stabilization
The most crucial feature a gimbal stabilizer should possess is its ability to keep your smartphone stable even during delicate movement or excessive hand movements, giving you a non-shaky footage output. Best gimbals are categorized in two types, the two-axis stabilizers and three-axis stabilizers.
The two-axis gimbals stabilize the tilt and roll. Meanwhile, three-axis gimbals are designed to stabilize your Pan.
If you are looking for a budget-friendly gimbal, two-axis stabilizers are your better option. But if you wish to have finer footage, three-axis stabilizers are way better than other gimbals.
Best Gimbal Stabilizers For Samsung Galaxy S21
To shoot incredibly smooth shots using your Samsung Galaxy S21 while cycling outdoors or doing any outdoor activities, you can select any of the best gimbals listed below. Tilt axis, object tracking, instant scene transition, gesture control, and low angle shooting capability are some of the common features you should look for when buying a gimbal for your mobile device.
We have reviewed each gimbal so you can carefully evaluate them according to your needs. These best gimbals are not only designed for Samsung Galaxy S21, but also for Galaxy S21 ultra, other Galaxy S series, and android devices.
DJI OM 5 is a palm-sized and a lightweight stabilizer. It is a versatile filming tool that will surely enhance your Samsung Galaxy S21 camera app performance. With DJI OM 5, have the advantage of enjoying a support-smooth video, automatic tracking, and other exciting features.
DJI OM 5 also comes with a built-in extension rod for a low angle shoot. If you are into vlogging or live-streaming, you should consider this portable gimbal.
Another exciting feature DJI OM 5 offers is the ShotGuides. This feature automatically recognizes the environment and proposes a suitable shot sequence. If you have no idea how to do it or how it is done, a tutorial guide is also provided.
DJI OM 5 is also designed with a next-generation algorithm to ensure greater stability and tolerance even while cycling outdoors or moving quickly. This makes shooting video extra special. This gimbal can deliver smoother camera movements so you can focus on your setting.
With its 3-axis high performance motor, there is a guarantee that your Samsung Galaxy S21 will stay stable and your video outputs are as smooth as expected. This gimbal has a magnetic phone clamp that can secure your phone without calibrating or balancing. Its flexible design allows you to easily mount the device even without removing the phone case.
For more information about the product and its pricing, visit Amazon.
---
Zhiyun Smooth 4 is a 3-axis handheld gimbal that comes with creative and conducive features allowing you to make the most out of your Samsung Galaxy S21 camera app.
Zhiyun Smooth 4 comes with smooth instant controls. These minimize the need to repeatedly touch the screen. The hot key buttons like POV Orbital Shot and Vertigo Shot can be accessed directly from the tool. Its zoom capability is also superb. Zooming the footage in and out can be easier using this filming device.
Additionally, Zhiyun Smooth 4 comes with the PhoneGo mode for smooth instant scene transition.
This equipment has a ZY Cami app that offers different filming techniques. Some of the shooting modes Zhiyun has are the Gimbal mode, Tripod Mode, Selfie Mode, face&object tracking, and gesture control.
Motion lapse, moving time-lapse recording, and time lapse recording are also supported by this gimbal. Zhiyun also has an object tracking feature to track targeted objects and human faces. And you can put Zhiyun 4 in a quick standby mode by either folding or expanding its horizontal arm.
For the battery life, Zhiyun can last for up to 12 hours, and is rechargeable using a portable power bank. If your Samsung Galaxy S21 is in low-battery mode, you can still use it for filming while charging because the tilt axis has a USB port for charging.
What you'll get in the box when you buy this gimbal are the TRM03 tripod, a carrying case, manual guide, and a type-C USB cable. A phone charger is not included though.
To check the product price, visit Amazon.
---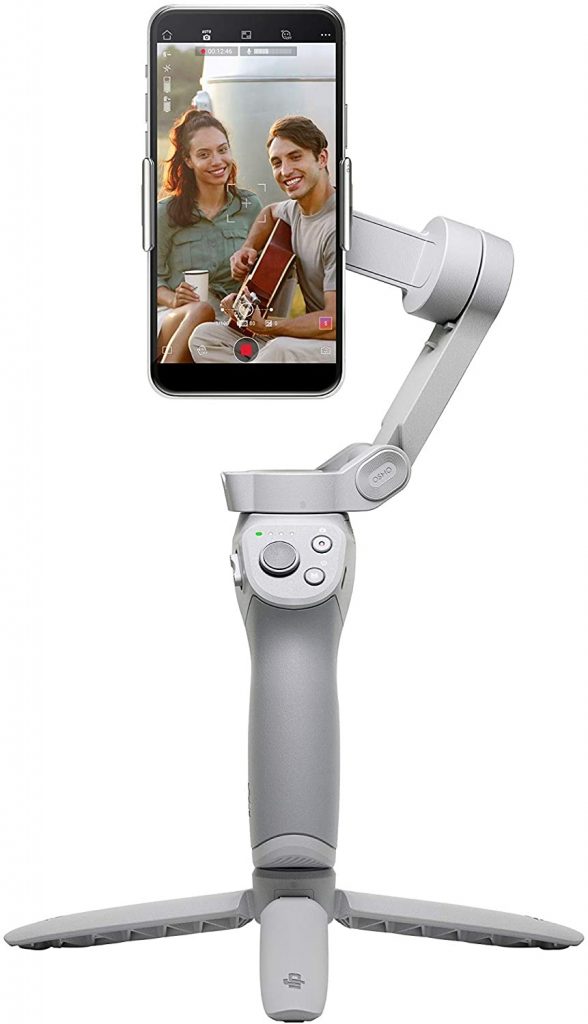 With DJI OM 4 – Handheld 3-Axis Smartphone Gimbal, you can enjoy ultimate filming wherever you go. It has a magnetic phone clamp and ring holder to freely capture breath-taking views or whatever scheme you want to film.
It is built with 3-axis motor power and external added lens to keep the smartphone steady and incredibly smooth shots.
Its zoom capability is also amazing as it uses advanced algorithms like DynamicZoom. You can also try the dynamic effect that creates zoom shots like a pro with minimal effort, the Hitchcock effect.
DJI OM 4's gesture control enables you to take a picture or shoot a video effortlessly. It has an operating temperature of 0 to 40 °C.
DJI OM 4 gimbal gives you the ability to switch between portrait and landscape mode by simply pressing the M button twice. And with its ActiveTrack 3.0 technology, you can fine-time the image composition using the joystick, and face recognition is at its optimum accuracy.
The story mode also recommends various templates to help you create more exciting content.
To make use of these amazing features, you'll need the DJI Mimo app. Otherwise, you can simply use your smartphone app.
If you find this gimbal interesting, visit Amazon.
---
ARTOFUL is one of the cheapest gimbals available in the market. It has a very light weight making it so easy to carry wherever you go. It is compatible not only with Samsung phones, but other smartphones having a thickness of about 60-125 mm. This gimbal is ideal for group shots, selfies, and vlogging.
ARTOFUL is made of ABS and aluminum alloy, so durability isn't a problem at all. The stabilizer has a humanized handle design that prevents the smartphone from slipping.
ARTOFUL comes with a built-in remote control with a control distance of up to 10m. You can set your gimbal to tripod mode when taking group shots, and utilize the button to manage the shooting.
Its anti-shake stabilization technology allows you to keep the phone in either vertical or horizontal mode.
Visit Amazon for the pricing details.
---
Hohem iSteady V2 – 3-Axis Gimbal is considered as an all-in-one tool that everyone must have. It comes with AI visual tracking LED light and has a foldable design. The brightness of the built-in LED video light is adjustable. It has three levels of light that can be adjusted accordingly.
The updated Hohem Gimbal stabilizer features newly developed "inception mode" that can vertically rotate your smartphone 360 degrees impulsively while filming. Slow motion recording and panning mode changing are among the wonderful features you can look forward to once you get this gimbal.
This unique production tool is equipped with a user-friendly app that helps you create exciting content. With the Hohem Pro app, you can use templates such as dolly zoom, inception, panoramas and time lapse. It also gives you the ability to switch 4 following modes, the pan and tilt follow, pan follow, all follow/lock. The Hohem app gives you endless possibilities to control your filming device.
Among the independent features Hohem Gimbal iSteady has are the 3-axis stabilization and an extra anti-shake. The battery life of this equipment can last up to 9 hours and can hold up mobile charging and other gadgets.
The Hohem's design sophistication will definitely satisfy your filming needs, especially the modes mentioned above.
Check out Amazon for more details.
---
So these are some of the best gimbals that can give you stable shot while in a rugged terrain or in an extremely sensitive scenario. I hope that this post will help you decide to choose the best gimbal for your smartphone. Thank you for reading!
* If you buy through links on our site, we may earn an affiliate commission. For more details, please visit our Privacy policy page.