Are you having trouble updating your PS4 and getting the SU-30645-8 error? In this article, we'll explain to you what this error means and what you can do to fix it.
The full error reads: The update file is corrupted. (SU-30645-8) and usually comes up during a failed system software update.
What is error code SU-30645-8?
SU-30645-8 is one of the update-related error codes in the PlayStation 4. "SU" stands for "software update" and number values that follow it means that the PS4 console is having a hard time installing a system software update.
Because your PS4 requires the latest software version in order to go online, error code SU-30645-8 can effectively block you from accessing the PlayStation Network services or play online with others. You'll need to deal with this error code first before you can regain the online functions of your console.
The good news is, error code SU-30645-8 is generally easy to fix. Learn what you need to do by following this guide.
Causes of SU-30645-8 error on the PlayStation 4
There are a handful of possible reasons for error code SU-30645-8. The causes range from a possible random software or hardware glitch to a permanent hardware malfunction. At other times, it may also be caused by poor or slow internet connection at home.
Server issues.
If you're trying to download the latest system software version and Sony PSN servers go down, your PS4 may stop the update process and return this error code. Just like gaming servers, computers that feed the downloadable system update files may encounter technical issues from time to time that can disrupt the update process of some users.
Broken USB storage device.
If you're trying to update your PS4 using a USB device or external hard drive, the other possible factor that you must consider is the condition of the said device. Make sure that your USB stick or external hard drive is properly formatted and the update file is labeled correctly.
If the update file has a wrong file name or has some missing files or folders, your PS4 may stop the system software update and return this error code.
Hard disk drive problems.
The condition of the internal storage device or internal hard drive can also be reason why system software installation may not work properly. Damaged sectors in the hard drive may become severe over time causing all sorts of issues such as slow performance or system software update error codes.
Slow internet connection.
If your internet connection is slow while trying to download and install the system software update, your PS4 may eventually lose connection to the server. If you're on wifi, try switching to a wired connection before trying the update again.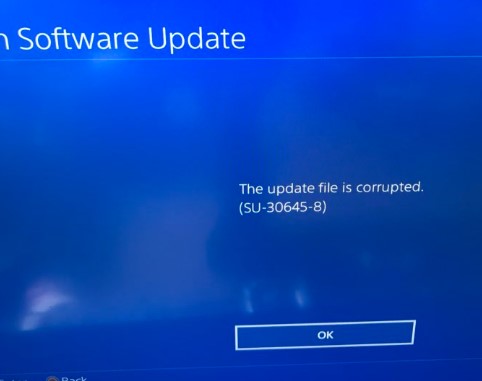 How to fix PS4 SU-30645-8 error?
Is SU-30645-8 error fixable? The honest answer is yes. This error code is usually caused by an issue with the update file being corrupted although some other factors can come into play for other users as well. Below are the solutions that we've collected to fix this error.
Fix #1: Reboot the PS4.
A generic solution to any PS4 problem is by refreshing the system. Make sure that you power cycle your PlayStation console before doing the rest of the suggested solutions below.
Just turn the PS4 off normally and unplug it from the power source for 30 seconds to clear its RAM or memory and hopefully get rid of the bug.
Fix #2: Run a speed test.
You want to have at least 5 Mbps of download speed on your PS5 to ensure that the system software update won't be interrupted. If you want to know the internet connection status of your console, we suggest that you perform a PS4 speedtest.
Fix #3: Update via the Internet.
If you can't seem to make the regular update work, you can boot the PS4 to Safe Mode and try updating via the Internet. In Safe Mode, simply select Option 3.
Fix #4: Use another HDD or USB device.
If a direct download still won't work, you can try to manually update the PS4. If you've already tried this before with a particular USB stick or hard drive, try using another storage device or USB device to see if there's a problem with the one you were using before.
Fix #5: Perform a factory reset.
Software update issues may sometimes be caused by a corrupted software in the first place. If none of the solutions above has worked so far, consider wiping your PS4 by initializing it [Initialize PS4 in Safe Mode.
OTHER INTERESTING ARTICLES:
Visit our TheDroidGuy Youtube Channel for more troubleshooting videos and tutorials.