If you are using a microSD card on your Nintendo Switch and you're getting the 2005-0003 error, you may have a faulty memory card issue. In this troubleshooting article, we'll show you why this particular error occurs and what you can do to fix it.
What is the error code 2005-0003?
Error code 2005-0003 usually indicates that Nintendo Switch has a problem with the connected microSD card. It may be because the physical card is damaged or certain sectors are unreadable.
Sometimes, this error may also be triggered following a failed system software update, or even a game update.
In the majority of issues that we've investigated, the main culprit centers around a fault in the microSD card.
There are other possible reasons for error code 2005-0003 so read on if you want to know them as well.
Causes of 2005-0003 error on Nintendo Switch
We've identified a number of factors that can lead to 2005-0003 error. Let's discuss each of them briefly below.
Damaged or corrupted microSD card.
The most common reason for this particular Nintendo Switch error code is the micro SD card you're using. If you have one installed in your console, you should ensure that the micro SD card is not at fault by checking it physically, or by doing certain software checks to verify that it's compatible and working properly.
Nintendo Switch memory cards are almost a necessity these days especially since the console's own internal memory is that big. If you have lots of games, downloaded contents, and other stuff, using a microSD is a wise choice. However, it's not unheard of that some users may experience an SD card problem from time to time.
Unformatted memory cards.
In order to ensure that a third party microSD card will work with your Nintendo Switch console, you want to format it ahead of time before inserting it. You can do that using a computer that's equipped with a microSD card reader, or within the console itself.
Unpredictable issues may occur if you don't format a microSD card before you use it on your Nintendo Switch. You must do this if you have a brand new microSD card but even more so if you are using one that's been installed in an device before. Certain devices use different systems and using a microSD card on your Switch without formatting it first may create a conflict when it's time to save something to it. One of the common result of using an unformatted microSD card is data corruption.
Outdated system software version.
If your Nintendo Switch system software is running an old version, it might end up causing issues. You have to ensure that you keep the software updated even if there are no known issues that you're experiencing.
Random software glitch.
Some players may encounter 2005-0003 error once. Others may experience it sparingly during loading times or during a system software update. However, if yours is persistent and it is already making the Nintendo Switch unusable, the problem may be caused by something serious.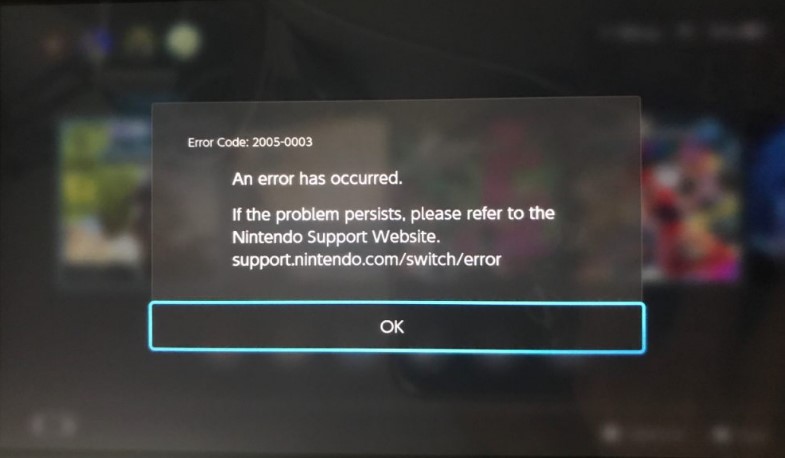 How to fix Nintendo Switch 2005-0003 error?
2005-0003 error code is likely a micro SD card issue but there are also other solutions that you can try if dealing with your card won't change anything. Learn what you can do below.
Fix #1: Power cycle the Switch.
To see if the error is caused by a temporary bug, the first thing that you can do is to refresh the system. To do that, you want to power cycle your console. Doing a power cycle on your Nintendo Switch not only refreshes the system but can also potentially fix any lingering bugs. Nintendo recommends that the first solution that you must try is the following steps:
Press and hold the Power button on your Nintendo Switch for 3 seconds.
Once the Power menu comes up, select Power Options.
Select Restart.
If you find out that your Nitnendo Switch has become unresponsive, frozen, or not responding to any presses, you can alternatively force it to reboot by pressing and holding the power button for 12 seconds instead of 3 seconds. Doing so will force the system to turn off and restart.
Fix #2: Check for system software update.
If the 2005-0003 issue has not gone away after a power cycle, your next move is to check if your console's firmware needs an update. Here's how:
Go to the Home menu.
Select System Settings (gear icon at the bottom).
Select System.
Select System Update, to start the update process.
Allow the console to check for updates. If an update is available, make sure that allow it to download and install the system software update.
Fix #3: Troubleshoot your micro SD card.
There are a number of things that you can do as far as troubleshooting the micro SD card is concerned.
Reseat the SD card.
First, you want to check if the error code is caused by a poorly connected card. To do that, try turning off the console and remove the memory card from its slot. Once the micro SD card has been disconnected, turn your Nintendo Switch console back on and check if 2005-0003 error returns.
Format the SD card.
If the issue remains even when the SD card is taken out, the next good thing to do is to ensure that the said card is formatted properly. The most efficient way to do that is to format it using the Nintendo Switch. Here's what you must do:
Go to the Home menu.
Select System Settings (gear icon at the bottom).
Select System.
Scroll down the options on the right-hand side and select Initialize.
Select Format microSD Card and tap on Continue.
Select Format to confirm.
Use another micr SD card.
If you have another microSD card, you can try that to see if the current card that you have has a hardware issue. Again, make sure that you reformat the second SD card before using it to store contents on your Nintendo Switch.
Fix #4: Get help from Nintendo.
If none of the solutions in this guide has helped, there may be a deeper issue on your Nintendo Switch. It can be an unknown software glitch or a hardware malfunction. If the 2005-0003 error persists and you can't shake it away no matter what, you'll have to send the console in for repair.
OTHER INTERESTING ARTICLES:
Visit our TheDroidGuy Youtube Channel for more troubleshooting videos and tutorials.