PS4 Safe Mode is one of the effective tools that you can use to fix multiple issues in your console. If you have no idea what safe mode is, or how to access it on your PlayStation 4, this guide should help.
Below is a brief explanation what safe mode is and why you may have to use it on your PS4.
What is Safe Mode?
Safe Mode is a special software environment in a computer or, in this article, PS4, that lets a user perform certain procedures to address a problem. When your PlayStation 4 runs in safe mode, only the most basic functionality are permitted and so apps, games, and account details are not accessible.
Safe mode provides options to fix your database, perform a PS4 factory reset, or change the system's resolution.
Some Safe Mode options may result to data loss so you must be careful when selecting the solution you want. If you are trying to restore the default settings of your PS4 to its original state, you should consider backing up your data ahead of time.
Reasons why you want to restart your PS4 in Safe Mode?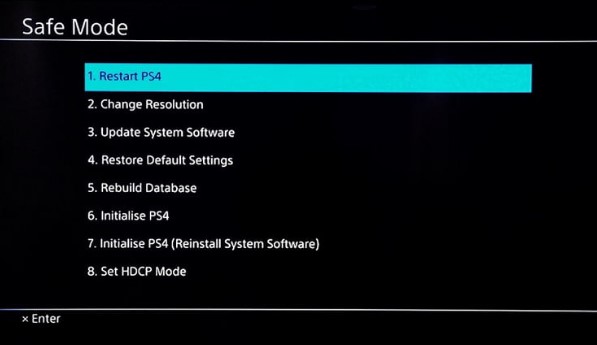 There can be several reasons why you may have to boot your PS4 in safe mode. Let's talk about each of them briefly.
PS4 has display or resolution issues.
Some PS4 units may get stuck in a black screen when the system can't automatically detect the resolution of the TV connected to it. This usually happens when a PS4 is connected to older TV model that has a lower screen resolution.
If you are in this situation, you can restart your PS4 in safe mode and select Option 2 [Change Resolution] to fix the problem.
Update issues.
Another common issue may require you to boot to PS4 safe mode is when you are unable to update via internet. If your PS4 is having difficulty installing an update normally for whatever reason, you can opt to do so by using the Option 3 [Update System Software] in safe mode menu. This is also a useful method if you can't update system software due to slow internet connection, or if your PS4 is blocked from connecting to the PlayStation Network.
Also read: How To Do An Offline Update On Your PS4
Restore default settings.
The other reason why you may want to go thru safe mode on your PlayStation 4 is when you have system software issues and there's a need to restore the console's default settings. You have three options to choose from:
Option 4 [Restore Default Settings]
Option 6 [Initialize PS4]
Option 7 [Initialize PS4-Reinstall System Software]
Create new database.
And finally, safe mode can be one of your tools to use if you have issues with your games due to corrupted game data or a cluttered database. If you noticed that your PlayStation 4 has become slow, it's possible that its database may need reorganizing. Fortunately, there's an easy way to create a new database by restarting your PS4 in safe mode and selecting Option 5 [Rebuild Database].
How to restart your PS4 to Safe Mode?
Estimate Cost : 0
Time Needed : 4 minutes
Restarting your PS4 in Safe Mode is straightforward. Follow the steps below on how to do it:
Turn off the PS4.

To do this, press and hold the Power button for about 3 seconds. The LED light on the console will blink before the PlayStation 4 shuts down.

Once the console has powered down, press and hold the Power button in front again.

Make sure to hold the Power button for about 7 seconds until you hear two beeps–the first beep should occur after you press the button and second after 7 seconds. 

After the second beep, release the Power button.

Connect the controller with the USB cable and press the PS button on the controller.


This will be enough to start your PS4.
Keep in mind that your wireless controller will be disconnected from your PlayStation 4 once it boots to safe mode. If you don't have the original USB cable that came with your PS4, any ordinary USB cable that you use to charge your phone should do.
What are the options when PS4 is in safe mode?
You will find several options once you've booted your PS4 in safe mode.
Restart PS4. Ends Safe Mode and restarts the PlayStation 4 console normally.
Change Resolution. Changes the display resolution. This option can be helpful when troubleshooting issues with blank screens.
Update System Software. Allows you to update the PS4 system software via direct download or USB storage device.
Restore Default Settings. Restores the PS4 console to the default factory settings. Restoring Default Settings will not delete the saved data on your system storage.
Rebuild Database. Scans the drive and creates a new database of all content on the system. Select this option if you are experiencing issues such as game freezes or frame-rate drops.
Initialize PS4. Deletes all user data and restores the PS4 to its original state.
Initialize PS4 (Reinstall System Software). Deletes all user data and removes PS4 system software.
Set HDCP Mode. Gives you the option to either enable or disable High-bandwidth Digital Content Protection on your console.
Other interesting articles:
Visit our TheDroidGuy Youtube Channel for more troubleshooting videos and tutorials.