If your PS4 cannot connect to the internet, does not allow access to the PlayStation Network, or blocks your online game, and you're getting the PS4 error CE-35287-5, this troubleshooting article should help. In this guide, we'll explain to you what this error means and what solutions you can take to fix it.
What does error CE-35287-5 mean?
CE-35287-5 is a PS4 log in error. If you're getting this PS4 error, you won't be able to access the PlayStation Network, use any PSN services, or play online simply because you'll be prevented from signing in.
The full error reads: This feature is temporarily unavailable. Please try again later. (CE-35287-5).
Causes of PS4 error code CE-35287-5
There can be several reasons for PS4 error CE-35287-5. Let's check each of them below.
Server error.
If you were able to connect to the server earlier using your account, play online with your friends, or do some other online transactions in your PS4 before the error started showing up, it's possible that there's nothing wrong with your account at all. The problem might be caused by issues from server side of things. PSN servers may sometimes go down due to outage, maintenance, or high traffic.
Incorrect PSN account username and/or password.
The most common reason for error CE-35287-5 is account-related.
Signing in to your PSN account with an incorrect username and password is, by far, a frequent cause for error CE-35287-5. If you're getting this error message when trying to sign in, you may be entering the wrong credentials.
PSN account has not been verified.
If your account is new, it's possible that you may have missed the verification email from Sony. This can be a reason to block your PSN account from accessing any network feature, or to use it to play online with others.
Home internet connection issues.
Other PS4 users may encounter error CE-35287-5 when their home internet is problematic. Make sure that your connection speed is not slow, or not disconnecting often.
Having an unresponsive router may also lead to PS4 connectivity issues. An easy fix for this situation would be to reboot the router at least once every few days.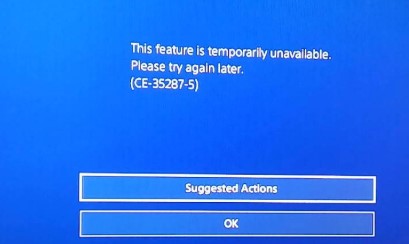 How to fix PS4 CE-35287-5 error?
Below are the solutions that you can try if you're getting the PS4 error CE-35287-5.
Fix #1: Check for PSN server status.
PSN servers may go down from time to time. To check if there's any server problem that's affecting account sign-ins at the moment, visit the official server status page: https://status.playstation.com/
Fix #2: Enter the correct username and password.
If there's no known server issues right now, the next step that you can do to fix PS4 error CE-35287-5 is to ensure that you are entering the correct username and password. To do that, use a second device like a smartphone or computer to login to your account. Here's what you needed to do:
Open a web browser and go to the PlayStation sign In page.
Enter your Sign-In ID (email address) and click Next.
Enter your Password and click Sign In.
If your sign-in attempt goes through, go to your PS4 and restart it. Then, once it's been rebooted, sign back in again and make sure that you enter the same exact credentials.
Fix #3: Verify your PSN account.
For some users, fixing the PS4 error CE-35287-5 means checking their email and following the instruction to verify their PSN account. If you haven't done this yet, make sure that you check your email for any verification notification from Sony. If you have spam filters enabled, visit your other folders to check if the email message was wrongly tagged as spam.
Fix #4: Power cycle the router.
One of the basic things that you must do when you have a connection issue on your console is to reboot your router. Sometimes, routers may freeze or become unresponsive if left running for an extended period.
Just turn the router off normally, unplug it from the power source for 30 seconds, and start it back up afterwards. Called a power cycle, this should be enough to refresh the system and hopefully clear any bug that causes the error CE-35287-5 problem.
Fix #5: Run a speed test.
Another thing that you can try is to see if you have a slow internet connection by running a speed test. Your PS4 may be struggling to establish a solid connection to the servers. You must have at least 5 Mbps of download and upload speed to be able to connect properly to servers, or to play an online game.
If you have wifi, try connecting the PS4 directly to the router with a LAN cable to see if there's any signal interference. If your PS4 works normally and the PS4 error CE-35287-5 won't show up again, you may have a bad wifi at home.
Fix #6: Contact Sony Support Team.
If you're positive that there's no server issue at the moment and none of the solutions in this guide has helped fix the PS4 error CE-35287-5, you need to contact Sony.
OTHER INTERESTING ARTICLES:
Visit our TheDroidGuy Youtube Channel for more troubleshooting videos and tutorials.