Are you experiencing the CE-33991-5 error on your PS4 right now? This error code has been reported widely by PS4 gamers recently so if you're getting it, you're most likely not alone. In this troubleshooting article, we'll explain to you why this error occurs and show you how to fix this problem.
The full error reads: Cannot connect to the Internet. (CE-33991-5).
What does CE-33991-5 error mean?
CE-33991-5 is a network error that indicates a PS4 is unable to connect to the PSN servers, or that the online gaming server is unreachable. When error code CE-33991-5 shows up, your PlayStation 4 is effectively prevented from going online so it must be resolved first in order to connect back to your game, or to use any of the PlayStation Network services.
PS4 error code CE-33991-5 can show up in the middle of a game, when trying to test your internet connection, or when in the process of accessing any PSN service.
Causes of error CE-33991-5 on the PS4
Before you can start to deal with PS4 error code CE-33991-5, you must be aware of the factors that can cause it. Below are some of the known reasons for this PS4 internet connection problem.
PSN servers are down.
If your PS4 has an internet problem only when trying to access one of the PlayStation Network services such as Account Management, it's possible that there may be an issue with the PSN servers. This can sometimes happen due to unexpected glitch or maintenance.
Game servers are offline.
Like the PSN servers, online gaming servers may also suffer from outages, maintenance or high traffic. If you are getting the PS4 error CE-33991-5 only when trying to play a game, make sure that you check if there's a particular issue with the servers of that game.
Slow internet connection.
If both the PSN and game servers are fine, the next possibility that you must check is an issue with your own home network. Run an internet connection test to see if your PS4 suffers from slow connection.
Wifi signal interference.
If you rely on wifi to connect to the internet, it's also possible that the PS4 error CE-33991-5 you're getting is being caused by unstable wifi, or poor signal.
Unresponsive router.
The condition of your network equipment at home can sometimes lead to problems. Be sure to regularly refresh your router every few days.
Slow or unresponsive DNS servers.
By default, your PS4 will use the Domain Name System servers of your Internet Service Provider. However, ISP-provided DNS servers are less reliable than other DNS servers like the ones from Google. Since DNS servers are important in letting your PS4 connect to the internet, any failure in your ISP DNS servers can impact your online gaming experience as well.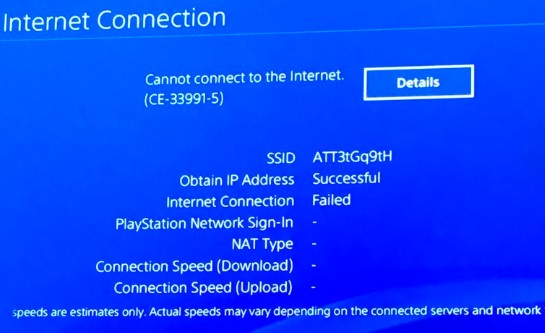 How to fix PS4 CE-33991-5 error?
We've compiled a list of solutions that you can try to fix PS4 error CE-33991-5. The exact solution depends on the each case as the cause also varies.
Fix #1: Check the PSN or game server status.
For the majority of players who encounter this error code, the main reason is server related. So, one of the important steps that you must do is to check the status of the servers depending on what triggers the error. If you're getting it when trying to access the PlayStation Network, make sure that you visit the PSN server status page.
If it appears only when playing an online game, check out the official game publisher website for details for any specific issues that may affect the online experience of their product.
For example, if you're getting the error code when trying to play Call Of Duty Black Ops Cold War, you can visit the Activision server status page.
Fix #2: Perform an internet connection test.
Determining your internet connection speed is as important as the first solution above as some players have reported experiencing this error code because of their slow internet.
Make sure that you have a minimum of 5 Mbps for download and upload everytime you play online on your PS4 to avoid server disruptions. Learn how to run a speed test on your console by following this link.
If you think that you need to fix your slow home network, we recommend that you get help from your Internet Service Provider or ISP.
Fix #3: Use a wired connection.
If you have a slow network and you're using wifi, it may be due to poor signal or signal interference from other sources. To check, try connecting your PS4 to the router with an Ethernet cable. If that's not possible, bring your PS4 as close to the router as possible and make sure that there's no physical object between them such as glass, thick wall, or metal filing cabinet that might block the signal.
Fix #4: Keep your router firmware updated.
Sometimes, network bugs may occur due to outdated firmware of your router. Just like other electronic devices, routers require updates to fix known bugs and to improve certain things. If you have to idea how to update your router firmware, contact the router manufacturer or get help from your ISP (if they provided it).
Fix #5: Use a different DNS server.
As mentioned above, the ISP-provided DNS settings may be the reason for this error. To check if that's the case, try changing your PS4 DNS.
OTHER INTERESTING ARTICLES:
Visit our TheDroidGuy Youtube Channel for more troubleshooting videos and tutorials.