Are you experiencing Pandora error code 3005? There are several factors that can cause this problem such as an internet connection issue, corrupted cached data, outdated version of Pandora app, to name a few. To fix this you will need to perform a series of troubleshooting steps.
Pandora is a music streaming app based in the United States. The "Music Genome Project," a method of categorizing individual songs by musical characteristics, is the foundation of the service's offerings. Pandora first debuted in the consumer market as an internet radio service that would create tailored channels depending on these characteristics and the songs that the user liked; this service is offered in an advertising-supported tier and a subscription-based version. In 2017, the service introduced Pandora Premium, an on-demand version of the service more in line with modern rivals.
Listeners can access well-known genre stations, stations created by other users, or stations they've personally created based on their musical preferences. The user's preference for music can be expressed via the thumbs up and thumbs down buttons, which influences whether or not the station should play more tracks of the same genre. The same artist will be removed from the chosen station if they receive two thumbs down. A thumbs down quickly skips a song, however, unless a user has a premium membership, there is a cap on how many times they can do so.
Pandora app error code 3005? Here's how to fix it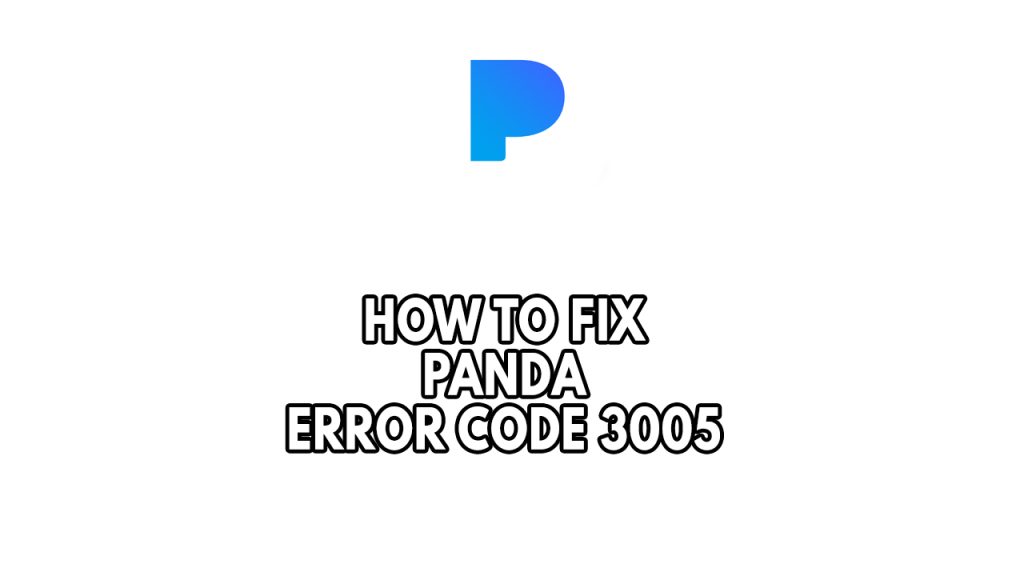 One of the issues that you might encounter with the app is the Pandora error code 3005. This can be a frustrating experience especially if you want to listen your favorite station.
Below are the steps to fix Pandora error code 3005.
Fix #1 Check internet connection
The first thing you need to do when your Pandora app displays error code 3005 is to check the internet. You need to make sure that the streaming service has access to a fast internet speed so that it can properly run.
You can check your internet connectivity using some of the popular online speed checker tools.
Time Needed : 3 minutes
Checking internet speed
Open your browser on your computer or mobile phone.

Choose any preferred internet browsers you want.


Type speedtest.net to have your net speed check.

Speed test site is one of the most popular web tools to check your connection speed.


Press the Go button.

Pressing Go button will start the speed test.


Wait for the results of the speed test to be completed.


Find out how fast is your download and upload speed.


Your network speed results should match your subscription plan from your internet service provider.
You must have a stable internet connection to use the Pandora app. You may check whether slow, intermittent or no internet is caused by an issue with your network device or Wi-Fi router by restarting it. If you are experiencing issues with the Pandora application, a network reset is effective.
Step 1: Unplug the power cords from the power socket on your Modem and Router.
Step 2: Reconnect your modem and router to the power supply after a minute and turn on the devices.
Step 3: Wait for the lights to come on again.
To have a stable internet signal with your Wi-Fi router, Pandora app users can do the following steps:
Step 1: While using Pandora app, try to disconnect any other devices that are connected to the Wi-Fi router. This allows the gadget to utilize the maximum amount of internet bandwidth.
Step 2: Bring the gadget or television closer to the router. This will allow the gadget to receive a significantly stronger Wi-Fi signal.
Step 3: If you have a dual-band router, try connecting the streaming device to the 5GHz channel rather than the 2.4GHz band.
Try to check if this method fixes Pandora error code 3005.
Fix #2 Smartphone rebooting for Android device or iOS devices
A simple technical glitch in the app or the device itself may occasionally be the root of the Pandora error code 3005. Try restarting the smartphone to fix the issue, and then see whether the Pandora app is working again.
Fix #3 Update Pandora radio app
Make sure the Pandora app is updated, as it has several improvements and bug fixes that may resolve the Pandora problem code 3005. For android users, you can update the app on the play store and for iPhone users, you can update the app on the app store.
Fix #4 Clear Pandora radio cache and data
The Pandora error code 3005 could also be brought on by corrupted data and cache files on your mobile device. To get rid of this corrupted data, you must clear cache and data of the Pandora app. Remember that after completing the step, you will need to re-login your Pandora account.
Clearing corrupted Pandora music app
Step 1: Go to Settings on your smartphone.
Step 2: Select Applications.
Step 3: In Manage Installed Applications, select the app you are having trouble with, in this case the Pandora music app icon.
Step 4: Tap Clear Cache, and then Clear the Data.
Clearing browser data and cache
Step 1: Open Chrome, then click the three dots in the upper right corner.
Step 2: Open More tools.
Step 3: Select Clear Browsing Data and then select what you want to delete.
Step 4: Choose browsing history, Cookies and other site data, Cached images and files, then click the clear data button.
Step 5: Close Chrome then relaunch Chrome and access Pandora.
Check and see if this fixes the Pandora error code 3005.
Fix #5 Use VPN
Due to geo-locked restrictions, the Pandora app may not work as expected or may produce various problems, including the Pandora error code 3005. Perhaps this is the cause of the Pandora error 3005. In this case, you can use a VPN to change the location and try to see if the Pandora music app error code 3005 is fixed.
Fix #6 Reinstall Pandora music app
Sometimes a faulty app installation is the cause of the issue. You will need to uninstall the Pandora app and then download the latest version of Pandora app on the play store or the app store.
Uninstalling Pandora radio app
Step 1: Go to Settings on your device.
Step 2: Select Applications.
Step 3: Select Pandora app then uninstall.
Installing pandora radio
Step 1: Open your smartphone's app store or play store to search for Pandora.
Step 2: Install Pandora.
Step 2: Open Pandora.
Step 3: Login your account to access Pandora.
Frequently Asked Questions
Can I listen to Pandora without the app?

Yes you can listen to it if you are using Chrome, Firefox or Microsoft edge on your PC.

How do I download Pandora app?

You can download it on the play store, the app store and Windows store.

Does Pandora have a desktop app?

Yes, it is available for Mac and Windows computers.

Is Pandora app free?

Although using Pandora is free, you can upgrade to Pandora Plus or Pandora Premium to listen to music without interruptions. For $4.99 per month, consumers can subscribe to Pandora Plus and get some offline listening.

Is there a Pandora app for Windows 10?

Yes there is you can download it on the Windows store.