Are you experiencing Ticketmaster error code 0011? Several factors can cause this issue such as corrupted cookies or corrupted browser cache, VPN issues with VPN client, server issues, proxy server issue, and third-party extensions conflicting with your browser, to name a few. Several troubleshooting steps will be required to fix the Ticketmaster error code 0011 issue.
Ticketmaster is an American company that sells and distributes tickets. It is headquartered in Beverly Hills, California, and it has operations all over the world. The Official Ticketing Partner of the NFL, NBA, NHL, and USTA, Ticketmaster gives you access to millions of live event tickets and makes it simple to purchase, sell, transfer, and get in so you can get on with creating lifelong memories. A few of Ticketmaster's customers are venues, performers, and promoters. Customers manage their events and decide the cost of the tickets, while Ticketmaster sells the tickets that the customers make available. You have unrivaled access to the most spectacular live events worldwide when you shop with Ticketmaster.
Getting Ticketmaster error code 0011? Here's how to fix the issue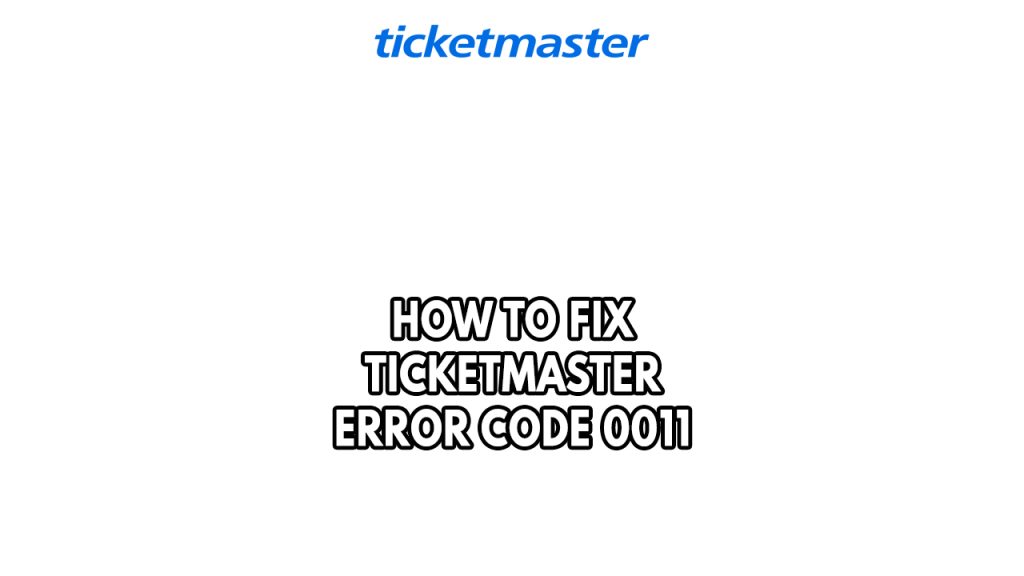 One of the issues you might encounter with Ticketmaster is the Ticketmaster error code 0011, this can be a frustrating experience especially if you want to use Ticketmaster to purchase tickets.
Here's how to fix Ticketmaster error code 0011 issue when purchasing internet tickets.
Fix #1 Check server status of Ticketmaster
The first thing to do when you are experiencing Ticketmaster error code 0011 is to check for underlying server difficulties when you purchase tickets. When there is a server issues with the Ticketmaster server, you will get a Ticketmaster error code 0011 when you use Ticketmaster in the payment gateway domain, it usually refers to an error response that the payment gateway cannot communicate with the Ticketmaster server when you are processing checkout procedure. Go to DownDetector to see if the problem you're having is caused by a server outage on the Ticketmaster platform. If Ticketmaster isn't working right now due to an outage, please wait until they fix the problem on their end. You will be able to use Ticketmaster once they resolved the issue with the server.
Fix #2 Clear cookies and clear browsing data
The Ticketmaster error code 0011 could also be brought on by corrupted data and cache files on your web browser cache. To fix Ticketmaster error code you need to get rid of this corrupted cookies and data, you must clear the cookies cache and clear browsing data. Remember that after completing the step, you will need to re-login your Ticketmaster account.
Clearing corrupted browser cookies using chrome browser
Step 1: Open Chrome, then click the three dots in the upper right corner.
Step 2: Open More tools.
Step 3: Select Clear Browsing Data and then select what you want to delete.
Step 4: Choose browsing history, Cookies and other site data, Cached images and files, then click the clear data button.
Step 5: Close Chrome then relaunch Chrome.
Fix #3 Disable proxy or VPN connection
The next thing to do is to disable proxy server or VPN connections and VPN application if you have this enabled. Despite the potential benefits, this could have an impact on how you connect to the Ticketmaster servers. See whether the issue may fix Ticketmaster error code 0011 by turning off the VPN client and proxy server.
Disabling proxy server page
Step 1: Click on Start.
Step 2: Select Settings.
Step 3: Select Network & Internet.
Step 4: Select Proxy.
Step 5: Toggle Automatically detect settings to ON.
Step 6: Toggle option Use a proxy server to OFF to disable proxy.
Fix #4 Remove all the extensions on your desktop browsers
Extensions occasionally cause desktop web browsers to have error code 0011 with Ticketmaster site particularly google chrome extensions. When you have too many extensions installed, your desktop browsers may encounter this issue since some of them can be resource-intensive. Consider uninstalling these third party extensions to resolve Ticketmaster error code 0011.
Removing Google chrome extensions manually
On your computer, open Chrome.
At the top right, click More More and then More tools and then Extensions.
On to the extension you want to remove, click Remove.
Confirm by clicking Remove.
Removing Firefox extensions
Click the menu button of Firefox, click Add-ons and Themes and select Extensions.
Scroll through the list of extensions.
Click the ellipsis (3-dot) icon for the extension you wish to remove and select Remove.
Removing extension with Microsoft Edge
Step 1: Open the Microsoft Edge application.
Step 2: On the Edge home screen, click the three dots menu.
Step 3: Open the Extensions menu.
Step 4: Turn off the extensions using toggle to disable or select the remove to uninstall the installed extensions.
Fix #5 Use incognito mode
If you are still getting Error code 0011 with Ticketmaster, then you need to use the incognito mode feature of your desktop browsers. Particular website like Ticketmaster may have a temporary data glitch or a few hiccups with your browser. If you use incognito mode, you will need to login your Ticketmaster account.
Frequently Asked Questions
How do I talk to a real person at Ticketmaster?

To talk to a Customer Service agent of Ticketmaster over the phone, you can call 1-800-653-80000.

How can I see my seat on Ticketmaster?

The seat map will appear when you click "See Tickets" for your event. You can zoom in on the maps on Ticketmaster to select particular seats because they are interactive. Do not open several browsers or tabs when buying tickets to prevent issues.

Can you get scammed on Ticketmaster?

Although some of the platform's third-party vendors are frauds, Ticketmaster is not. Because of this, Ticketmaster suggests that buyers only purchase authenticated tickets directly from them or their parent business, Live Nation.

Is it legal to resell Ticketmaster tickets?

Fan-to-Fan Resale is not available for all events or tickets. Selling your tickets through Ticketmaster is not possible if the Sell Tickets button is hidden or grayed out. You need a US bank account in order to resell your tickets for US events.

Does Ticketmaster have retail locations?

They don't have retail locations besides the venue and even that they will sell limited tickets depending on the show.