Are you experiencing Pandora keeps stopping issue? Several factors that can cause this app crashes such as an internet connection issue, corrupted cached data, outdated version of Pandora app, to name a few. To fix Pandora keeps stopping issue, you will need to perform a series of troubleshooting steps.
Pandora is a popular music streaming app based in the United States. The "Music Genome Project," a system for classifying individual songs according to musical traits, serves as the basis for the service's features. Internet radio services like Pandora, which are available in both a subscription-based and an advertising-supported tier, were first introduced to the general public as personalized channels based on the user's preferences and these attributes. A more contemporary on-demand version of the service, Pandora Premium, was established in 2017 by the service.
Depending on their musical preferences, listeners can access stations from well-known genres, stations made by other users, or stations they have themselves developed. The thumbs up and thumbs down buttons allow users to indicate their musical preferences, which affects whether or not the station plays more songs from the same genre. If an artist receives two negative votes, they will be dropped from the selected station. A thumbs down swiftly skips a song, but there is a limit to how many times it may be done without a paid subscription.
Pandora keeps crashing on android device? Here's how to fix Pandora app issue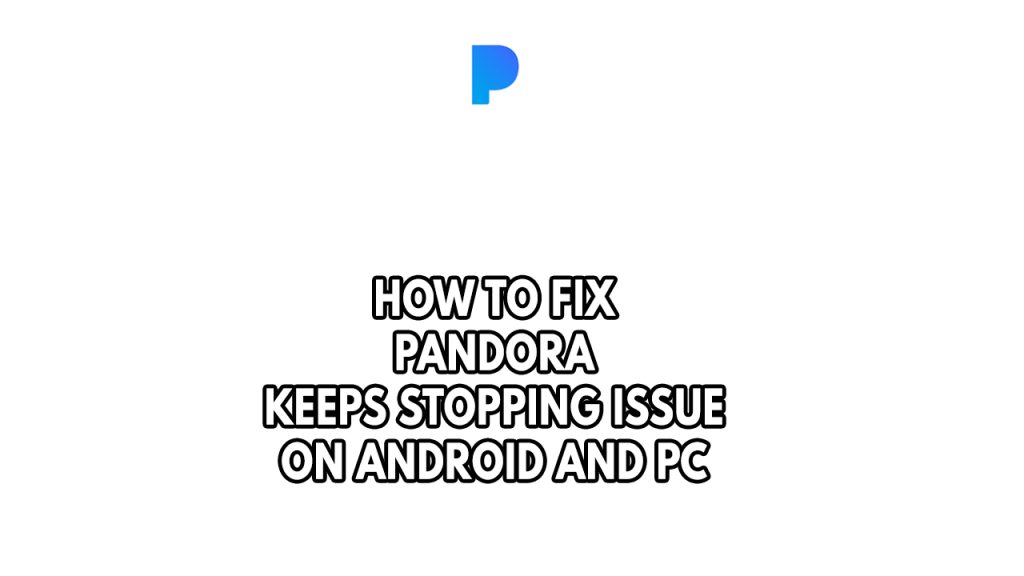 One of the issues that Pandora users might encounter with the Pandora app on the android device is that Pandora keeps stopping or Pandora keeps crashing. This can be a frustrating experience especially if you want to use the Pandora app.
Here's how to fix Pandora keeps stopping issue on your android device.
Fix #1 Restart your android device
The first thing you need to do when experiencing Pandora keeps stopping or Pandora keeps crashing issue is to reboot system your Android phone. This not only refreshes the Pandora app and your android devices operating system but also removes any software glitches that could be causing the problem.
Restarting your Android device
Step 1: Press and hold the Power button.
Step 2: Tap Power off or Restart.
Step 3: Press and hold the Power button until your device turns on again.
Try to check if this fixes the Pandora keeps stopping or Pandora keeps crashing issue on your android phone.
Fix #2 Check your internet connection
Another factor that can cause the Pandora app issue on your Android device is a slow or no internet connection. What you will need to do is to check the internet speed that your phone is getting by running a speed test on your android phone.
Checking internet connection
Step 1: Open your browser on your s android phone. Choose any preferred internet browser you want.
Step 2: Type speedtest.net to have your internet speed check. Speed test site is one of the most popular web tools to check your connection speed.
Step 3: Press the Go button. Pressing Go button will start the speed test.
Step 4: Wait for the results of the speed test to be completed. Find out how fast is your download and upload speed.
The Pandora app won't work until your internet connection is steady. By restarting your network equipment or Wi-Fi router, you can determine whether slow, intermittent, or no internet is being caused by a problem with your device. A network reset works if you are having problems with the Pandora app.
Step 1: Your network devices should be turned off.
Step 2: Remove the power cords from your Modem and Router.
Step 3: Reconnect your modem and router to the power supply after a minute and turn on the devices.
Step 4: Wait for the lights to come on again.
Make sure your phone is receiving a 4G or 5G signal if you plan to use the Pandora app via a mobile data connection. Apps shouldn't generally be used on mobile data connections because these typically have constrained usage restrictions.
You can also try toggling your phone's airplane mode switch. On your device, airplane mode disables all incoming and outgoing radio signals. Your phone's network connections will be refreshed by turning this setting on and off again, which will typically fix Pandora app issues.
Fix #3 Force close Pandora app
Sometimes the issue can be cause by a glitch in the Pandora app. To fix Pandora issue you can try to force close the app and open it again.
Close then reopen the Pandora app
Step 1: Long tap Pandora app icon on your phone.
Step 2: Tap on the info button and go to the Pandora app info menu.
Step 3: Hit Force Stop.
Fix #4 Clear data Pandora app
The Pandora app generally stores the Pandora app's data that is most frequently accessed so that it can run more quickly. But occasionally, this saved data can become messed up and lead to problems for android users. You can wipe cache partition, clear data and cache to fix Pandora keeps crashing issue.
Steps to clear cache to delete app data
Step 1: Open Settings app.
Step 2: Select Apps.
Step 3: Choose the app.
Step 4: Select Storage.
Step 5: Tap the Clear Cache and Clear Data option.
Clearing web browser data and cache
Step 1: Open Chrome, then click the three dots in the upper right corner.
Step 2: Open More tools.
Step 3: Select Clear Browsing Data and then select what you want to delete.
Step 4: Choose browsing history, Cookies and other site data, Cached images and files, then click the clear data button.
Step 5: Close Chrome then relaunch Chrome and access Pandora.
After you have clear cache partition, data or wipe cache partition, try to see it fixes the issue.
Fix #4 Update app
Another cause of the issue is an outdated app. You need to make sure that you are using the latest version of the app as this will have several security enhancements, features, and bug fixes not found in the older version of the app.
To update the app to the latest version, here's what you need to do:
Updating app
Step 1: Open the app store.
Step 2: At the top right, tap the profile icon.
Step 3: Tap Manage apps & device. Apps with an update available are labeled "Update available."
Step 4: Tap Update.
Fix #5 Uninstall third party apps
Using a third-party app is another option to access your Pandora on an Android device. These apps provide capabilities not available in the official Pandora.
These apps occasionally create bugs, which you may encounter. If you still keep stopping issue, try disabling or uninstalling these suspicious apps.
Remove third party application
Step 1: Open Google Play Store.
Step 2: At the top right, tap the Profile icon.
Step 3: Tap Manage apps & devices and then Manage.
Step 4: Tap Pandora.
Step 5: Tap Uninstall.
Fix #6 Check Pandora Servers
It's possible that problems with the servers are to blame for Pandora's issue. To check the status of servers, use third-party websites like DownDetector. You will need to wait until the problem is resolved before using it if it is down and having problems. You can also check Pandora twitter account for any announcement of outages.
Fix #7 Use VPN
Due to geo-locked restrictions, Pandora might not function as intended or might cause other issues. This may be the root of the issue. To test whether the issue is fixed in this situation, you can utilize a VPN to change your location.
Fix #8 Disable Extensions in your browser
If you are streaming Pandora in your web browser, then it's possible that it is being caused by your browser extensions. Try disabling the extension and see if it fixes the issue.
Removing Chrome extensions
On your computer, open Chrome.
At the top right, click More More and then More tools and then Extensions.
On to the extension you want to remove, click Remove.
Confirm by clicking Remove.
Another way remove extension in Chrome:
Open Google Chrome.
In the search bar, type in "chrome://extensions/"
Go through your extensions and disable them.
Fix #9 Reinstall Pandora
You will most likely need to reinstall Pandora if the previously described methods do not resolve the issue. The issue could already be due to a corrupted Pandora. You must first uninstall Pandora app from your device before installing Pandora to resolve this issue.
Uninstalling Pandora
Step 1: Go to Phone's Settings app on your device.
Step 2: Select Applications.
Step 3: Select Pandora then uninstall.
Installing pandora radio
Step 1: Open your smartphone's play store then search for Pandora.
Step 2: Tap Install Pandora.
Step 2: Open Pandora.
Step 3: Login your account to access Pandora.
Frequently Asked Questions
How do I download Pandora app on my Mac?

Go to pandora.com/desktop to download the Pandora application. You must have macOS 10.10 or later. Launch the installer as soon as the software has been downloaded, then follow the setup instructions. Remember that in order to use the application, you will need your Pandora radio login details.

Is there a Pandora desktop app?

Yes there is also a desktop application of Pandora.

Does Pandora have an app for Windows 10?

Yes you can download it on the Microsoft Store.

What is Pandora app used for?

You may make customized radio stations on Pandora based on a favorite musician or song. Pandora will automatically compile and play music with resemblances once you choose a seed song or artist.

Is Pandora a safe app?

Yes it is safe and secured to use.