Do you experience Ticketmaster error code 0002? Several factors can cause this issue for Ticketmaster users such as corrupted cookies or corrupted browser cache, VPN issues, or server issues. To resolve Ticketmaster error code 0002, you will need to perform several troubleshooting steps.
Ticketmaster is a company that sells tickets, pre sale tickets, and distributes tickets online. It has operations all around the world and is based in Beverly Hills, California. Ticketmaster is the official ticketing partner of the NFL, NBA, NHL, and USTA which provides access to millions of live event tickets and streamlines the buying, selling, transferring, and admission processes so you can get on with making unforgettable moments. Venues, artists, and promoters are a handful of Ticketmaster's clients. While Ticketmaster sells the tickets that the customers are able book tickets online, the clients administer their events and set the ticket prices. When you shop with Ticketmaster, you have unparalleled access to the most outstanding live events globally.
Fix Ticketmaster Error Code 0002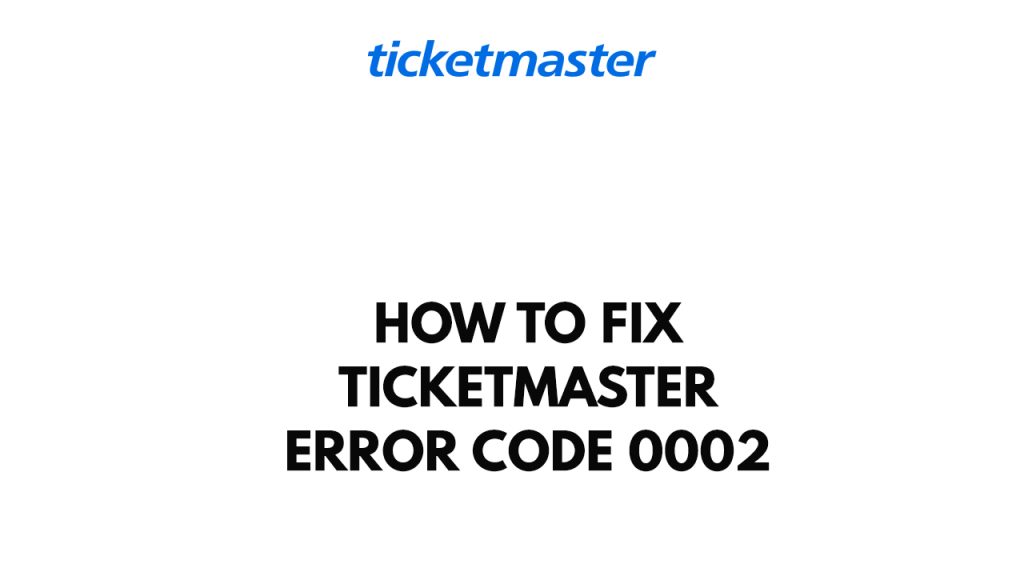 One of the issues you might encounter with Ticketmaster is the Ticketmaster error code 0002, this can be a frustrating experience especially if you want to use Ticketmaster to purchase tickets.
Here's how to fix Ticketmaster error code 0002 issue.
Fix #1 Check internet connection
If you are getting Ticketmaster error code 0002, then the first thing to check is if you have a stable internet connection. When you have an unstable internet connection then you will have difficulty using Ticketmaster. Check the internet connection speed by doing a speed test. You can use an online speed test checker such as speedtest.net to see if you have a network connection issue.
Checking internet connection
Step 1: Open your browser. Open any browser.
Step 2: Type speedtest.net to have your internet speed check. Speedtest site is one of the most popular web tools to check your connection speed.
Step 3: Press the Go button. Pressing Go button will start the speed test.
Step 4: Wait for the results of the speed test to be completed. Find out how fast is your download and upload speed.
If you are using a Wi-Fi connection then you can also check if the issue is with your network devices and it might need a reboot.
Step 1: Unplug the power cords from the power socket on your Modem and Router.
Step 2: Reconnect your modem and router to the power supply after a minute and turn on the devices.
Step 3: Wait for the lights to come on again.
If you have a slow connection or intermittent connection then you can contact your internet service provider to report the issue with your internet as this will be the main reason you Ticketmaster error code 0002 issue.
To have a stable signal with your WiFi connection. You can do the following steps below:
Step 1: While using Ticketmaster, try to disconnect any other devices that are connected to the same WiFi network. This allows Hulu to utilize the maximum amount of bandwidth.
Step 2: Bring the device closer to the modem. This will allow the devices to receive a significantly stronger reception.
Step 3: If you have a dual-band device, try connecting the streaming device to the 5GHz channel rather than the 2.4GHz band.
If you are using a mobile phone and using a mobile data to connect to Ticketmaster then make sure you have a 4G signal or 5G signal. If you are using a computer or laptop to use Ticketmaster and is using a WiFi connection, then you can try to use an ethernet cable if the error persists to have a more stable connection.
Fix #2 Check server status of Ticketmaster
The next thing to do when you are experiencing Ticketmaster error code 0002 on multiple devices is to check for Ticketmaster's server outages. When there is a server issues with the Ticketmaster site, you will get a Ticketmaster error code 0002 when you use Ticketmaster. It usually refers to an error response that the payment gateway cannot communicate with the Ticketmaster server when you are processing checkout procedure. Go to DownDetector to see if the problem you're having is caused by a server outage on the Ticketmaster. If Ticketmaster app or site isn't working right now due to an outage, please wait until they fix the problem on their end. You will be able to use Ticketmaster once they resolved the issue with the server.
Fix #3 Relaunch Ticketmaster
If you are getting Ticketmaster error code 0002 on your Ticketmaster app on your smartphone then there's a possibility that you are experiencing a temporary bug or temporary glitch. You can close the app then reopen it again to fix the Ticketmaster error code 0002 on y0ur Ticketmaster account.
Force close Ticketmaster
Step 1: Open settings app.
Step 2: Select Apps.
Step 3: Select Ticketmaster.
Step 4: Tap the Force Stop button.
Step 5: Tap Ok to continue.
Force close snapchat on IOS users
From the Home Screen, swipe up from the bottom of the screen and pause in the middle of the screen.
Swipe right or left to find Instagram.
Swipe up on the app's preview to close the app.
Closing the web browser on windows
Step 1: Right click on the Start button. This can be found on the left pane of the screen.
Step 2: Select Task Manager. This will open Task Manager.
Step 3: On the pop up window, Click processes tab. This will allow you to show the running program.
Step 4: Right-click on the running program then select end task. This will allow you to close unused program.
Fix #3 Clear browsing data
The Ticketmaster error code 0002 could also cause by corrupted cache files on your browser cache of Ticketmaster website or Ticketmaster app. To resolve Ticketmaster error code you need to get rid of this stored corrupted cache and data, you must clear the cookies cache and clear browsing data. You should also clear browser history. Remember that after completing the step, you will need to re-login your Ticketmaster account.
Clearing cache and data
Step 1: Open Settings Menu.
Step 2: Select Apps.
Step 3: Choose the app.
Step 4: Select Storage.
Step 5: Tap the Clear Data icon.
Step 6: Login Ticketmaster account.
Clearing corrupted browser cookies using chrome browser
Step 1: Open Chrome, then click the three dots in the upper right corner.
Step 2: Open More tools.
Step 3: Select Clear Browsing Data and then select what you want to delete.
Step 4: Choose browsing history, Cookies and other site data, Cached images and files, then click the clear data button.
Step 5: Close Chrome then relaunch Chrome.
Step 6: Open Ticketmaster website and login Ticketmaster account.
After you clear the browser's cache, you can try to access Ticketmaster and see if you are still getting the error message.
Fix #4 Try different browser and use incognito windows
If you are still getting error code 0002 then you can also try to use a different browser such as Mozilla Firefox to access Ticketmaster or use multiple browser tabs to see if it will push through. You can also open new incognito window and see if it will work. You might fix the issue if you use a different browser since the issue might be with the browser you are using.
Fix #5 Disable VPN and proxy servers
If you are still getting the error message then the next thing to do is to disable proxy server or VPN connections if you have this enabled when using Ticketmaster. Despite the potential benefits, this could have an impact on how you use Ticketmaster. See whether the issue may resolve Ticketmaster error code 0002 by turning off the VPN client and proxy server.
Disabling proxy server page
Step 1: Click on Start.
Step 2: Select Settings.
Step 3: Select Network & Internet.
Step 4: Select Proxy.
Step 5: Toggle Automatically detect settings to ON.
Step 6: Toggle option Use a proxy server to OFF to disable proxy.
Fix #6 Remove all the extensions on your desktop browsers
Extensions occasionally cause desktop web browsers to have error code 0002 with Ticketmaster particularly google chrome extensions and Mozilla Firefox. When you have too many extensions installed, your desktop browsers may encounter this issue. Consider uninstalling these third party extensions to resolve Ticketmaster error code 0002.