Are you having trouble playing an online mode of NBA 2K21? If NBA 2K21 online services are not working and you have no idea why, we'll show you what to do in this guide. Learn the solutions that you can try below.
Reasons why NBA 2K21 Online Services stop working
If the online services of NBA 2K21 are not working, it may be due to one of the following causes:
Server issues.
If you can play any online mode and you're getting an NBA 2K21 error code such as 4b538e50, it's a likely server problem. Game servers may sometimes go down due to overcapacity, outage, or planned maintenance.
You will know if you're having a server problem by checking the server status of the game.
Home internet connection is unstable.
The quality of your internet at home can directly affect your online gaming experience. If your connection is unstable or unreliable, NBA 2K21 may stop you from connecting to the servers, especially if you keep getting disconnected while playing with other players.
Wifi signal interference.
Ideally, you should avoid using wifi connection when trying to play an online game. This is because wireless connection is less reliable compared to a wired connection.
Wifi signal is also prone to interference, especially if you're using the 2.4GHz band.
Corrupted game data.
Some NBA 2K players in the past encountered problems like being unable to connect to online servers due to corrupted game data. This has been observed for those who usually play the MyCareer mode of the game.
Game files may become damaged or corrupted due to a number of reasons but one common cause is when a player interrupts the game by closing it while still saving its progress. This is true whether you're playing in a console (PlayStation, Xbox, Switch), or in a PC.
Too many accounts.
NBA 2K online allows 5 accounts for every device. If you have created more than 5 accounts, this may be the reason why the game is blocking you from connecting online.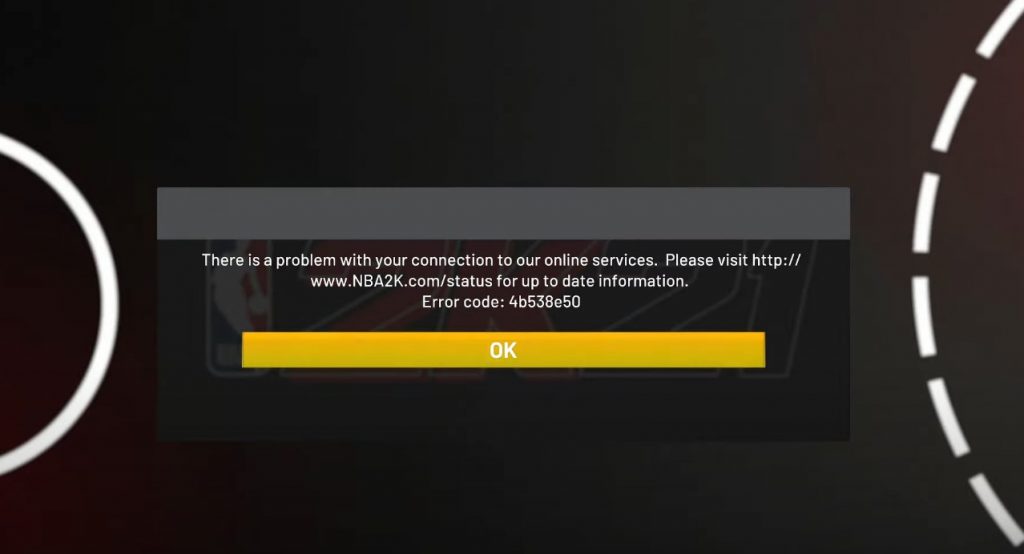 How to fix NBA 2K21 Online Services not working issue?
Unless the issue is on the server side of things, it's usually easy to fix NBA 2K21 online services problems. Below are the troubleshooting steps and solutions that you can do if NBA 2K21 is not connecting.
Fix #1: Check the server status.
The first thing that you want to do, whenever you encounter any connection issues with NBA 2K21, is to check how the game servers.
If you're playing in an Xbox console, you should also consider checking if there's any on-going issues with Xbox Live service by going to Xbox.com. If Xbox Live is down in your region, all online games may become inaccessible for you.
The same is true if you play NBA 2K21 on a PlayStation console. Make sure that you check if the PSN is working properly at this time by going to the official Sony website.
If you're playing the game on Steam, visit the Steam & Game Stats page.
For Epic Games users, they can check for any issues by going to the official website.
Fix #2: Install updates.
Keeping your NBA 2K21 game updated is important. Be sure to check for a new update at this time before loading the game again.
Fix #3: Power cycle the modem.
If there are no known server issues at the moment, you should consider checking your home internet. The first step in doing that is to ensure that you reboot the modem or router. Sometimes, all it takes to clear network bugs in games is to refresh the network equipment.
Fix #4: Restart your device.
Another simple yet effective way to get rid of bugs is to refresh the console or PC.
Fix #5: Repair the game files.
If NBA 2K21 still refuses to connect at this point and the server status is fine, you should consider checking for the possibility of bad game files.
The exact steps on how to do this depends on your device. If you play NBA 2K21 in a PlayStation, you can try:
reinstalling the game, or
If you're an Xbox player, deleting and reinstalling the game may help.
If you play on PC, try using the launcher's Verify option to fix game files. For Steam version, follow this link to know how to fix bad game files.
If you play the Epic Games version of NBA 2K21, here's what you need to do:
Close NBA 2K21 (if you're running it).
Open Epic Game launcher.
Select Library on the upper left.
Below the game tile, click on the three-dots.
Select Verify.
Wait for the process to finish.
Launch NBA 2K21 and check for the problem.
Fix #6: Delete excess NBA 2K accounts.
If you're getting an NBA 2K21 error code and can't connect to any online mode, it may be because you've created more than the allowed number of accounts in the game. I've personally experienced this in MyCareer mode so if that's what you're playing, try to get rid of the unnecessary player or account you've created and try connecting again.
OTHER INTERESTING ARTICLES:
Visit our TheDroidGuy Youtube Channel for more troubleshooting videos and tutorials.