If you're into first-person shooters, you'll likely find Valorant to be a wildly exciting game like others before it. It also come as a surprise hit for millions of players used to playing games like Counter-Strike for years now. While Valorant's vibrant agents and their matching personalities are one big reason for the game's huge surge in popularity, the game is definitely well-built. Still, Valorant also comes with serious bugs and glitches and one of them being the error 57 that we're discussing today.
What does Valorant error 57 in Valorant mean?
Valorant error 57 is one of the common errors caused by the Riot Games anti-cheat application called Vanguard. The full error reads: 
Vanguard not initialized. Vanguard Anti-Cheat has not been initialized. If this is your first time playing you will need to reboot your computer to continue. If you see this message frequently you may need to update your drivers.
If you are new to Valorant, you may not know that the game only allows you to join a multiplayer match if the Vanguard anti-cheat program is running. This is to ensure that any multiplayer match is free of cheaters and to ensure a level playing field for everyone.
Unfortunately, Vanguard can come into conflict with the game from time to time, resulting to certain errors, one of which is the error code 57.
Some players experienced this Valorant error when Vanguard is not launched before you try to play in a multiplayer match. Others may encounter the error while the game is underway, if Vanguard becomes unresponsive all of a sudden.
The same Valorant error may also occur if you intentionally terminate Riot Vanguard while an online multiplayer match is going on.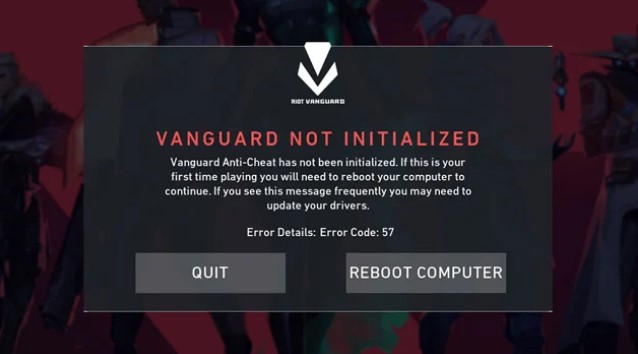 How to fix Valorant error code 57?
If Valorant error 57 keeps showing up and the game refuses to launch, you'll need to do a number of interventions to fix the problem. Learn what solutions you can try below.
Fix #1: Restart the Riot client and Valorant.
One of the simplest ways to fix Valorant error code 57 is to close both Valorant and the Riot client. Sometimes, one or both applications may run into internal errors that the system can't fix so a manual intervention may be required.
To do this fix, just close both applications in the Task Manager (CTRL+ALT+DEL), select all the processes related to Valorant, and hit End Task.
Fix #2: Reboot the PC.
If restarting the game and Riot Vanguard won't fix the Valorant error code 57, your next step is to try to refresh your PC instead. Sometimes, a quick PC reboot is all that's needed to clear network and app bugs and occasional system glitches.
Fix #3: Verify if your computer supports the game.
Ideally, PC players should know the capability of their machine first before installing a game.
If your PC was not originally designed for games, it's possible that the Valorant error code 57 you're getting right now can be due to the system turning off Vanguard as it runs out of memory or RAM.
If you want to check if your system can support the game, check out the official website of Valorant for the minimum system requirements.
Fix #4: Run Riot Vanguard in elevated Command Prompt.
If it's your first time to play the game and you're getting the Valorant error code 57, it's possible that the system is blocking it due to user account restrictions.
Try running Riot Vanguard as Administrator and check if that will fix the problem. To do this, find the installation folder of the game, look for the Riot Vanguard executable file, select Properties, and under the Compatibility tab, make sure that Run this program as an administrator box is checked.
Fix #5: Delete and reinstall Riot Vanguard anti-cheat.
Should the Valorant error code 57 continue, you'll need to uninstall and reinstall Riot Vanguard to ensure that the client works from scratch again.
To uninstall:
Press the Windows button on the keyboard.
Find Vanguard and right click on it.
Select Uninstall.
Check if for the error again by restarting the game.
OTHER INTERESTING ARTICLES:
Visit our TheDroidGuy Youtube Channel for more troubleshooting videos and tutorials.