Are you experiencing issues charging your JBL Boombox 3? There are several factors that can cause this issue ranging from your speaker settings, bad charging port, defective charging cable, or a faulty charger. To fix this, you will need to perform several troubleshooting steps.
The JBL Boombox 3 is a large Bluetooth speaker that can deliver a massive sound and deep bass. It is capable of providing 24 hours of playtime on a single charge and is certified IP67 making it dustproof and waterproof. Its built-in carrying handle makes it easy to carry to the party or gathering.
Technical Specifications:
Transducers: 189 x 114mm Subwoofer, 2 x 80.9 x 80.9mm Midrange/2 x 2.75 inch, 2 x 20mm Tweeter/2 x 0.75 inch
Output power: 1 x 80W RMS-subwoofer + 2 x 40W RMS-midrange + 2 x 10W RMS-tweeter (AC mode) 1 x 60W RMS-subwoofer + 2 x 30WRMS-midrange + 2 x 8W RMS-tweeter (Battery mode)
Power input: 100-240Vac; 50/60Hz
Frequency response: 40Hz – 20kHz
Signal-to-noise ratio: >80dB
Battery type: Li-ion polymer 72.6Wh (equivalent to 7.26V/10,000mAh)
Battery charge time: 6.5 hours
Music play time: up to 24 hours
Connection ports: AC-in, USB-A, Aux-in
Cable type: AC Power Cable
Cable length: 2000mm/78.7″
USB specification
USB charge out: 5V/2A (maximum)
Wireless specification
Bluetooth version: 5.3
Bluetooth profile: A2DP 1.3, AVRCP 1.6
Why is my JBL Boombox 3 speaker not charging?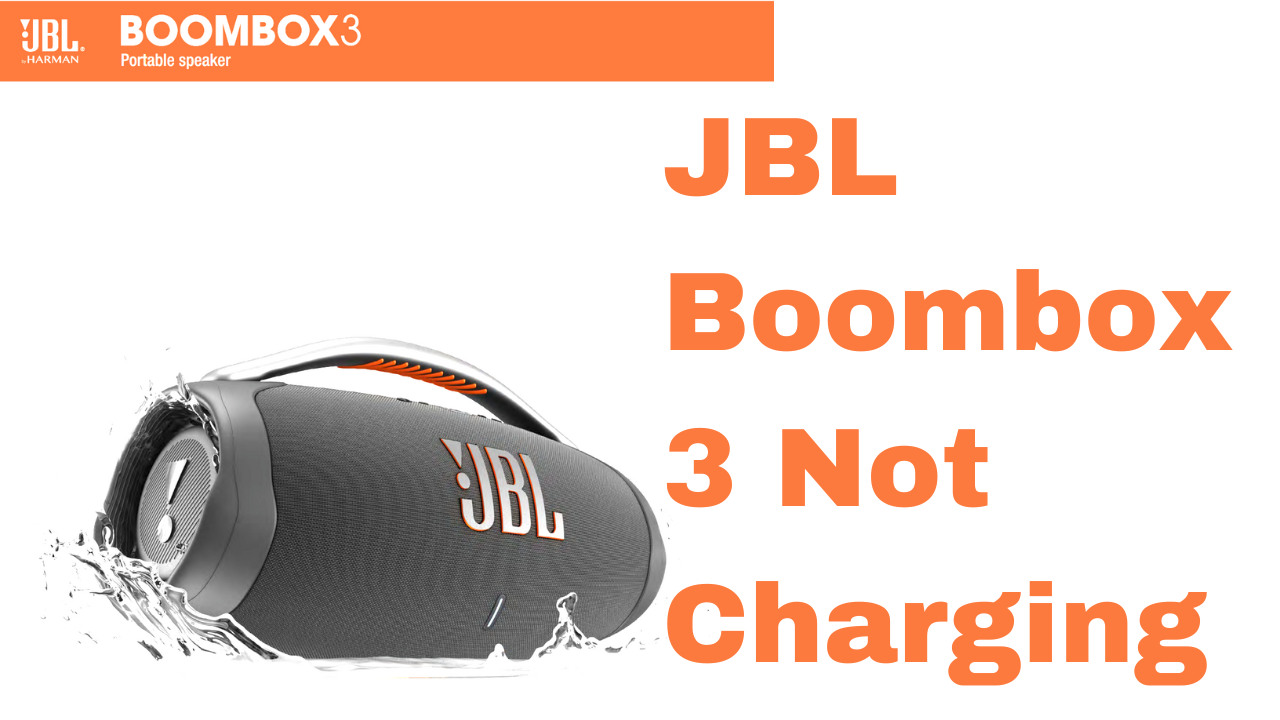 One of the issues you might experience with JBL speakers such as the JBL Boombox 3 is when you are unable to charge its lithium ion batteries. This can be an annoying experience especially if the battery life is already low.
Here's what you need to do to fix the charging issues on your JBL speakers.
Solution 1: Check the JBL speaker charging port and cord
Your JBL Boombox 3 uses an AC charging port to get power into the device. You need to make sure that this port is clean and free from any dirt or debris inside. You can clean the charging port using a thin object such as a toothpick.
The port will have connector pins, make sure that it is not bent or damaged. If you have a damaged charging port then you will need to have this fixed.
You should also check the AC power cord you are using for any signs of defect. If necessary, replace this power cord with a new one.
Solution 2: Plug the JBL speaker to a different wall outlet
One of the reasons why your JBL speaker won't charge is because you are plugging it to a faulty wall power outlet. Try plugging the charging cable to a different wall outlet then check if the speaker can now charge properly.
Solution 3: Factory reset your JBL Boombox 3
One of the troubleshooting methods that will fix software related issues is a factory reset. If you are unable to fully charge the lithium ion batteries of the Boombox 3 then this might be caused by a software glitch which can be easily fixed by a hard reset.
Factory reset JBL Boombox 3
Remove the charging cord from the speaker.
Turn on the speaker by pressing the power button.
Press and hold the Volume + button and Play button for at least 3 seconds. The speaker will turn off.
Turn on the speaker.
Try checking if you are now able to charge the Bluetooth speaker.
Solution 4: Update the JBL Boombox 3 software
There's a possibility that an outdated JBL software is causing this problem. To fix this you just need to install the latest software on your JBL speaker.
Update JBL Boombox 3 software
Download the JBL Portable app on your smartphone.
Make sure that the JBL speaker is paired to your smartphone. Turn on your JBL speaker then launch the app.
Your speaker should be displayed and the update button will be available if a firmware update is available.
Tap the update button then tap upgrade to update your JBL Boombox 3 software.
Tap Let's party to complete the update.
After the latest update has been installed try checking if the charging battery issues still occurs.
Solution 5: Have your JBL speaker checked at the nearest service center
In case you are still unable to charge your JBL speaker then this might already be caused by a faulty hardware component.
Some of the possible hardware components that can be damaged are as follows.
Faulty charging port.
Defective battery.
Damaged charging circuit.
Defective power cord.
Damaged circuit board.
If the problem is caused by a damaged battery then the service center will have battery replacement kits which they can use to use as replacement batteries.
Contact JBL for the nearest service center in your area.
Frequently Asked Questions
Why does my JBL Boombox 3 not charge?

If your Bluetooth speaker is not charging then this might be caused by a hardware issue or a software glitch. To fix this issue here's what you need to do.
Check the charging cable and make sure that it is not damaged. Try using other cables.
Make sure that the power outlet you are using to plug the speaker is working. If necessary try plugging the speaker to a different power source.
If your speaker is not turning on then this might be due to a short circuit or defective circuit board. You will need to have this checked at a service center.

What do I do if my JBL Boombox 3 has a faulty battery?

When Bluetooth speakers have a faulty battery the best way to proceed is to have the batteries replaced at a repair shop.

How do I know if my JBL Boombox 3 battery is already defective?

If your Bluetooth speaker battery life is low even on a full charge or if you are having issues with its charging capabilities then it's very likely that the battery is already defective.

Does the JBL Boombox 3 have a charger?

The JBL Boombox 3 uses an AC power cord to connect directly to a wall outlet.

How long should the JBL Boombox 3 be charged?

It's going to take 6.5 hours to fully charge the JBL Boombox 3.