There can be a couple of reasons why players would want to uninstall Valorant on their PC. Whether you simply want to free up some storage space or to stop playing the game temporarily, this guide will help you with this.
How to uninstall Valorant and Riot Vanguard
Just like any Windows program, there are a number of ways to uninstall Valorant. Any of these methods should have the same effect in removing Valorant from the system. The entire uninstallation process will only take you a minute so regardless of the method you use, the process will be completely smooth.
Learn how to do each of these methods below.
Method #1: How to uninstall Valorant from the Control Panel.
The most common method of uninstalling a program, which goes back even to the older versions of Windows is by using the Control Panel. Here's what you need to do: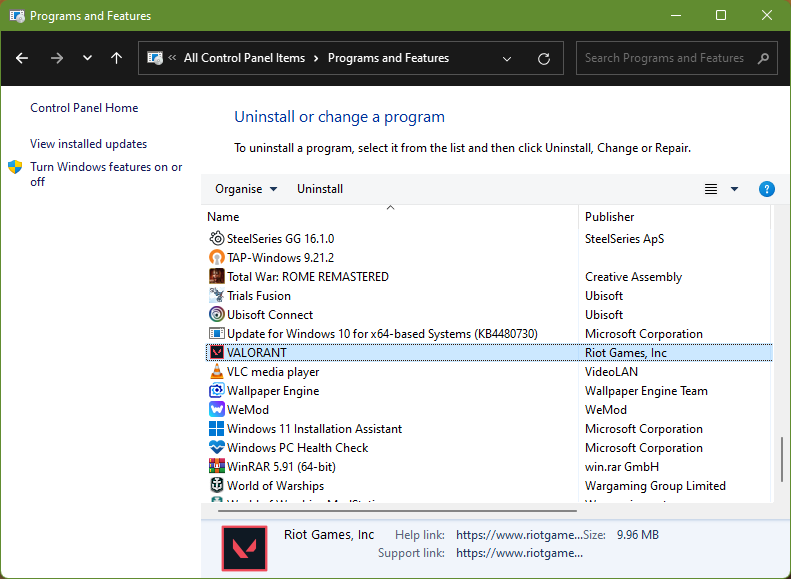 Press the Windows key on your keyboard and type "control panel" in the search box.
Open the Control Panel app.
In the upper right, change the View by to Small Icons.
Find and click Programs and Features.
Look for Valorant in the list and click it.
Then, click Uninstall on top. Alternatively, you can right click on Valorant and select Uninstall.
Method #2: How to uninstall Valorant using Add or Remove Programs
Another easy way to uninstall Valorant is by using the Apps and Features. To do that, follow these steps: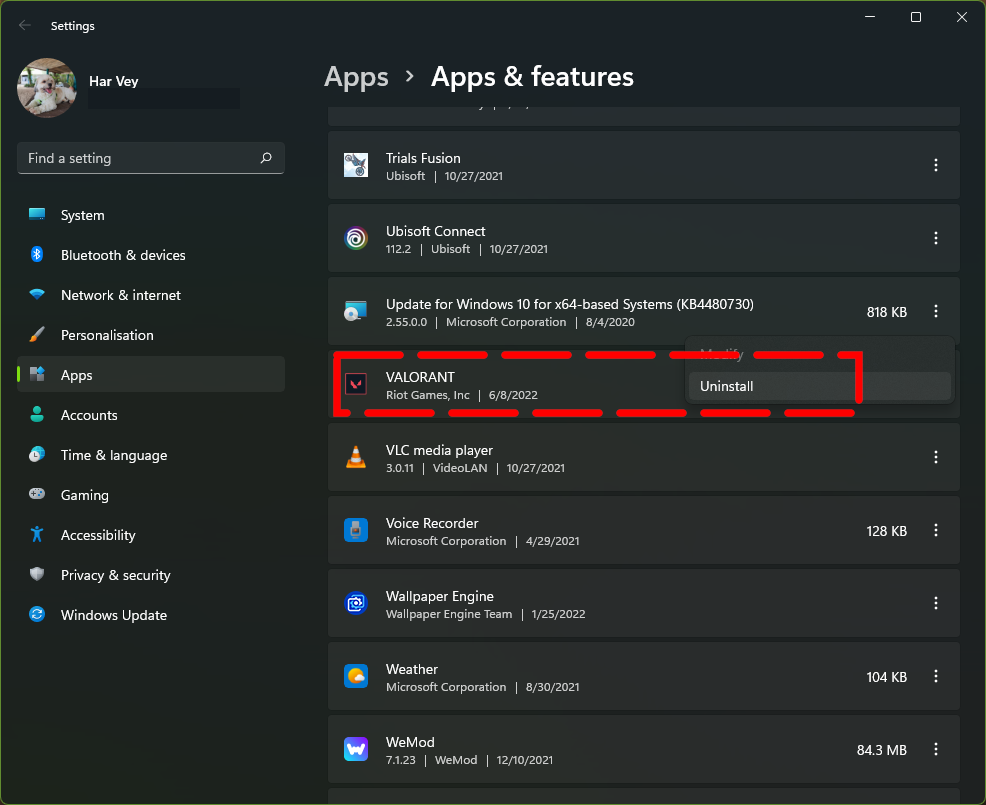 Right click the Start button and select Apps and Features.
Once the Apps and Features window is opened, Find Valorant and click on the three dots on the right.
Select Uninstall to uninstall the game.
Method #3: How to uninstall Valorant from the Start Menu.
The final method to completely uninstall Valorant from your PC is by using the Start Menu.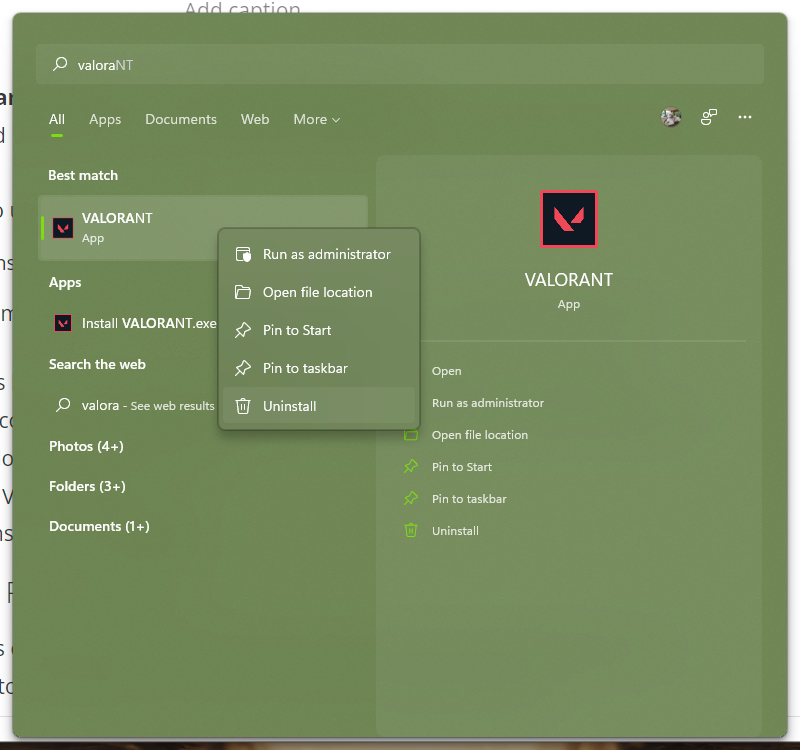 Press the Windows key on your keyboard or click on the Start button in the taskbar.
Find the Valorant icon in the Start Menu. If you can't find the Valorant icon, you can search for it by typing "valorant" in the search box.
Right click on the Valorant icon.
Go over the options and click Uninstall.
How to uninstall Riot Vanguard
Uninstalling Valorant is only half your task here and you also need to find Riot Vanguard and remote it too in order to totally get rid of the entire Valorant software package.
What is Riot Vanguard?
Riot Vanguard is an anti-cheat software from Riot Games (the same company behind the popular League of Legends game) that aims to discourage or totally eliminate cheating in the game. By far, Vanguard has been very effective in preventing cheaters in the game but it's not without controversy.
Privacy advocates claim that Riot Vanguard seems to be ingrained deeply in the system that it has full access to your computer all the time when it's running. This means that the software can potentially monitor your activities on your PC and can gather more than the necessary information from your system than what is necessary to prevent cheats.
Although Riot Games is a video game developer and not a malicious entity, it can still become a target for cyber hackers just like any other company. Any cyber breach that can penetrate the defenses of Riot Games can potentially expose computers who are running Riot Vanguard.
Uninstalling Riot Vanguard
If you want to get rid of Riot Vanguard due to security concerns, or if you no longer want to play Valorant, you must ensure that Riot Vanguard is completely removed from your computer as well.
The steps to uninstall Riot Vanguard are generally identical to the steps on how to do it with the Valorant software. This means that you can uninstall Riot Vanguard using any of the three methods (via the Control Panel, Apps and Features, and Start Menu).
What to do if you are unable to uninstall Riot Vanguard completely?
Some Valorant players who wanted to remove the game from their system encountered uninstallation issues with Riot Vanguard in the past. They've reported having trouble deleing that vgk.sys file in the installation directory using the three methods. This can be attributed to the fact that Riot Vanguard runs at the system or kernel level, making its removable using traditional means difficult in certain systems.
If you're encountering the same issue on your machine, there are a handful of things to do.
Uninstall Riot Vanguard in Safe Mode.
You can try to reboot your PC to safe mode and remove the vgk.sys file from the Valorant installation folder.
In order to boot to safe mode, follow these steps:
Press Windows icon + I on the keyboard to open Settings.
Select System.
Go to Recovery.
Select the Restart now button in Advanced startup.
Once your computer has restarted to the Choose an option screen, you can go Troubleshoot > Advanced options > Startup Settings > Restart.
Wait for the second time after your PC has restarted and select the option to start your PC to Safe Mode. If you want to boot to Safe Mode with internet connection enabled, select the option for Safe Mode with Networking.
Rename the vgk.sys filename
Another trick that you can do is to trick the system to ignore Riot Vanguard process during startup. You can do this by renaming the vgk.sys file to a different one like vgk.txt.
To do this, just go to the installation folder of Riot Vanguard, find the vgk.sys file, right click on it, and rename it.
Delete vgk.sys using a command line
Another option to uninstall riot vanguard or remove its vgk.sys file is by using the command prompt. Here's what you need to do:
Press the Windows key on your keyboard and type "command prompt" in the search box.
Right click on the Command Prompt app that appears and select Run as Administrator.
In the Command Prompt, type "sc delete vgc" and press Enter.
Then, type "sc delete vgk" and press Enter.
Restart your PC.
Locate the installation directory of Riot Vanguard and delete the entire directory.
How to disable Riot Vanguard?
If you're planning on reinstalling Valorant in the future, it would be wise not to totally uninstall Riot Vanguard. Instead, you can simply leave it as it is and then simply reinstall Valorant later on. The game and the old Riot Vanguard should work fine with this setup.
With Riot Vanguard left without the Valorant game in the system, you can disable it instead of totally removing it from your PC.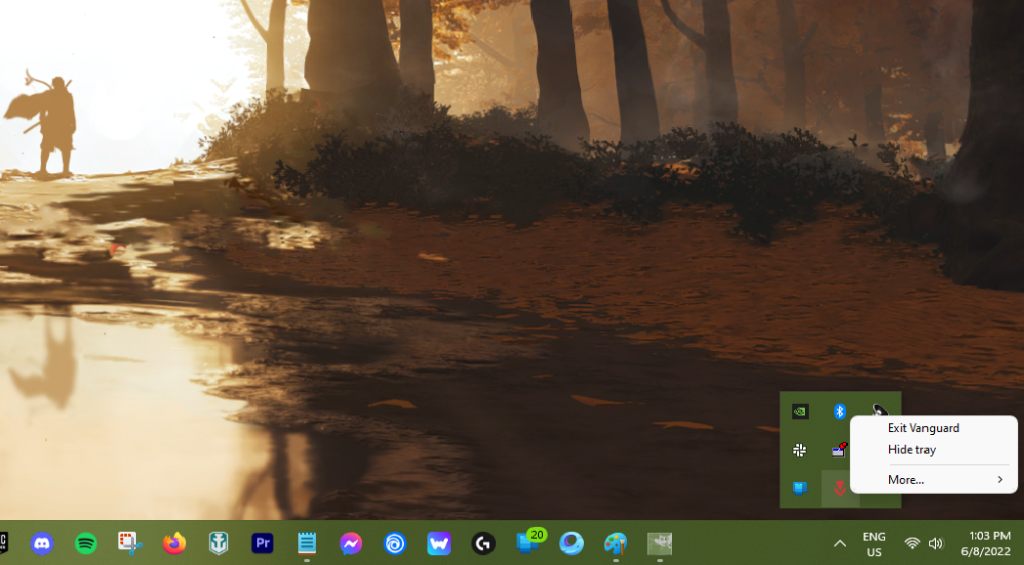 Riot Games chose to add the disable feature in Riot Vanguard after receiving backlash from the gaming community. You can take advantage of this option to turn off Riot Vanguard while you're not playing Valorant. Here's what you need to do:
With Riot Vanguard running, go to your System tray in the lower right side of the screen.
Find Riot Vanguard icon and right click on it.
Select Exit Vanguard to disable it.
Hit Yes to confirm.
Keep in mind that Valorant will not run without Riot Vanguard. Make sure that you enable Vanguard again before running Valorant in the future.
FAQs
How to uninstall Valorant quickly?

All the three methods shown in this guide to uninstall Valorant are easy. They can be done quickly in under a minute although you can potentially encounter an issue with removing Riot Vanguard's vgk.sys file.

Can I install Valorant anytime?

Yes. Valorant is a play-to-play PC game and anyone can install the game on their PC as long as they meet the system requirements and has an active Riot account.

Is Valorant coming to Xbox and PlayStation?

At this time, there's no news for Valorant console version. While Riot Games is open about the possibility of Valorant running on the latest generation consoles, there's no confirmed developments about the idea yet.
OTHER INTERESTING ARTICLES YOU MAY LIKE: