Have you encountered a Black Ops "Game is running" error message even if the application never starts? If you do, then you are not alone as there are several Call of Duty players who have experienced the same issue. In this post, we will discuss more about this specific error and include possible solutions for you to try to fix the error in your end and start playing the game.
Causes of Black Ops Game is Running Error
Call of Duty: Black Ops Cold War developed by Treyarch and Raven Software is the seventeenth entry from the franchise which was released in November 2020. Aside from receiving mixed reviews from gamers, the game is bombarded with errors and the error mentioned above is one of the known issues. Some of the possible causes for the "Game is running" error are highlighted below.
Call of Duty: Black Ops Cold War server problem.
The error will possibly show up if there is an ongoing server downtime while trying to access the Black Ops Cold War game. For any problems when launching the game, we recommend that you visit the Activision official website for any outages information to ensure that the error is not related to any server downtime.
Third party applications interference.
Sometimes errors in trying to launch the Black Ops Cold War game exist due to conflict with other applications running in your device. Try to close some of the applications currently active in your computer to prevent any interference.
GPU drivers not updated.
Game is running error when accessing the Call of Duty: Black Ops Cold War can also be influenced by GPU drivers being outdated. It is important to update the graphic drivers regularly to improve performance of the computer and prevent more issues when playing.
PC incompatible with the game.
Another common factor why Call of Duty: Black Ops Cold War won't start even if the message shows that the game is already running can be due to the computer not compatible or does not meet the minimum requirement of the game.
For your reference, the system minimum and the recommended requirements for a better gameplay experience are as follows:
OS: Windows 7 64Bit (SP1) or Windows 10 64Bit (v.1803 or higher)
CPU: Intel Core i3-4340 or AMD FX-6300
GPU: Nvidia GeForce GTX 670 / GeForce GTX 1650 or AMD Radeon HD 7950
RAM: 8GB
HDD (at launch): 50GB (multiplayer-only) or 175GB (all game modes)
Recommended Requirements:
OS: Windows 10 64Bit (latest Service Pack)
CPU: Intel Core i5-2500K or AMD Ryzen R5 1600X
RAM: 12GB RAM
GPU: NVIDIA GeForce GTX 970 / GTX 1660 Super or Radeon R9 390 / AMD RX 580
HDD (at launch*): 82GB HD space
Corrupted game files.
When the Black Ops Cold War game files stored in your computer are corrupted or broken, these types of errors can occur and stop the game from launching. The game files can get damaged for a number of reasons. It can be caused by a sudden power interruption while playing and the game crashes unexpectedly or when the game was not completely saved successfully.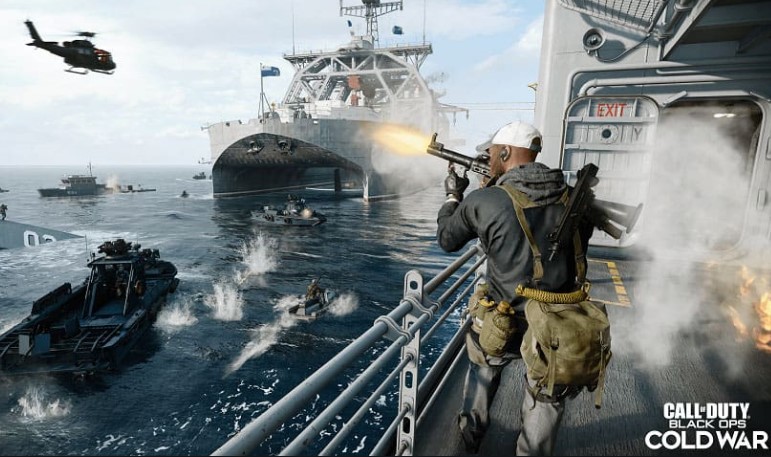 How to Fix Black Ops Game is Running Error 
We have provided some of the solutions that you can apply to fix the error for the Call of Duty: Black Ops Cold War problem.
Fix #1: Restart computer.
When doing a basic restart of the computer, it refreshes the current state of the software which helps resolve the problem.
Fix #2: Update graphics card drivers.
As mentioned above, it is necessary to install updates for the graphics card drivers as it provides the best performance when playing games. Updates also include fixes of bugs and additional features that you can use for certain games. You can check previous articles from our website to learn how to update the two common graphics card drivers (NVIDIA and AMD) for Windows.
Fix #3: Scan and repair corrupted game files.
There are several reasons why game files get corrupted but there are instances that these can still be repaired. Here are the steps on how to use the repair tool to fix damaged game files for Call of Duty: Black Ops Cold War.
Access the Battle.net desktop application.
Select the icon of the Call of Duty: Black Ops Cold War game from the options.
Click the Options icon (cog icon) located near the Play button.
Choose Scan and Repair.
Then select Begin Scan.
Wait until the repair is completed. Try to launch the game to check if it is already working.
OTHER INTERESTING ARTICLES:
Visit our TheDroidGuy Youtube Channel for more troubleshooting videos and tutorials.