Messaging problems can occur anytime on any device like the Galaxy Note 4, whether you are using the built-in or third-party messaging app. The good thing is that problems of these kinds are mostly triggered by a software glitch and thus, potential solutions and workarounds have already been determined. So all we need is to analyze the issue based on the emerging symptoms, identify the cause, and then try/apply the most suitable workaround(s) until a definite solution is finally obtained.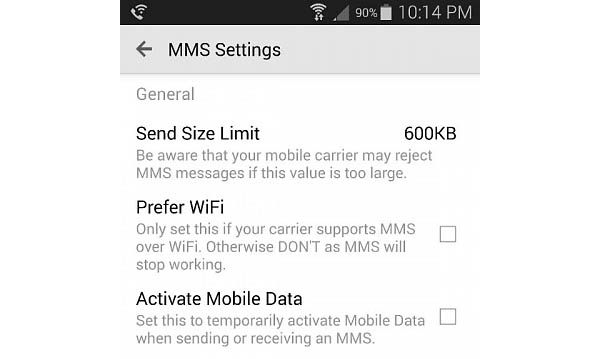 Those who have other issues with the Galaxy Note 4 may visit our Note 4 Troubleshooting page that outlines different problems, workarounds, and potential solutions we've offered. If your problem is not yet addressed or listed in that page, please email us at [email protected]. Just be sure to provide as much details as possible, like the brand and model of your phone, Android version it's currently running on, and the emerging symptoms. We would need this information to analyze your problem and provide you with a more appropriate solution and/or recommendations. Again, the more details you provide, the better we can assist you.
In this post, I have sorted out six relevant emails tied to SMS and MMS messaging issues relayed to us by some Galaxy Note 4 owners via mailbag.
Cannot Send/Receive Text Messages on Galaxy Note 4 after switching from iPhone
Problem: Hi. I'm having trouble with my Galaxy Note 4 messaging. I just made a switched from an iPhone to the Note 4 but I haven't been able to receive or send text messages. I can make calls perfectly fine though. Can you please help me fix this problem? Thanks in advance. — Jenny
Related Problem: Last week, I switched from an iPhone 5 to a Samsung Galaxy Note 4. Everything went perfectly fine except for one thing. I am not able to text out but able to receive text messages. Please help me out. — Louise
Recommendation: Hi Jenny and Louise. Problems on sending text messages are widespread among those who made a switch from an iPhone to a Samsung device. And both your issues are related. Since you haven't mentioned if you did attempt any workaround to troubleshoot the problem, I suggest you start by removing the SIM card from your iPhone and then reboot your Note 4 device. After doing so, test your Note 4 and see if it can already send/receive text messages. If problem persists, proceed to the following potential solution.
Potential Solution: Be sure to turn off iMessage and FaceTime on your old iPhone before you switch to a new Samsung device.
What happens is that iMessage does not only associate your phone number with your Apple Id but your email addresses as well. So, as long as those things are linked or synced, messages sent by someone with an iPhone device will also go through Apple's iMessage system. Anyway, you can always re-enable or turn iMessage back on if you need to communicate with other iOS devices like iPad or iPod, except for iPhone. Once you do this, you can likewise, turn FaceTime back on without any issues.
After turning off these tools, visit Apple ID website and change the password for your Apple account.
Important Note: Resetting of the Apple account password may only be necessary if you no longer have access to all your iDevices. This method is applicable to any carrier.
Galaxy Note 4 Sending Duplicate Text Messages in Hangouts
Problem: I'm having a little problem with my Galaxy Note (Sprint) 4 device lately. After I installed the new Hangouts application with GV (Google Voice) integration, the text messages I send to others would duplicate. I just learned of it after a friend of mine told me he's always getting duplicate SMS from my number. At first, I told him perhaps it was only due to a network problem but he said if it is then it shouldn't happen all the time. So out of curiosity, I tried to send a text message via Hangouts from my Note 4 to my other phone and found out my friend wasn't joking. I tried it several times and same thing happened. By the way, my GV number is the same as my Sprint number. Also, I can see 3 options under the "Send SMS From," namely Smart Reply, Google Voice Number, and Sprint Number. If I select the Smart Reply option, my phone only sends one message (SMS) but if I choose any of the other two, that's when the message I sent duplicates. So now, I'm just using Smart Reply as my temporary fix. However, Smart Reply does not offer me any options to start a group MMS and I have to choose Sprint Number for group MMS options to become accessible. I've cleared app data/cache to no avail. The Hangouts version I have is 2.3.75731955. I hope you can help me fix this problem. Thanks. — Phil
Recommendations: Hi Phil. This problem is not only occurring on the Galaxy Note 4 but also on other Android devices and even computers. Some of those who have encountered similar issue on duplicating messages suggested opting out of the GV integration would stop sending duplicate messages to your contacts. This is one thing you can try on first. Another workaround recommended by a Sprint tech support is by attempting to disable the Google Voice and Hangouts Text Messages setting.
Google is also offering a support page to help users troubleshoot Hangouts problems they have on different Android mobile devices. You may visit the troubleshooter page for further assistance.
Can't Send/Receive Picture Messages or MMS on Galaxy Note 4
Problem: Hi. I need some help please. I can't seem to figure out why my Galaxy Note 4 can't send and receive picture messages. I am using the default Samsung Messaging application and haven't touched or changed anything in it that would cause me this trouble. Sorry, but I am new to Android phones and I'm not yet really that familiar with its interface. I hope you understand. Do I have to do something on the phone settings for the phone messaging function to work? I've also tried a third party app but still my phone will not let me receive or send picture messages. I tried to send a picture to my friend almost a week ago but it's still not sending until now. Please let me know what I can do to get this fixed. Looking forward to hearing from you guys. Thanks. — Astred
Recommendations: Hey, Astred. There are a number of factors that may affect MMS services on a device. To isolate your problem, let us start with the most common culprits — mobile data disabled, power saving/ultra power saving mode enabled, poor signal, and (MMS) file size.
Have you checked if mobile data is enabled on your Note 4 device? If not, then I suggest you check it now and make sure it is enabled or turned on. Mobile data has to be enabled for you to send picture messages (MMS). Also ensure your phone is not on power saving mode or ultra-power saving mode. If you're not sure, then you can verify it this time. When enabled, Power saving mode restricts background data and prevents your phone from transferring data in the background. Ultra power saving mode also turns off mobile data on your phone.
Also check if your phone has enough signal strength and data connection (preferably 3G/4G) while trying to send MMS because network problems can also cause you this trouble. And the last thing I want you to check is the file size of the MMS or picture you are trying to send. Sometimes, you won't be able to send MMS especially if the file size you are trying to send is too large.
Another thing you need to consider and a possible reason why you can't receive MMS is when you already have exceeded the message limit. So, if you think you already have gone beyond the specified number (which is 200 by default), try to check or change the maximum number if necessary.
Note: Steps to enable mobile data, disable power saving mode, as well setting MMS message limit on the Galaxy Note 4 are provided below this page under Troubleshooting procedures. Feel free to use our guide if necessary.
Can't Send/Receive Text Messages (SMS) on Galaxy Note 4
Problem: Hi. All of a sudden, I am unable to send and receive any text messages (SMS) with my Galaxy Note 4 (AT&T). I can't figure out what went wrong. It's been going on since last night. I didn't change anything on the message settings. I'm using the built-in messaging app by the way. When I tried to send a text, I'm getting a message saying "failed to send message." I've tried restarting my device many times but that didn't fix the problem. What do you think has caused me this problem and what should I do to fix it? Please help me if you can. Thanks. — Aaron
Recommendations: Kindly send a text message to any contact, or any other device (if available and see if it goes through this time. Since you said the problem has just started last night, it could be due to a network outage affecting the service in your area. In this case, please contact your network carrier and have them check for any possible outages that might have affected messaging services in your location.
If you still can't send/receive a message, see if you can make a call. If you can't, then verify if airplane mode is turned off. Even if you said you haven't touched or changed anything on your device settings, it wouldn't hurt if you ensure it's off. And to make sure you have not yet exceeded the specified text message limit on your device, try to check it this time.
Also verify if the message center number saved in your phone is correct. Please contact your carrier if you are not sure which number to use.
Galaxy Note 4 SMS showing Number instead of Contact Name
Problem: Hi guys! I have a recent problem with my Galaxy Note 4 SMS. I noticed every time I receive SMS from a contact, it shows the phone number instead of the contact name saved in my phone. It's very strange. I am using a third party app (Handcent) for SMS messaging. I've tried uninstalling and re-installing the app but to no avail. Turning the phone on and off didn't work too. This is annoying. Hope you can help me fix it. Thanks and more power to your team! — Roy
Recommendations: Hi Roy! Have you tried using the default SMS app on your Note 4 device? If not, then I suggest you try it this time. If the problem is gone while using the default messaging app, we can say the glitch is on Handcent. Try force closing Handcent and reboot (soft reset) your phone afterwards. Hope this helps.
Text Message Memory Full error – can't send SMS on Galaxy Note 4
Problem: I'm having a problem sending text messages with my Samsung Galaxy Note 4. When I tried to send a text, I'm getting an error message saying, "Text message memory full" and then the message won't send. I already have deleted all my threads and restarted my phone but nothing's changed. Any suggestion on how to fix this problem? I would really appreciate it. — David
Recommendation: Hi David. The error message is actually referring to your phone's internal memory space, which is apparently dropping too low. Deleting of old text messages may not be enough to solve your problem. This means you need to do more internal memory clearing to do.
There are many ways for you to clear up some space of your phone's internal memory. Try to delete or uninstall some applications especially those that are no longer useful. Clearing apps caches and call logs, as well as moving some apps to an SD card also help.
Troubleshooting Procedures
This content is intended for those who need further assistance in doing any of the given solutions or troubleshooting methods for their respective device problems. Follow the steps to perform any of the applicable methods to troubleshoot the issue you have with your Galaxy Note 4.
Disable GV Text Messages and Voicemail in your Hangouts app on the Galaxy Note 4
Open the Hangouts app on your Note 4.
Touch your profile photo to continue.
Touch Settings to get to the settings menu.
Remove the check from the box next to Messages: Show SMS & voicemail in Hangouts.
How to Enable Mobile Data on Samsung Galaxy Note 4
Touch Apps from the Home screen.
Scroll to and touch Settings.
Touch Data usage.
Touch Mobile data to enable it. You will know when mobile data is enabled if the box next to it is checked.
How to Disable Power Saving Mode on Galaxy Note 4
Touch Apps from the Home screen.
Touch Settings.
Touch Power saving.
Touch to select a mode to configure settings. In this case, you have to make sure Power saving mode is OFF. The ON/OFF switch will help you determine if this mode is enabled or disabled. Again, it has to be OFF or disabled.
How to check if Airplane Mode is OFF on the Galaxy Note 4
Press and hold the Power key.
Tap Airplane mode to turn it OFF, if it is ON. Otherwise, leave it off.
How to Force Close App (Handcent) on Galaxy Note 4
Touch the Menu button.
Select Settings from the menu.
Touch Apps under Settings on the Settings screen.
Select the app (Handcent) you want to close or stop and touch it.
If prompted with a confirmation dialog box making sure you really want to force the app to stop, touch OK to confirm and stop the app.
How to Soft Reset Galaxy Note 4
Press and hold the Power button until the Phone options prompt displays.
Tap Restart.
Tap OK when prompted with "The device will restart."
Alternatively, you can just remove and re-insert the battery, then turn the phone back on. That will do the same.
How to Set SMS/MMS Message Limit on Samsung Galaxy Note 4
Open the Messages app.
Press the Menu key
Touch Settings.
Put a checkmark on the box next to Delete old messages, as you desire. Checking this option will automatically delete old messages (SMS/MMS) from your device.
Touch Text message limit to set/change the maximum number of SMS messages you want your phone to accommodate.
Enter the limit you desire. You can choose from 10 to 5000.
Touch OK to continue.
Touch Multimedia message limit to set/change the maximum number of MMS messages you want your phone to accommodate.
Enter the limit you desire. For MMS, you can choose from 1-99.
Touch OK to apply changes.
Alternatively, you can do this:
Open the Messaging
Tap the three dots located on the upper right in Messages.
Open the Settings
Tap Delete old messages.
You may choose to turn it off or increase the limit.
Important Note: Messages settings menu options may vary depending on your carrier. If you're with AT&T, you could find this under AT&T Messages Backup & Sync feature. And you may need to log into your AT&T account online to disable this feature.
Connect with us
We are always open to your problems, questions and suggestions, so feel free to send them at [email protected]. We support every Android device available and we are serious in what we do. This is a free service we offer and we won't charge you a penny for it. But please note that we receive hundreds of emails every day and it's impossible for us to respond to every single one of them. But rest assured we read every message we receive. For those whom we've helped, please spread the word by sharing our posts to your friends or by simply liking our Facebook and Google+ page or follow us on Twitter.