In this post, I've addressed two problems associated with file transfer on the Samsung Galaxy S6 Edge Plus (#Samsung #GalaxyS6EdgePlus). The first problem has something to do with NFC file transfer, in which the user is unable to transfer photos via #NFC and beaming feature.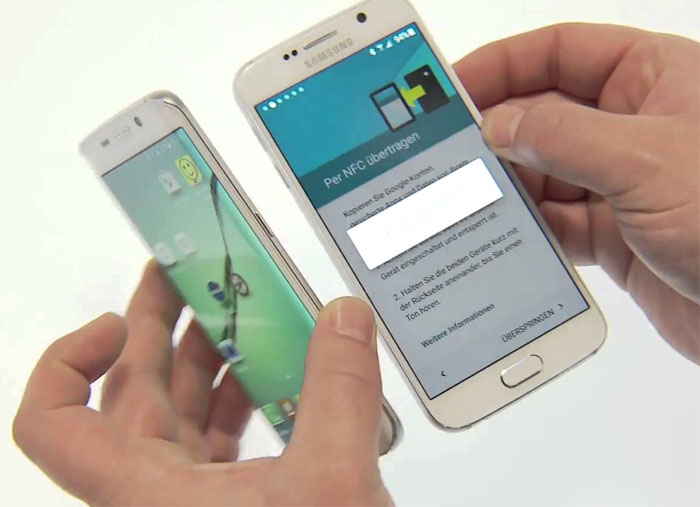 On the second problem, the user is unable to send but able to receive pictures (MMS) on his phone. There are several factors that may affect file transfers with your S6 Edge Plus device, ranging from network connection to settings configuration.
Read on to learn how to fix these kinds of problems in case you will encounter them in the future.
---
Unable to transfer photos using NFC feature on the Galaxy S6 Edge Plus
Problem: "Can't seem to figure out how to transfer photos by touching phones back to back with my Galaxy S6 Edge Plus. I could with my galaxy s4 with no problems. Please help. Thanks" – Rod
Solution: Hi Rod. I understand that you are having trouble transferring photos via NFC on your Galaxy S6 Edge plus, right? First thing you need to check is if the NFC and Android Beam features are enabled on your phone. Both of these features must be enabled for the file transfer to work.
Both devices must be turned on and unlocked for you to send and receive contents between them. If either device is off or at its lock screen, Android Beam will not work.
Follow these steps to enable NFC and Android Beam on your Galaxy S6 Edge Plus:
Tap Apps from the Home screen.
Tap Settings.
Tap NFC and Payment.
Tap the On/Off switch to enable NFC.
On the same screen, scroll to and tap Android Beam and then toggle the On/Off switch to enable the feature.
Important note: Android Beam has to be turned on to allow your device to share files between NFC-capable devices. It also activates Bluetooth on both devices, and pairs them instantly.
When NFC and Android Beam options are enabled, you may proceed with the NFC file transfer using these steps:
Place the phones back to back, with both devices turned on and unlocked.
Wait until both devices successfully paired. When pairing is successful or NFC connection is established, you should hear a sound and the Touch to Beam prompt appears along with an animated background.
Navigate to the content you want to share and then tap the file you want to share.
For photos, open the picture in the Gallery, and then tap the picture you want to share.
You can also send multiple pictures by opening the Gallery app, long press a picture's thumbnail, and then tap to select all the photos you want to send. When all desired pictures are selected, you may start the beaming process. The actual file transfer happens over Bluetooth.
On the receiving device, accept the transfer when prompted.
Wait until the transfer is done.
More Tips when using NFC file transfer on your Galaxy S6 Edge plus:
Make sure both devices support NFC.
If problem persists, you can try an alternative solution using Samsung Quick Connect to transfer files including pictures from your Galaxy S6 Edge plus to another device.
Cannot send but can receive pictures (MMS) on the Galaxy S6 Edge plus
Problem: "I just got my phone 10 days ago and when I try to sending pictures it won't go through. I can receive pictures and text too but sending pictures cannot at all. I clear cache but still the same. Also when I restart my phone the picture mail will go through that's the only way it goes through but I`m not going to keep doing that all the time. Need help. Thanks. – Eriel"
Solution: There are two things I can suggest in your case. First, is to make sure mobile data is enabled, and second, is to try changing the APN settings on your device.
Often times, problems on sending pictures occur because mobile data is turned off or disabled on the device. Your device uses mobile data for sending pictures or multimedia messages, so it has to be turned on for MMS to work.
Follow these steps to enable Mobile Data
Tap Apps from the Home screen.
Tap Settings.
Scroll to and tap Data usage.
Under Data usage, tap Mobile Data switch to enable the feature.
If you want limit mobile data usage, tap the switch next to Limit mobile data usage and then drag the horizontal limit slider up or down as you prefer.
Regarding APN settings, be sure it's configured correctly. To ensure you are using the right APN settings, please contact your carrier and secure correct APN settings information.
Follow these steps to configure APN settings on your Galaxy S6 Edge Plus:
Tap Apps from Home.
Tap Settings.
Scroll to and tap Mobile networks.
Tap Access Point Names to continue.
Configure Access Point Names options or settings for your phone's data connection.
Other applicable workarounds you can try on to fix NFC file transfer and MMS sending issues with your Galaxy S6 Edge Plus:
Soft reset or restart your phone.
Ensure you have a network connection.
Verify Data Usage settings by going to Settings-> Data Usage and ensure mobile data is enabled and that there is no data limit blocking. Uncheck the Set mobile data limit box, if necessary.
Contact your carrier or Internet service provider and verify if you have a data block enabled.
For MMS file attachments, make sure the file size isn't too large for an attachment.
Connect with us
Do you have any other problems with your Galaxy S6 Edge Plus? We're here to help. You may visit our Troubleshooting Page to view other device issues we have addressed in our prior posts.
Should you wish to seek help from TheDroidGuy support team, regarding an issue with your device, don't hesitate to fill up and submit the form we've provided in our Troubleshooting page. Just be sure to provide as much information about the problem, for us to get back to you with the best possible solution. The more details you give, the more accurate our solutions would be.