While many users generally find the new Android Lollipop work like a charm on their device, there's a significant number of users as well who are experiencing all sorts of seemingly unending problems with it. We cover at least four of these issues below with the hope of enlightening our users on how to fix Samsung Galaxy Note 3 freezing, lag, slow performance problems after updating to Android Lollipop.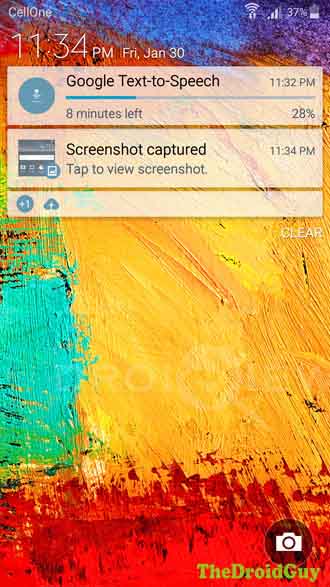 As usual, this post only recommends standard troubleshooting steps as the problems themselves are software in nature. If you have a problem, or better still, a solution for these issues below, we welcome them with open hearts in TheDroidGuy so do not hesitate to share them here. We want to make the already colorful Android community an even more vibrant group of users in our own little way. If you want to contact us, please refer to the links and our email at the bottom part of this post.
Problem #1: Samsung Galaxy Note 3 camera lag issue, phone slowing down after updating to Lollipop
I ran across your website and thought you may help with some issues I've been having problems with my phone since it has been updated to Lollipop in February 2015. I have a Galaxy Note 3 (SM-900T).  Running Android 5.0 on T-Mobile's network in the United States. 
The issues are minor inconveniences, but I'd like to get them resolved. There doesn't seem to be any pattern that I can detect as to when the issues arise.
Some apps will lag, especially the camera. There are some instances when I press the shutter button to snap a picture, and there's a 4 or 5 second delay before the picture is taken, and then another 4 or 5 seconds before I can view the picture.
The screen will freeze for a few seconds while scrolling. Sometimes i have to exit and re-open the app when this happens. I haven't noticed it on my stock email app, but it happens quite often while using the browser (stock or Chrome) or when on any app that connects to the Internet (News apps, Facebook, etc.).
On some occasions, when I press the Power key to unlock the phone, the lock screen will either be completely black, or will look like TV static, except for a small strip running top to bottom on the center of the phone that shows my actual lock screen picture.
Performance of the phone overall seems to be down, especially in the last few weeks.  I have quite a bit of free space on the device (using 14.49GB of 32.00 system storage, and 4.36GB of 14.61 in SD storage), and I have had more or less the same apps on my phone for a while now.  Any help with fixing these issues would be greatly appreciated. 
Thanks. — James
Solutions: Hi James. Let's deal with your issues one at a time.
Camera lag. If this concern did not exist before you updated the phone to Lollipop, the issue may be due to cluttered file directory of your SD card. To fix this problem, you want to delete the cache partition of your phone first. If it will not eliminated the lag, remove the SD card from the phone and observe. Without the SD card, your phone will be forced to use the internal storage space so if the issue does not lie on the secondary storage device (SD card) no lag should be observed. Otherwise, the issue may also be coming from the phone's primary storage device.
Screen freeze. This may be related to the first issue…or not. Either case, deleting the cache partition should first be attempted.
Pressing the Power key causes black screen. Can also be traced to a faulty storage device.
Slow phone performance overall. Like the other concerns, this one may be tied to the root issue of a corrupted storage device. We suggest that you purge the existing system cache (deleting the cache partition) first. The main reason for this is to ensure that the old cache from KitKat will be totally deleted from the phone.
After deleting the cache, you also want to boot the phone in Safe Mode to rule out possible problematic third party app/s. Not all apps being offered in the Google Play Store right now are optimized for Android Lollipop. If you have an outdated third party app, that might very well contribute to the issue.
Finally, if nothing seems to resolve the problems, performing a factory reset is a good potential solution. This will not only make sure that your phone runs a clean Android operating system version, but also helps in eliminating glitches deep in the system.
These resolutions on how to fix Samsung Galaxy Note 3 freezing, lag, slow performance problems after updating to Lollipop are already mentioned in the first article of this troubleshooting series so you may also want to visit that post here.
See related article here for a full set of Samsung Galaxy Note 3 Solutions.
Problem #2: Samsung Galaxy Note 3 yields two photos after doing a screenshot
Hi there! I have a Samsung Galaxy Note 3…which I used to love! That is until my phone automatically installed the Lollipop update! Now the phone gets hot. The battery dies quickly. I get few notifications of new messages or alerts. Half the time my led light doesn't blink. I've been having trouble with service when before I had no issues and I could be showing full bars and I can't send standard SMS messages. I also have a phone that now reboots on its own several times a day when this never used to happen and if I'm trying to end a call it won't let me because the phone freezes. I've tried both a soft reset and a hard reset with no luck. And I've also been noticing that if I take a screen shot it is doubled. I'm tech support for another cell company and I've checked every forum. I know all the other issues are just known issues with this Lollipop update and hopefully it is fixed soon. But the screen shot issue I couldn't find anything on. Am I missing a setting somewhere? Please help! — Aly
Solutions: Hi Aly. Ideally, major operating system upgrades like the switch from KitKat to Lollipop should not be problematic. We are certain that Google developers have this in mind when designing Android Lollipop although the final product did not pan out as planned. We now know that there are thousands of users everywhere who don't find Lollipop likeable in the least. If doing a hard reset did not do anything to fix most of the issues raised in your letter (overheating, faster battery drain, untimely notifications/alerts, LED light malfunction, phone freezing issue after ending a call, getting double pictures after doing a screenshot, Random issues sending/receiving SMS), consider booting the phone in Safe mode to see if a problematic third party app may have been reinstalled after a factory reset. Obviously, a factory reset will not work completely if the root cause had been re-introduced to the phone after doing it. Consider purging the phone of as many third party apps as possible to isolate the issue while in safe mode.
We find your screenshot issue a special case though. There are no settings under the new Lollipop OS that's supposed to give you two pictures after taking a screenshot. Either there's a third party camera or photography app creating a conflict, or the new OS is simply messed up. Try to perform a screenshot right after doing a factory reset and observe. If the screenshot feature works normally, start revisiting and removing the third party apps you have installed.
Problem #3: Samsung Galaxy Note 3 overheating and drains battery fast after updating to Lollipop
Hey, after the recent Lollipop update, my Note 3 has been getting really warm lately. It's get to the point where I have to turn off the phone and take out the battery and SD card and put it somewhere to cool off. I've also been having battery issues. It goes to 100% to 50% in less than 30 – 45 minutes. It never did that before. It also takes quite longer to charge also. Another problem is that it lags and freezes whenever I click to open an app such as; Google search bar, Spotify, Twitter, Chrome, etc. Then it crashes. The last issue I'm having is trying to stay connected to my mobile date or Wi-Fi. When I'm using Chrome, Spotify, or playing games, it says I have no Internet connection and force closes the app. I tried uninstalling the app, but still doesn't work. Pretty sure it's my phone. With all these problems I might as well get a new phone, but I just didn't want to download everything again. — Donovan
Solution: Hi Donovan. These issues are similar to the concerns raised by James and Aly above so please follow the potential solutions we suggest above. Some of the concerns you raise here are common manifestations of runtime problems or storage device issues after a Lollipop update. Following the standard troubleshooting above should address your problems.
Problem #4: Samsung Galaxy Note 3 freezes during or after a call
Hello. Good day, I am Karthick from India, I use a Exynos version of Samsung Galaxy Note 3 Model – N900 if I am not wrong. I updated the Android version to Lollipop day before yesterday since then while I receive a call I am not able to attend or cut the call (this happens most of the time) and sometimes after I attend the call I will not be able to click or press any keys on the screen for instant …After I am done with the caller I need to press the end call buttons but it won't respond only the call gets cancelled if the caller hangs up.
Please let me know if you can help me with this issue…As I couldn't find any other information regarding the same.
Looking forward your reply. Regards. — Karthick
Solution: Hi Karthick. Try to delete the cache and data of the calling app you are using (either the stock phone dialer or third party). If that won't make any difference, consider deleting the system cache then proceed to factory reset. Your issue is mentioned by Aly above so it's either caused by a third party app or by a glitch in your current operating system.
Engage with us
If you are one of the users who encounters a problem with your device, let us know. We offer solutions for Android-related problems for free so if you have an issue with your Android device, simply contact us by email at [email protected] and we will try to publish our answers in the next posts. We cannot guarantee a quick response so if your issue is time sensitive, please find another way to resolve your problem. 
When describing the problem, please be as detailed as possible so we can easily pinpoint a relevant solution. If you can, kindly include the exact error messages you are getting to give us an idea where to start.
TheDroidGuy has social network presence as well so you may want to interact with our community in our Facebook and Google+ pages.