Welcome dear readers! Here's part two of the Samsung Galaxy Tab S 8.4 troubleshooting and solutions. Below are answers to some common issues encountered by Android users on their device. We hope that this article helps resolve similar issues you have experienced with your own tablets.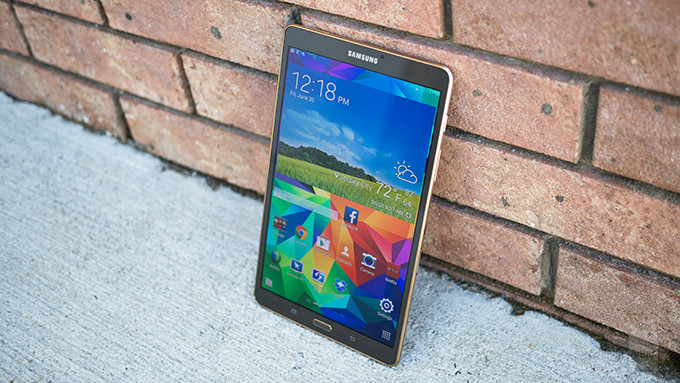 As usual, you can send your concerns via [email protected] We may not be able to respond to every email we receive but rest assured we will read every single one of them so your effort won't be wasted. And for those who prefer to reach us via social networks, feel free to post your problems on our Facebook wall or on our Google+ page.
There could be a lot of articles like this for the Samsung Galaxy Tab S 8.4 in the following weeks.
—————
Smeared Images on the Samsung Galaxy Tab S 8.4 screen
Problem: My tablet works which is the good news. The bad news is that I can only use it in a dark room at night time, or if I am desperate, in a closet during the day. At the end of August, my tablet fell into the sink. It was only in there for about one second due to my lightning fast Spiderman reflexes. I immediately turned it off and left it alone for about a week. When I tried to turn it on, nothing happened. I thought it was dead until about a week later, the alarm went off at 5 AM. The screen image was barely visible in the darkness. Since then, I have tested it a few times. The brightness adjustment does not work at all. The screen is very dimly visible when I use it after dark; however, the images smear when I swipe the page. I tried opening YouTube to see what'll happen with the audio, and if it would play videos. Audio seems pretty spot on, and the video just smeared across the screen as earlier described. Any ideas on what the fix could be? I have tried "googling" many different things but have had very little luck. I am not sure I even know what terms to use in a Google search. Could you please give me any clues or a scent to follow? Thanks! – Lorie

Troubleshooting: Hi Lorie. It must have been a pretty stressful condition for you. This smearing effect has been reported to be a common issue with Samsung Galaxy S4. Since yours happened by accident, we can consider a fault on the hardware side. Any electronic device which has been submerged in water, if not water-proof, will get damaged because the little electronic parts inside would collect moisture and this in turn can stop the said parts from doing its job. Good news is, we can attempt some troubleshooting before we consider an overhaul on your tablet.
Your Samsung Galaxy Tab S 8.4 uses a Super AMOLED capacitive touch screen with 16M colours as its display. This is great for showing vivid and life-like pastels. There are three methods in fixing AMOLED issues.
First method is to install the Screen Adjuster app from the Google Play Store. This is great for adjusting the dimness of the screen 15 to 100 percent below the minimum system brightness. The app can also adjust the screen colour and contrast, so this means that it has high success rate of improving the color of your display. Once the app is installed, you need to set the values of green, blue and red from 5 to 10 depending on your preference. Don't forget to turn the filter on as well. Once the proper adjustment has been set, reboot the tablet and check the display. It should show up as normal.
If the first method fails, it's time to try the second method. We would still utilize the same Screen Adjuster app. This time, we need to change the contrast level from -0 to -10. You can go up to -20 depending on how your eyes perceive and distinguish between smearing and pitch black. Make sure to turn the adjuster on. Reboot the device and check if the display goes back to normal.
The third and last method fixes the smearing on a hardware level. This can change the contrast level of black backgrounds without changing other colour contrasts and doesn't drain your tab's battery. You have to install a custom kernel that supports screen calibration. We recommend the KControl– Full Kernel Control. You can still use this on un-rooted devices; however, in order to enjoy its full capacity, you need to root your device. Once the app is installed, you need to go to the Screen tab then enable Register Hook. From there you can set the digital brightness reduction to 0. A zip file is attached on the installed program, open it and follow the on-screen instructions.
If everything fails, it's time to return the tablet to Samsung's service centre and have it fixed.
—————
Samsung Galaxy Tab S 8.4 doesn't go to sleep/hibernate mode
Problem: The Samsung Galaxy Tab S 8.4 is my first tablet and I've had it less than a week. My last 2 cell phones have been a Note 2 and a Note 3 so I'm not unfamiliar with the Samsung version of Android. My tablet is Wi-Fi only if that makes a difference. Here is my question:
After I'm done using the tablet I may want to set it aside for a while without turning it off. Something like a sleep or hibernate mode. Although my tablet will revert to the screen saver (the Samsung video), the screen never goes dark. It will stay on for hours if I don't power it off. My Tab S came with the little half-cover but closing it doesn't make any difference. My battery life has been pretty poor compared to what I expect and I'm guessing that all the additional screen time is the culprit. I thought that this would be a very simple fix but I've searched the Owner's Manual and the Android Central forums to no avail. So I'm hoping that you can help me! Thank you in advance. — Barb S.
Troubleshooting: Hello Barb! Your tablet's battery life can indeed be maximized if we can make its screen go to sleep. Normally, one press on the tablet's power button can make it doze. Have you tried that route yet? If you have and the issue still remains, let's try doing the following.
Go to Settings and under Device, open the Display option. The Screen Timeout should be active and make sure to choose the desired time for your tablet's screen to black out. You can choose from 15 seconds to 30 minutes. Sometimes, an application can also cause the said issue especially if it is connected or has something to do with your screensaver. Try to recall if you have installed some apps recently which may have used your screensaver or display. If you find one, make sure to disable or uninstall this app. Reboot the tablet afterwards and check if the problem has been solved.
Like most tablet issues, we still recommend that you do a soft reset to your device if the above steps did not help resolve the problem. Doing a soft reset means holding the power button down for ten to fifteen seconds until the unit shuts down. Leave it off for a while then power it back on. See if it resolves the hitch.
The last solution that we can try is a hard reset on your device. This is placed on the last part because this is considered as an advanced troubleshooting and this will also erase all data saved in your tablet. Be sure to back up your data first prior to treading on this avenue.  This can, however, resolve almost all issues encountered on a device. Do the hard reset at your own risk.
—————
Network Time Setting option is not available
Problem: Help! I just got the Samsung Galaxy Tab S 8.4 T700 and I can't find the Network Time Setting option. I can set the time manually though. Thanks. – Greg
Troubleshooting: Hi Greg! You have a valid concern there. I just want to confirm, are you using the Samsung Galaxy Tab S with Wi-Fi only or is it the one with a network carrier? By default, your tablet gets date and time data from the wireless network. That is, if you're within the network coverage area. If you're not within the specified area, the automatic date and time setting does not take effect. You can manually set it from under the Settings menu like you did. If your tablet is from a carrier, you will have the option to set it to Automatic under Settings>Date and Time. This will use the network provided values. Hope this clarifies your concern.
—————
Unable to reset the log in password of a secondary user on a Samsung Galaxy Tab S 8.4
Problem: The multi-user operating systems generally have a way for an administrative user to edit the properties of other users, including resetting the password. From the owner account, I created an alternate user on the Tab S 8.4 for a family member who has now forgotten the password. I can delete the user and re-create it, but is there a method within the UI to reset the password, thereby retaining the existing profile? – Gio
Troubleshooting: Hi there Gio. The Samsung Galaxy Tab S 8.4 has a big storage space; therefore, we can't help but store pictures, videos and other personal files into it. Since this is sensitive information, we are required to create a password or screen lock for protection. Forgetting a password, lock or pattern is inevitable. This could happen sooner or later. Nonetheless, deleting and re-creating an account seems to be a daunting task indeed. Sadly, there is no app available in the Google Play Store which can perform a reset on a specific user account. Nevertheless, the step in resetting the password for a secondary user is the same process as doing it on a primary account. Here's how to perform a password reset on a user account.
On the password or lock screen, type or enter incorrect passwords multiple times until the tablet locks you out. In this state, a Forget Password or Pattern button would show up on the screen. Press the button so that it will bring you to the password reset page wherein it will ask for your Google or Gmail account. This should be the email account used to setup the specific user. It will ask for your security details before it resets the password. Follow the instructions provided and you should be able to change the password of your user account.
If it is not successful, then the only option left is to delete the specific user and just create a new one. Hope this helps!
—————
Unable to turn the shutter sound off from the camera app
Problem: Does anybody know how to take the shutter sound off the camera of my Samsung Galaxy Tab S 8.4? I tried searching online but couldn't find it. I can do this on my Galaxy S4 phone but I cannot find the option on this tablet. – Haley
Troubleshooting: Hello Haley. The Samsung Galaxy Tab S 8.4 doesn't have the Shutter Sound option readily available from the camera app hence there's no way for us to manually turn it off. A simple solution for this is to go under Settings>Device>Sound and mute the generic volume. However, if you still want to hear sounds from other applications, this would not work for you. You can also switch your tablet into silent mode while taking pictures and just get it back to the normal volume afterwards but this can be a hassle as well.
If you specifically want to turn off the shutter sound only, then we need to root your tablet. Make sure to follow the instructions step by step to avoid complications after the rooting process. Keep in mind that this will also void the warranty of your device so think and rethink before performing the root.
Once your tablet has been rooted, you can access this folder from under Settings:/system/media/audio/ui. Rename the camera shutter or camera click OGG files to something else. This should turn off the shutter sound if successful. Alternatively, you can open a root browser from your rooted tablet and access /system/csc/feature.xml. From here you can change the option to TRUE. Once done, you can open the Camera App then go to Settings. The Shutter Sound option should be accessible and you can disable it from there.
If you're in doubt or is not confident in performing this advance process, we would recommend you seek professional assistance from Android experts. Hope you find this helpful.
—————
Back and Recent App Touch Keys don't light up
Problem: Hi! I want to know, on my Galaxy Tab S 8.4, why won't the Back and Recent App keys light up? I've been to Settings>Display>Touch Key Light Duration and set it to Always On but they do not light up at all! Anybody know why? Thanks in advance for any help. – Lea
Troubleshooting:  Hi Lea. Just wondering, do they light up when you touch them or not at all? If it never lit up, it could be experiencing a hardware issue. Another side that we need to consider is the settings enabled in your tablet. Try to check if the Power Saving mode is on. If your tablet is in this mode, it normally disables any application or setting that can consume a large amount of battery power. The touch keys are amongst them. Turn off the Power Saving mode and check if the said keys now light up. Make sure that you have set the Touch Key Light duration to the proper setting. You can choose between Always On, Never On, 1.5 seconds or 6 seconds 'til it turns off. If it doesn't help, try to do a soft reset on your tablet. Simply hold the power button down for five to ten seconds 'til the tablet turns off. Allow it to rest for another ten seconds or more then turn it back on. This should help revive the tablet to its normal setup. If not, perform a hard reset to your device. Be mindful of the instructions given as this can erase all data from your tablet. A backup is needed. Doing this step will reset your tablet to its factory setup. This also helps resolve common issues encountered by your device. Please reach out to us if you need further assistance.
—————
Wallpaper doesn't sit properly on the Samsung Galaxy Tab S 8.4 homescreen
Problem: Every time I try to set the wallpaper to a picture from the gallery, it asks me to crop it with the blue grid which, I assume, indicates portrait and landscape. I place it where I like it to be (filling both blue boxes) but no matter what, the picture is not centred and there is a four-inch black bar from the bottom of the picture to the bottom of the screen. I've tried all sorts of things but nothing works. I am trying pictures larger than 2560 pixels in length and width. Hope you can help. – Samantha
Troubleshooting: Hello Samantha. I want to clarify your concern, does the four-inch black bar appears when in portrait or does it also show up in a landscape orientation? If it appears in one or both orientation, there is a huge probability that the picture you are using is not compatible with your tablet's screen regardless of the picture size. The tablet is adjusting the picture into a size that it can handle. This is to prevent the wallpaper from getting too stretched out as well. The black bar at the bottom of the screen fills out the gap that the picture is unable to occupy. Here are a few things you may want to try.
If you want to use a personalized image, say a picture from your gallery, make sure that you are using the appropriate size when taking that specific picture. When using the camera, check its settings and ensure that the photo size is set to the wallpaper size which has a ratio of 16:9 or 1920×1080 pixels. The metering mode should be center-weighted as well. Once the photo is ready, set the wallpaper by positioning the starting point of the blue grid lines at the top center of the photo. This should blow the picture to full size and displays as full screen wallpaper.
If you want to use a pre-specified image, it is recommended that you get these frames from an application. There are a multitude of apps in the Google Play Store which offer various images that you can choose from. You can play around with the Cool Wallpapers HD app. You can categorize the image and either save it to your gallery or directly set it as your wallpaper. The image automatically adapts to the screen size so you no longer have to worry about the annoying black bar. Hope this helps.
—————
Samsung Galaxy Tab S 8.4 won't turn off with the power button
Problem: My Samsung Galaxy Tab S 8.4 does not switch off nor restart by pressing and holding the power button. Is that normal? – Roland
Troubleshooting: Hey Roland. That is definitely not normal. Pressing the power button should turn the tablet off. Pushing it once will allow a prompt to pop up on your screen and would give you options to go on sleep mode, restart the device or completely shut it down. Have you tried pressing the button down for five to ten seconds? This will perform a soft reset to your device and at the same time shuts it down. Rebooting your device is like refreshing your tab's software so any mishaps can be fixed. If you have attempted the items mentioned above and your tablet is not turning off by the power button, then the issue is likely with the hardware. The power button may have jammed or broke. You need to open the tablet up and check the power button attached to the mother board. If you are an advanced user, then this should be easy for you. However, if your tablet is still within the warranty then we don't recommend opening it up as it will void the warranty. It is highly suggested that you bring it to a certified Samsung Service Centre and get it fixed.