Is your Hisense TV audio quality not good? There are several factors that can cause this problem such as a setting issue, software glitch, or even a hardware error. To fix this you will need to perform several troubleshooting steps on the device.
Hisense is a popular Chinese company that manufactures several consumer products which includes Hisense TVs. The company has various Smart TVs available that are priced lower than the popular brands. If you are on a tight budget and want to have a feature packed tv then consider getting Hisense.
Does your Hisense TV have No Sound or has a Muffled Sound?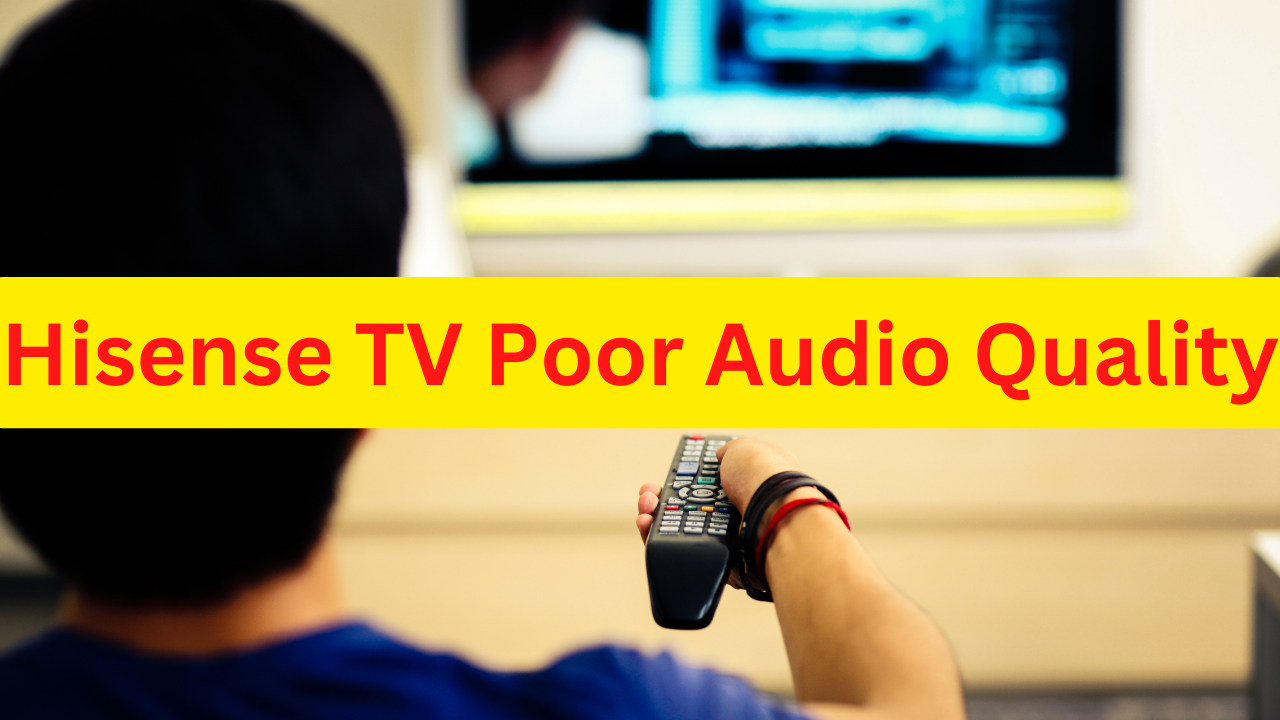 One issue that you might experience with your Hisense Smart TV is when the sound quality is poor. This can sometimes be a frustrating experience since you won't be able to enjoy watching your favorite shows.
Here's what you can do to fix Hisense TV audio quality issues.
Solution 1: Power cycle your Hisense TV
The first thing you need to do when experiencing Hisense TV sound quality issues is power cycle. This will refresh the TV software and get rid of any software glitches that could be causing the issue.
Power cycle Hisense TV
Turn off the Hisense TV using the remote control.
Unplug the power cable from the power outlet.
Wait for at least 5 minutes.
Plug the power cable into the power source and then turn on the Hisense TV.
After the power cycling process has completed try checking if the Hisense TV sound quality improves.
Solution 2: Make sure the Hisense TV is not muted
One of the reasons why your Hisense T will not have any sound output is because the TV is muted. To fix this, will need to go to the audio output settings and make sure that the TV is not muted. You can do this using the remote control. you should also try to increase the volume or directly from the buttons on your TV depending on the model you are using.
Solution 3: Switch Digital Output to PCM on your Hisense TV
One of the reasons why you will be experiencing Hisense TV sound issues is because of the digital audio output configuration under the Hisense TV sound settings. To fix this you have to switch the audio output to PCM.
Switching to PCM audio settings
Go to the SETTINGS menu
Click on Device Preferences > Sound
Under digital output, select to PCM
After making changes to he Hisense T sound settings try to check if the audio quality improves.
Solution 4: Reset the audio settings of your Hisense TV
In case you made several changes to your Hisense TV audio settings which resulted in a poor audio quality then you can just undo the changes you made. If you can't find the particular audio settings that's causing the problem then you can simply reset the audio settings.
Reset audio settings
Turn on your Hisense TV and press home button on the remote control.
Navigate to settings and press ok.
Scroll down to Device preferences and Press ok.
Highlight Sound and press ok.
Scroll down to reset to default option and press ok.
Confirm reset audio settings on Hisense smart tv by pressing ok.
After resetting the Hisense TV sound settings try to check if the sound quality improves.
Solution 5: Check the cable connections of Audio Video devices connected to the TV
If you have a device connected to your Hisense TV such as a Blu Ray player, DVD player, satellite box, streaming device, or even a sound bar audio device then you need to make sure that the A/V cables are connected securely to the appropriate audio or video ports as well as make the necessary audio and video setting changes on the TV.
Solution 6: Update the Hisense TV software to the latest version
You should make sure that your Hisense Smart TV is running on the latest firmware version to remove any existing bugs that might be present in the current firmware version of your TV which is causing the poor audio quality.
Updating Hisense Android TV
Make sure that your TV is connected to the internet.
Open Settings home screen.
Find and select Device Preferences.
Go to About.
Scroll down to System Update.
Your TV will now look for any available updates
If there's an update available, select Update Now to install it.
Updating Hisense Roku TV
Access the Home screen of your TV by pressing the Home button on the TV Remote.
Select the Settings option.
Scroll down and select the System option.
Find and select System Update.
Select the 'Check Now' option so the TV can check for updates.
Select Update so that your TV will be updated to the latest firmware.
Try to check if the Hisense TV sound problem is fixed.
Solution 7: Factory Reset Hisense TV
If the Hisense TV sound issue persists then consider doing a factory reset. This will bring back the TV to its default factory settings and usually fix any problems caused by a corrupted Hisense TV software.
Performing factory reset on Hisense TV
Press MENU on your Hisense Smart TV remote
Select Support and confirm your selection by clicking Enter, OK, or Select.
Click Self Diagnosis and confirm by pressing Enter.
Select the last option, which is Reset.
Enter your security PIN, usually 0000, to confirm your request.
Reset your Hisense Smart TV to factory settings
After the factory reset has completed try checking if the Hisense TV sound works.
Solution 6: Contact Hisense support
There are instances when the problem can already be caused by a hardware problem such as a defective TV speaker. If this is already a hardware issue caused by a damaged speaker then you will need to contact the nearest Hisense customer service center and have the TV fixed.
Frequently Asked Questions
Why does my Hisense TV have a poor audio?

This could be due to the TV set to mute, volume is low, or there is an external sound system connected to your TV that is not working.

Why does my Hisense TV volume keep going up?

This is usually caused by the remote control volume button that is stuck or constantly pressed. Try removing the batteries of the remote then check if the issue still occurs. If it doesn't then the problem is most likely caused by your remote control.

How do I adjust the Hisense TV volume without the remote?

Your TV has a physical volume settings buttons which you can use to increase or decrease the volume level . You can use this to change the volume in case your remote does not work.

Why can't I change my TV sound settings?

This might be caused by a temporary software glitch. Restarting your TV will usually fix this problem.

How do I fix Hisense TV no sound problems?

Make sure TV is not muted
Power cycle the TV
Switch audio output to PCM
Check Hisense TV sound settings
Reseat HDMI cable.
Try a different HDMI or optical audio cable
Switch HDMI port.
Reset TV sound settings to default
Update Hisense TV software
Clear your TV cache.
Reset Hisense TV to factory settings