Text messaging is the most basic feature of any cellular phone and it's very disappointing to know that many owners of high-end smartphones like the #Samsung Galaxy #Note5 are having issues with it.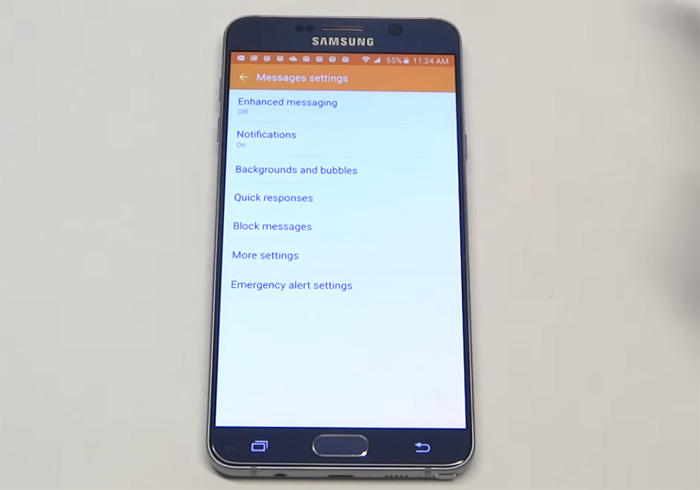 Text messaging actually covers a lot of services as users consider MMS, picture messaging or group messaging as part of it but there's a big distinction between these things. MMS or attaching pictures and other files to SMS as well as group texts requires mobile data while the simple text messaging doesn't.
Continue reading to learn more about the texting issues I included in this post.
For more Note 5 problems and solutions, visit our troubleshooting page. You may find other issues helpful to fix your concerns or you may contact us by filling up this questionnaire.
---
How to turn off predictive text on a Note 5
Problem: Text constantly sends incorrect words.  The software anticipates the wrong word and it isn't obvious until you send the message.  How can I turn off this feature?
Answer: It's predictive text and there's a setting you need to change to turn it off:
From the Home screen, tap Apps.
Find Settings and tap on it.
Touch Language & Input and choose Samsung Keyboard.
Find Predictive Text and turn it Off.
Note 5 plays the notification sound but there are text messages
Problem: I am getting the notification sound that I have a text message but when I check there are not any text messages received.
Answer: It's actually more of an annoyance than a problem because the fact is there's a setting that can get rid of that annoying notification sound that plays every few seconds to a few minutes. Go to Settings > Accessibility settings > Notification reminder. From there, you can turn it off, choose the interval between the sound is played or choose apps you want to be notified about.
Note 5 can't receive MMS or picture messages
Problem: I recently upgraded to the Note 5 and got my husband the same phone we share data and use our WiFi at home. I texted him a picture while I was at work and he never received it. (We also ported the house phone number to his cell via the nice lady at Best Buy), I can send pictures to others but even when I got home I tried again and he still can't receive pictures.  We've rebooted the phones to no avail and Google only had articles about an inability to send pictures. The Note 5 has a battery that can't be removed so I couldn't do that to be sure that it properly reset. I appreciate the help.
Answer: Hello ma'am. First of all, make sure that mobile data is enabled in your husband's phone. While he can connect to the internet through Wi-Fi, mobile data is necessary to send and receive picture messages or MMS. However, if it's already enabled in his device and he still can't receive your picture messages, then you should call the provider and ask for the correct APN for your husband's phone and at the same time ask the rep to help you set it up.
Text messages are sent twice to the same recipient
Problem: Just purchased this new phone and my outgoing text messages keeps sending my messages twice to the same recipient.
Answer: It is a carrier issue and we as end-users can't do anything to fix it but we sure can report this problem so the carrier or service provider can do appropriate actions to get this taken care of.
Automated Voice Response can't register touch tone when pressing #
Problem: Just changed from Verizon to AT&T. Keypad makes usual sound after pressing a #; but, when connected e.g. to a company that wants an answer based on keypad # sound, the company's software doesn't hear the tone.
Answer: Issues that involve an AVR not being able to recognize touch tones are common to users that use Wi-Fi Calling. So, if you're using the service, that might be the problem. Try calling the same hotline using the normal phone service (not Wi-Fi Calling) and see if the AVR can recognize the touch tone. If still no, then you should contact the company using a different phone and report the issue. It's not actually a problem with your phone but with the company's system and that's beyond our reach.
Note 5 S Pen has difficulty doing basic functions
Problem: When S Pen is out, a writer screen appears if I'm trying to text, but whatever I write will not transfer to appropriate window screen.  I've tried several things to make jump to screen.  This has just started but don't know if I changed something.  It also happened when I was filling out this form. The only way to get keyboard is to re-holster S Pen. Is this is setting issue?
Answer: It does sound like a bug. Try wiping the cache partition first and if that won't work, you need to do the reset.
Other recipients aren't getting contents of text message
Problem: Does not display content of the text message to some people in a group text.
Answer: The problem is on their end. Perhaps their phones can't receive group messages or they have issues connecting to mobile data, or there may be other restrictions.
Can't add a contact when trying to send a video through Enhanced Messaging
Problem: When trying to send a video via Enhanced Messaging, after I attach and go to add a contact, it says No Contacts and I can't even manually enter a number to send. Please advise.
Thanks.
Answer: This service is exclusive to Sprint and even Samsung doesn't know how to deal with it should it cause issues to its devices. Needless to say, you should contact Sprint about it. While it's a great new feature, it needs more improvements and only Sprint knows the everything about it.
Is it possible to get delivery reports on Galaxy Note 5?
Question: Want to know if its possible for Note 5 to get delivery reports. See if my text messages are read?
Answer: No. Note 5 doesn't have that kind of feature or service in its stock messaging app. If you really want to have delivery reports sent to you every time you send a text message, then I suggest you use a third-party that offer such feature. I think Textra has it.
Note 5 lags when texting a specific number
Problem: My Note 5 lags terribly when I text my wife's Note 5 but works fine when I text someone who has a different phone. I've tried the safe mode reset but no luck. Please help!
Answer: It sounds like an issue with a certain and it happens to be your wife's but the best thing to do to fix it is delete your wife's contact information from your phone and just create a new with the same info. I hope this works.
Note 5 can't successfully download MMS
Problem: I can't download MMS received – possibly from iPhones. Just says 'downloading for ages, then 'failed to download'. Texts are OK, just MMS are problematic.
Related Problem: I can't  send  multimedia messages with my Note 5. This phone is originally from Sprint but doesn't  work with T-Mobile. Any solution or is there anything I can do? Thank you.
Answer: MMS, picture messages or group texts needs mobile data to be enabled, so check on that one first. If it's already enabled and you still can't send or receive MMS, then the issue must be in the APN settings especially if you get a decent coverage. You have to call your provider and ask for the correct APN and set it up on your phone.
Note 5 stock messaging app keeps freezing
Problem: Stock texting app freezes n lags posting a lot of the time but doesn't affect any other apps using the keyboard.
Answer: It's probably just a minor app issue. One way to fix it is to clear its cache and data:
From the Home screen, tap the Apps icon.
Find and tap Settings.
Under the 'APPLICATIONS' section, find and touch Application manager.
Swipe to the left or to the right to display the appropriate screen but to display all apps, choose the 'ALL' screen.
Find and tap Messages.
Tap Clear Cache.
Tap Clear Data, then OK.
Note 5 doesn't compress pictures if sent as MMS
Problem: I like to send pictures as well as memes by text. Some of the pictures may be large such as 4mb in size. The Note 5 does not compress the size before sending as my Note 2 did. How can I fix this issue?  Thanks for your help in advance.
Answer: The compression of files sent through mobile data network is done by your provider's system but it seems that such feature has also been removed as smartphones continue to evolve. So, even if you call your provider about this issue, you'll just be told about the size limit of files allowed to be transmitter over the network. And the best thing to do is to actually shrink the picture you're trying to send.
Can't schedule a text message on a Note 5
Problem: The option to schedule a text message is no longer available. I've searched all possible solutions and unable to find anything. Please assist. Thanks.
Answer: It's because such feature doesn't exist on some variants, in other words, it's carrier-dependent. Some users from other networks may still have that feature but you don't and there's nothing we can do about it. There is, however, a workaround–use a third-party app that offer such feature. Among the popular options are SMS Scheduler, Text Later and Send it later.
Connect with us
We are always open to your problems, questions and suggestions, so feel free to contact us by filling up this form. This is a free service we offer and we won't charge you a penny for it. But please note that we receive hundreds of emails every day and it's impossible for us to respond to every single one of them. But rest assured we read every message we receive. For those whom we've helped, please spread the word by sharing our posts to your friends or by simply liking our Facebook and Google+ page or follow us on Twitter.