This post demonstrates different ways to block ads on Crunchyroll. Read on to learn how to stop unwanted apps from disrupting your AVOD and SVOD streaming on Crunchyroll.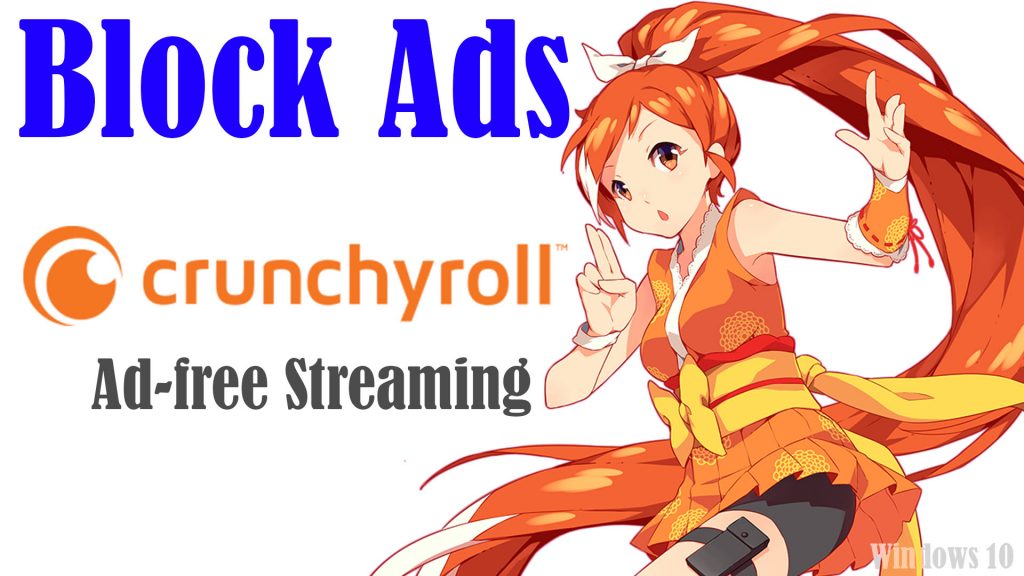 What is Crunchyroll?
For starters, Crunchyroll is a popular streaming platform among anime and manga fanatics across over 200 countries and regions. It's best known as a top streaming service for SVOD and AVOD content as well as extended services like licensing of theatrical, home, video, TV and consumer products rights.
Although Crunchyroll content can be streamed for free, various ads also await. It's the platform's primary means for site maintenance and marketing purposes. Having said that, expect that ads would randomly appear in exchange for viewing content at no cost.
Every 24-minute long video is expected to display ads totaling 6 minutes. So it's going to be taking half an hour in every four-episode video you stream. No wonder why many people are vexed.
On a positive note, ads on Crunchyroll can also be stopped or skipped to lessen interruption and get a better viewing experience.
Different Ways to Block Ads on Crunchyroll
There are different ways for you to stream videos on Crunchyroll without ads and they are mapped out as follows.
First Option: Get a Premium Subscription
Crunchyroll contents are available for free but with ads. The easiest way to enjoy ad-free viewing on this platform is to sign up for a Premium account. This means that you will pay for a monthly subscription for up to $7.99 depending on your preferred plan.
With a premium Crunchyroll subscription, you will get to enjoy ad-free access to the entire library of manga, anime, and drama unlimitedly.
To get a premium account, follow these steps:
Navigate to the official website of crunchyroll on your browser.
Create your account then log into it.
In your account menu, click on the Premium tab located on the upper portion of the site.
Select your preferred plan. Among the available plans include fan, 1-month mega fan and 12-month mega fan.
On the succeeding window, enter your card details then click the Start Free Trial button.
After the 14-day free trial period, your Premium subscription instigates. You will know it because a deduction will automatically be applied to your registered account for renewal.
Aside from ad-free viewing, Premium users can also share a 48-hour gate pass with a friend. But if paying for a monthly subscription is not an option, you can use other means to stop ads from appearing on Crunchyroll.
Second Option: Get a Guest Pass
Another way to watch ad-free videos on Crunchyroll is to use a guest pass.
With a valid guest pass, you can watch anime episodes for free. The easiest way to get a guest pass is to ask it from any Premium user you know of.
Crunchyroll premium subscription grants a monthly code for each premium account. This code serves as an invitation ticket the members can give to their friends. Once you've got a guest pass, you can test view all the perks of a premium plan for 48 hours for free.
However, there's a limit of 10 passes per six months and Crunchyroll users are prevented from creating multiple accounts to ensure that no one is abusing the game pass incentive.
Aside from asking it from a premium user, you can also get a game pass through Reddit's weekly guest megathread, crunchyroll forum and Facebook.
In Reddit, crunchyroll users typically hang out together and share their Guest Passes in their subreddit every Thursday. You need to be quick though because it's going to be a first-come-first-serve basis.
The same thing goes in the official Guest Pass thread on the Crunchyroll forum. The admins allow their forum users to share codes through regular thread updates.
In Facebook, you'll get a chance to secure a guest pass from larger and smaller anime fan groups using the platform. All you have to do is reach out to their members as they often post their passcodes right in the public discussion.
Third Option: Using Browser Extensions
There are also plenty of ad blocking browser extensions you can use to block ads on Crunchyroll. Many of these ad-blocking tools can be utilized at no cost. But you have to choose the one that can effectively block ads considering that crunchyroll is constantly updating its platform and is now able to bypass ad blockers. Once you've found the best ad blocker, activate it with these steps:
Navigate to your browser's adblock section. If you're using Chrome, you can go straight to the Adblock section of the chrome web store. Or simply search for the best ad blocker in the chrome web store.
Select your preferred ad blocker then click the button to Add it to your browser.
Select the option to Add Extension and wait for the app's installation process to be complete.
Once the ad blocker is installed, go to the crunchyroll's site to search and watch the video series that you want.
To block the ads, go to your browser's extension and choose your adblocker.
Finally, click the option to Block ads on this site.
By then, you can start ad-free streaming on Crunchyroll.
Blocking Ads on Crunchyroll Mobile Version
Some premium adblockers like AdLock will let you remove ads from the Crunchyroll app. All you have to do is download and install the app on your mobile device and get rid of ads on the Crunchyroll app through filter updates and HTTPS filtering. Here's how it works on an Android device:
Download and install the adblocker (ex. AdLock) on your device.
Open the app then access its settings menu by clicking the triple-dot icon or gear icon (depending on the app in use).
If you're using AdLock, click on the triple-dot icon on the upper-right then choose the option to Check Updates.
On the succeeding menu, tap Update All.
After updating filters, enabling HTTPS filtering with these steps:
Open the Adblocker tab and turn on its filtering feature.
If prompted, tap OK to confirm and then set a graphic key to verify ownership.
Once you've done all that, you can start streaming your favorite shows and anime videos on your mobile device without any ad interruptions.
Note: The filter update and HTTPS filtering features are also available on select ad blockers for mobile devices.
And that covers everything in this quick guide.
Please visit our YouTube channel to view different troubleshooting and tutorial videos that might be helpful to you.
You Might Also Want To Read: