Tackled in this post is a problem on Fallout 4 that crashes on startup. Read on to learn why this happens and how to fix the game.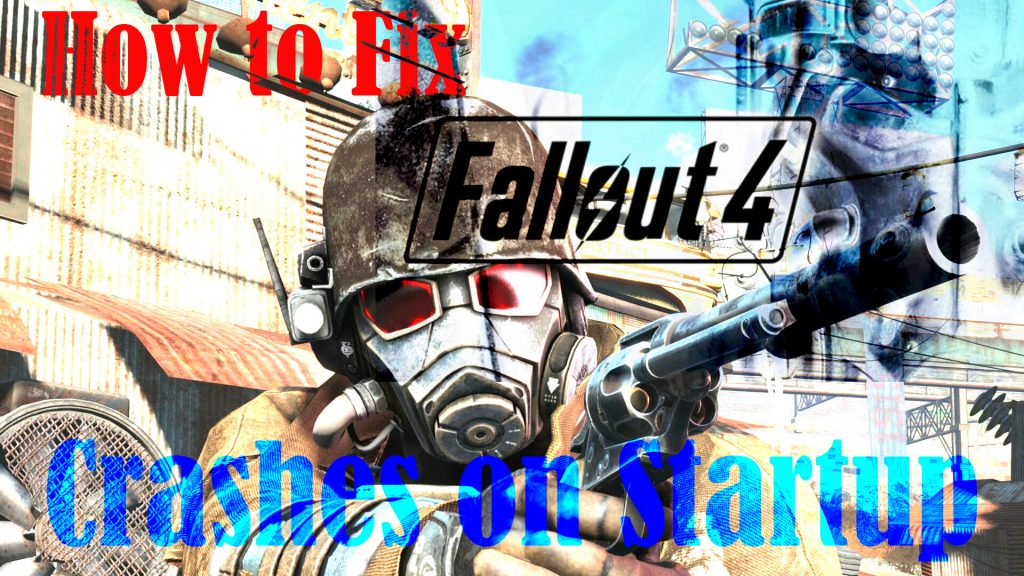 What causes Fallout 4 to crash on startup?
Crashing upon launch issues in PC games are often tied to system incompatibility. This is when the computer doesn't meet the minimum or standard system requirements to run the game.
Other common factors that you need to rule out include incorrect or misconfigured game settings, display resolution, corrupted game file, security restrictions and driver issues.
Bad updates are also deemed among other possible culprits.
Troubleshooting Fallout 4 crashes on startup in Windows 10
Before you begin performing the outlined solutions, verify and ensure that your computer meets the minimum system requirements for Fallout 4 on PC. For starters, I've summed up the details as follow:
Operating system: Windows 7/8/10 (64-bit OS required)
Processor: Intel Core i5-2300 2.8GHz / AMD Phenom II X4 945 3.0GHz or equivalent
Memory: 8 GB RAM
Hard disk space: 30 GB free HDD space
Video: NVIDIA GTX 550 Ti 2GB / AMD Radeon HD 7870 2GB or equivalent
Meeting the minimum requirements is good but conforming to the recommended requirements is better. Here's a recap of the recommended system requirements for Fallout 4 on PC for your reference:
Operating system: Windows 7/8/10 (64-bit OS required)
Processor: Intel Core i7 4790 3.6GHz / AMD FX-9590 4.7GHz or equivalent
Memory: 8 GB RAM
Hard disk space: 30 GB free HDD space
Video: NVIDIA GTX 780 3GB / AMD Radeon R9 290X 4GB or equivalent
Also verify and ensure that your Internet is fast and stable.
If the problem persists with all system requirements met, go ahead and try any of these subsequent tweaks.
First solution: End the game and launcher via Task Manager.
When the game crashes on startup, chances are that it's still left open and got stuck. To give the app a fresh start, ending it through the computer's task manager is needed. So here's what you should do first:
Click the Windows icon to launch the Start menu and type Task Manager in the search field.
Click to launch the Task Manager app from the search results.
While on the Task Manager window, click to open the Processes tab.
Find and click to select Fallout 4 in the list of running apps and services.
Once selected, click the End now button at the bottom.
Repeat the steps to end all other Fallout 4 processes you see in the Task Manager.
After ending all relevant processes, close the Task Manager and reload the game to see if it's already able to complete the start-up process.
Second solution: Verify integrity of game files.
Another possible reason as to why a gaming application is unable to load is because some critical game files are missing or corrupted. To make sure that this isn't causing Fallout 4 to crash on startup, verify game files integrity with these steps:
If you're using Steam as your game client, launch the Steam app on your computer.
Click Properties from the pop-up menu.
Navigate to the Local Files tab then click the option to Verify Integrity of Game Files…
The system will then start scanning for any missing or corrupted game files. Any found missing files will be redownloaded and the corrupted ones will be repaired.
The entire process may take several minutes so you need to wait patiently.
When finished, quit and relaunch Steam then retry loading Fallout 4 again.
Third solution: Disable antivirus temporarily.
As mentioned earlier, security restrictions can be the main reason why Fallout 4 crashes on startup. It's possible that your antivirus or firewall is preventing the game from loading as it perceives some sort of security breach or similar threat. To clear this out, try to disable your antivirus or firewall and then relaunch Fallout 4 while it's disabled.
If the game is able to load up successfully while the security software is disabled, you will need to reconfigure the antivirus to set exceptions for Fallout 4.
Fourth solution: Update/reinstall drivers.
A faulty driver in the computer can cause several issues when playing video games. To make sure that this is not causing Fallout 4 to crash on startup, access your computer's device manager and check the status of your drivers, particularly video card or graphics card. Here's how to get there:
The quickest way to launch the Device Manager program is through Start Search. Just click the Start/Windows icon then type Device Manager in the search bar and click Device Manager app from the search results.
While on the Device Manager screen, find and expand the Display Adapters menu to see the list of your video card.
If it appears to be outdated, right-click on the video card/graphics card driver then click Update.
Follow the rest of the onscreen prompts to finish updating drivers then restart the computer.
After rebooting the system, relaunch the game and see if it's already able to load up successfully.
Fifth solution: Run the game as administrator.
Granting administrative privileges to the game can also help solve the problem if it's attributed to system restrictions and permissions. Adjusting the compatibility settings on your computer can also help fix the problem. So here's what you can try next:
Access the game's installation folder or access the game's local files through Steam-> Fallout 4-> Properties-> Local Files-> Browse local files.
Find and right-click on Fallout4.exe then click Properties.
On the next window, click the Compatibility tab and check the boxes before Disable fullscreen optimizations and Run this program as an administrator.
After checking the boxes, click the Change high DPI settings button then check the box next to Override high DPI scaling behavior under the High DPI scaling override section.
From the Scaling performed by: drop-down menu, select Application then click OK.
To save the recent changes, click Apply then OK.
After saving recent changes, open Steam and retry launching Fallout 4 to see if it's already able to complete the normal startup sequence.
Last option: Reinstall the game.
If nothing else works and you still couldn't get Fallout 4 to load up on your computer, then better consider uninstalling and reinstalling it. The game might have been totally corrupted and therefore requires a fresh reinstall.
Reinstalling the game will fix any faulty game settings and restore all game files to their default state.
Other Suggestions
Install new game patch. Installing the latest patch for the game is also recommended as it may contain the required bug fixes. After installing new updates, restart your computer to refresh the system and apply the recent software changes.
Disable/delete custom mods. If the problem started after installing a custom mod, then it's possible that the error is triggered by that mod. In this case, disabling or removing the recent mod will likely fix the game.
Adjust display settings. Some games may fail to load up due to display settings issues. This is often the case if the graphics settings in Fallout 4 aren't properly set. To clear this out, modify the video settings in the game and switch it to Windowed Mode and Borderless. Lowering the settings can also be deemed among other temporary workarounds.
Hope this helps!
Please visit our YouTube channel to view different troubleshooting and tutorial videos that might be helpful to you.
You Might Also Want To Read: