You can change the default notification sound of text messages on your Samsung Galaxy Z Flip 4. By customizing the message tone for a particular contact, you will immediately know that the message notifications are from them even without looking at your phone.
The Samsung Galaxy Z Flip 4 is one of the latest Samsung phone models that uses the foldable display form factor. It's a full-sized Android smartphone that's powerful enough to handle anything thrown at it thanks to its Snapdragon 8 Plus Gen 1 chip. It is also quite compact when folded, allowing it to easily fit in any pocket.
How do I change the text notification sound on my Samsung Galaxy Z Flip 4?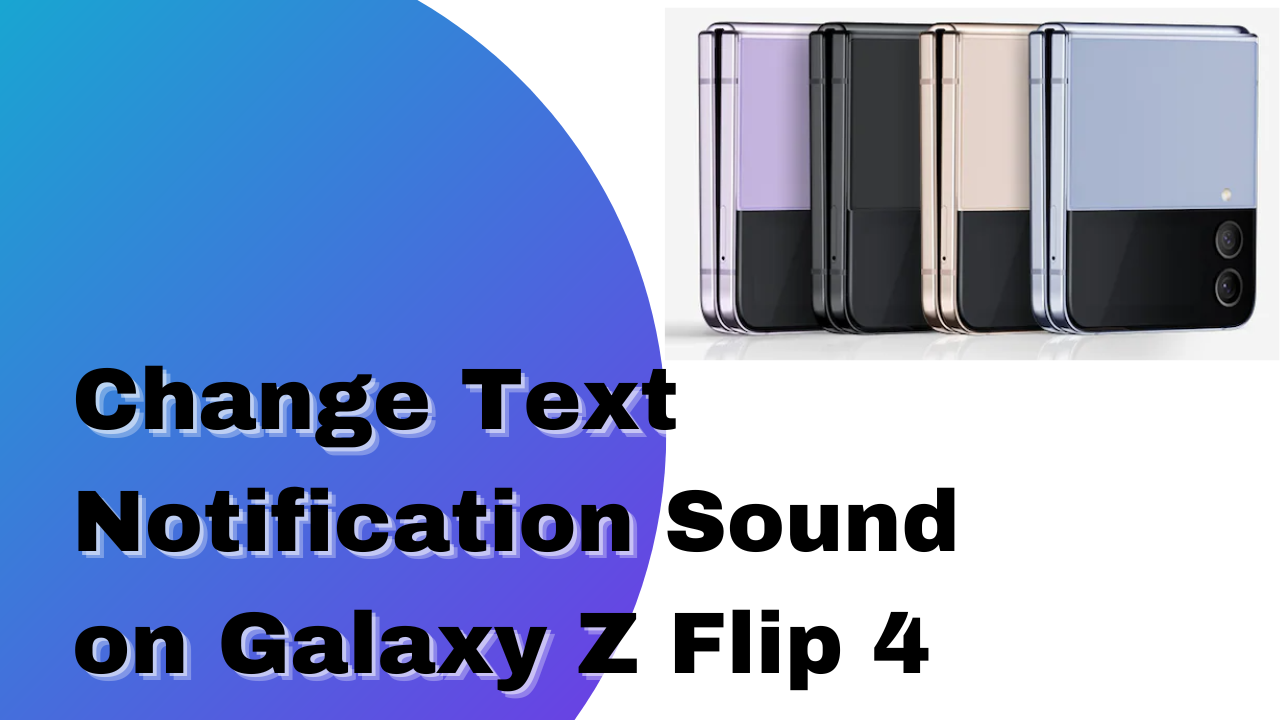 One of the quickest ways to know if the text message notifications that you get on your Samsung phone is from a particular contact is by changing the notification sound of that contact. This way, you can easily identify their text message from the other new messages you will be receiving on your phone.
Here's what you need to do to change the SMS notification sound of a contact.
Changing the SMS notification tone of a contact on your Samsung Galaxy Z Flip 4
You can easily set a custom notification sound for a text message from a specific contact from the Samsung Messages app.
Open the Samsung Messages app.
Select the message you want to set a custom notification sound for.
Tap the More option which is the three dots on the top right of the screen.
Tap Notification sound.
Select the notification tone you want to use.
Setting a ringtone on your Galaxy Z Flip 4
If you would like to change the ringtone sounds of your phone so that you won't constantly hear the same sound over and over again then here's the step-by-step instructions.
Open the Settings app.
Tap Sounds and vibration.
Tap Ringtone.
Select the preferred ringtone.
Tap the back icon to save.
Setting a notification sound on your Galaxy Z Flip 4
Open the Settings app.
Tap Sounds and vibration.
Tap Notification sound.
Select the preferred notification sound.
Tap the back icon to save.
Troubleshooting text notification settings issues on your Galaxy Z Flip 4
There are instances when you will not be able to get the desired results when setting your text notification sounds. Here' what you need to do when this happens.
Restart your Samsung Galaxy Z Flip 4
The first thing you will need to do is to restart your phone as this will usually fix any issues caused by a minor software glitch.
This process will reboot the operating system of the phone and reload all of its services. Your personal data, files, and apps will remain unchanged.
Simultaneously press and hold the Power key and Volume down button on the right edge for approximately 15 seconds.
Release the buttons when the Samsung logo appears.
Check for software updates
One of the reasons why your Samsung Galaxy Z Flip 4 will have text notification issues is due to a bug in its current software version.
You need to manually check for any new software updates available for your Samsung device and apply them immediately. It's best to manually check for major Android updates regularly as sometimes the automatic update feature is delayed.
Go to your phone Settings.
Scroll down and tap on Software update.
Tap Download and install.
Perform a Factory Reset
This procedure will erase your phone data and bring it back to its original condition. Any corrupted data stored in the operating system which could be causing this problem will be completely removed.
Before proceeding with this procedure, it is recommended that you backup your Galaxy Flip 4 data.
Turn off your Samsung Galaxy device.
Simultaneously press and hold the Volume up and side buttons until the device vibrates and the Android Recovery screen appears then release all buttons. Allow up to 30 seconds for the recovery screen to appear.
From the Android Recovery screen, select Wipe data/factory reset. You can use the volume buttons to cycle through the available options and the side key to select.
Select Factory data reset. Allow several seconds for the factory data reset to complete.
Select Reboot system now. Allow several minutes for the reboot process to complete.
Set up your Android phone.
Frequently Asked Questions
How do I select notifications that appear on my phone lock screen?

If you would like to prevent certain apps from showing notifications on the lock screen, then here's what you should do.
Tap and hold on the app icon you want to disable notifications.
Next click on App info.
Then tap on Notifications.
Now tap on Show notifications and toggle it off.

Can I use downloaded mp3 files as notification sounds?

You can use downloaded music or sound files as your message tone. To do this just copy the file to the Notifications folder in the Internal Storage.

How do I set the Do Not Disturb mode on my phone?

Open Settings app on your phone.
Tap Notifications.
Tap the Do not disturb.
Tap the Do Not Disturb switch to turn it on or off.

How do I enable power saving mode on Galaxy Z Flip 4?

Open Settings.
Tap on Battery and device care.
Tap on Battery.
Tap on Power saving mode and toggle it On.

How do I set a repeat alarm on my Z Fold 4 phone?

Tap the alarm you wish to change or tap Add to set a new one.
Tap the day(s) you would like your alarm to repeat on.
Tap Save.