Are you experiencing the Facebook Messenger app unresponsive issue on your Samsung Galaxy Z Flip 4? This issue is most likely caused by a software glitch usually due to bugs or an outdated software version. To fix this you will need to perform a series of troubleshooting steps.
The Samsung Galaxy Flip 4 is a fourth generation premium Android phone that is best known for using a foldable form factor. You can use this device just like any other ordinary smartphone and when you are not using it you can simply fold it making it more compact and allowing it to fit in your pocket. Some of its best features include a Snapdragon 8 Plus Gen 1 chip and a battery capacity of 3700 mAh.
Why is Facebook Messenger not working on my Samsung phone?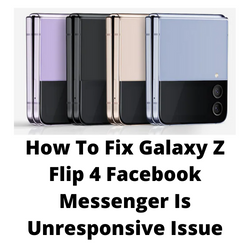 To access your Facebook social account on your Samsung phone you will actually need two apps. The main Facebook app and the Facebook Messenger app. The main Facebook app is where you can see posts, create posts, and check the latest updates from your friends or groups you joined. If you need to send messages to your friends then you will need to use the Facebook Messenger app.
Sometimes you might experience the Facebook Messenger app being unresponsive. Here's what you need to do to fix this problem on your Samsung Galaxy Z Flip 4.
Solution 1: Force stop the Facebook Messenger app on your Galaxy Z Flip 4
The first thing you should do when an app becomes unresponsive on your Samsung phone is to force stop the said app. This also applies to the Facebook Messenger app on your Galaxy Z Flip 4 when it seems to crash or freeze.
Force stop Messenger Facebook application
Tap on Settings
Tap on Apps.
Find and tap on the Facebook Messenger app. This will usually be called Messenger.
Tap Force stop found on the bottom right corner.
Tap Ok.
Start the Messenger Facebook app then check if it is still unresponsive.
Solution 2: Soft reset your Samsung Galaxy Flip 4
When the Messenger Facebook app is unresponsive on your Galaxy Z Flip 4 then you should try to perform a soft reset. This action will restart your phone and refreshes its operating system which should fix any issues caused by a software glitch.
The soft reset will reboot the operating system of the phone and reload all of its services. Your personal data, files, and apps will remain unchanged.
Restart Samsung Galaxy Z Flip 4
Turn off the Galaxy z Flip 4 by pressing and hold the Bixby button and the volume down button on the side of the device.
Choose Power off.
Choose Power off again. The phone will turn off.
Wait for a few seconds.
Press and hold the Bixby button on the side of the device to turn on the Samsung device.
After the restart has completed try to check if the Messenger Facebook app is still unresponsive.
Solution 3: Update the Facebook application and the Messenger app
If you are using an outdated software version of any app on your Samsung phone then it's very likely that it will become unresponsive due to incompatibility issues.
Using an updated Facebook Messenger app will most likely have fewer bugs and will also come with enhancements that will improve the overall user experience.
Before proceeding make sure that your phone is connected to a stable Wi-Fi connection. This is the preferred connection of choice when getting updates instead of a mobile data connection which is usually slow.
Update Messenger Facebook application from play store
Swipe up on an empty area from the Home screen, to launch the Apps viewer.
Tap the Google Play Store icon.
While on the Google Play Store app screen, tap the Menu icon and then select My apps & games from the menu options.
Tap Update next to the name of an app to update each application.
If multiple app updates are available, tap Update All instead.
Once the Messenger Facebook app has been updated try checking if the issue still occurs.
Solution 4: Clear the cache and data of the Facebook Messenger app
One possible reason why your Messenger Facebook app is unresponsive is because it has some corrupted cached data stored.
In order to make sure that this app is free from corrupted data you will need to clear its cache and data.
Take note that when you perform this troubleshooting guide your app login credentials will be deleted. You will need to login again to your account after performing this procedure.
Clear cache clear data of Facebook Messenger app
Tap the Settings icon from the Home screen.
From the Settings menu, tap Apps
Select Messenger from the list of Apps.
On the Messenger App info, tap Storage.
Tap Clear cache at the bottom to clear cache from the app.
Tap Clear data to delete all residual data accumulated when using the Facebook Messenger app.
Try to check if the issue still occurs after performing these steps.
Solution 5: Uninstall then install the Facebook Messenger app
If the Messenger Facebook app installed in your phone is corrupted then there's a possibility that this is what's causing it to become unresponsive. The best way to fix this is to remove the corrupted app then install a fresh version from the Google Play Store.
Reinstall an app
From the Home screen, launch the Apps viewer and then find the Facebook Messenger icon.
Tap and hold on the app icon until the Quick Options menu appears.
Tap Uninstall from the list of options and tap OK to confirm.
Once the app is successfully uninstalled, open the Play Store app.
While on the Google Play Store, search for Facebook Messenger, and then tap Install.
Once the latest version of the app has been installed try checking if the issue still occurs.
Solution 6: Check for any available software update
One of the common causes of this problem is a software bug. Samsung will usually release monthly software updates for this device to further enhance its capabilities and fix software bugs.
Take note that you need an internet connection to get the software update. It's best to use a WiFi connection and not a mobile data connection as the former is more stable and faster.
Getting the latest software version
Open Settings, and scroll all the way down.
Find and tap Software update.
Tap Download and install to check for a new update.
After installing the update try to check if this fixes the Messenger app unresponsive issue.
Solution 7: Optimize your internet connection
Your Messenger Facebook app will become unresponsive if the internet connection is slow or unstable.
If you are using a 4G or 5G connection to connect the phone to the internet then try using a Wi-Fi connection. If the phone is on a Wi-Fi connection when the issue occurs then try turning off the Wi-Fi switch of your phone and use the 4G or 5G network of your carrier.
You can also try switching to a different Wi-Fi network if another one is available in your area.
Solution 5: Perform a factory data reset on your Galaxy Z Flip 4
In case the same problem occurs even after performing the troubleshooting steps listed above then you should consider doing a factory reset.
The factory reset will erase your phone data and bring it back to its original condition. Any corrupted data stored in the operating system which could be causing this problem will be completely removed.
Before proceeding with this step you need to backup your phone files. Any photos, files, contact lists, or notes just to name a few that you have saved in your phone will be deleted so make sure to make a backup copy of these.
Factory reset
Turn off your Samsung Galaxy device.
Simultaneously press and hold the Volume up and side buttons until the device vibrates and the Android Recovery screen appears then release all buttons. Allow up to 30 seconds for the recovery screen to appear.
From the Android Recovery screen, select Wipe data/factory reset. You can use the volume buttons to cycle through the available options and the side key to select.
Select Factory data reset. Allow several seconds for the factory data reset to complete.
Select Reboot system now. Allow several minutes for the reboot process to complete.
Set up your Android phone.
After reset has completed try checking if you are still experiencing unresponsive issues when sending messages using the Messenger app.
Frequently Asked Questions
How do I force stop an app in Z Flip 4?

You can perform this procedure by going to Settings > Apps > Select the App > Force Stop at the bottom > OK.

How do I clear app cache data in Z Flip 4?

Open your Settings and tap Apps.
From the list of Apps that appears, tap on the app that is causing the issue.
Tap Storage > Clear data or Clear cache.

Can I still send messages with a cracked screen?

This will depend on the severity of the crack. In most cases you can still use the touchscreen even if it is cracked however if the digitizer has been damaged then you will have a hard time composing messages.

What is the default app to use for messaging in the Z Flip 4?

The default app for messaging on your phone is Samsung's very own Messages app. It also has the Google Messages app which you can use.

Will the Z Flip 4 connect to a 5G network?

Your Galaxy Z Flip 4 can use a GSM, CDMA, HSPA, EVDO, LTE, and 5G network.