The facial recognition security feature of your Samsung Galaxy Z Flip 4 allows for device unlocks just by looking at the phone display. This can also be used by certain apps to verify your identity. In this tutorial, we will be showing you how to set up and use the facial recognition security features.
The Samsung Galaxy Z Flip 4 is one of the latest premium Android smartphone models available in the market that uses a foldable display form factor. It's primarily designed for people who want a full-sized phone that performs well yet can easily fit in their pocket. Some of its best features include a Snapdragon 8 Plus Gen 1 chip and a battery capacity of 3700 mAh.
Use Facial recognition security on Samsung Galaxy Z Flip4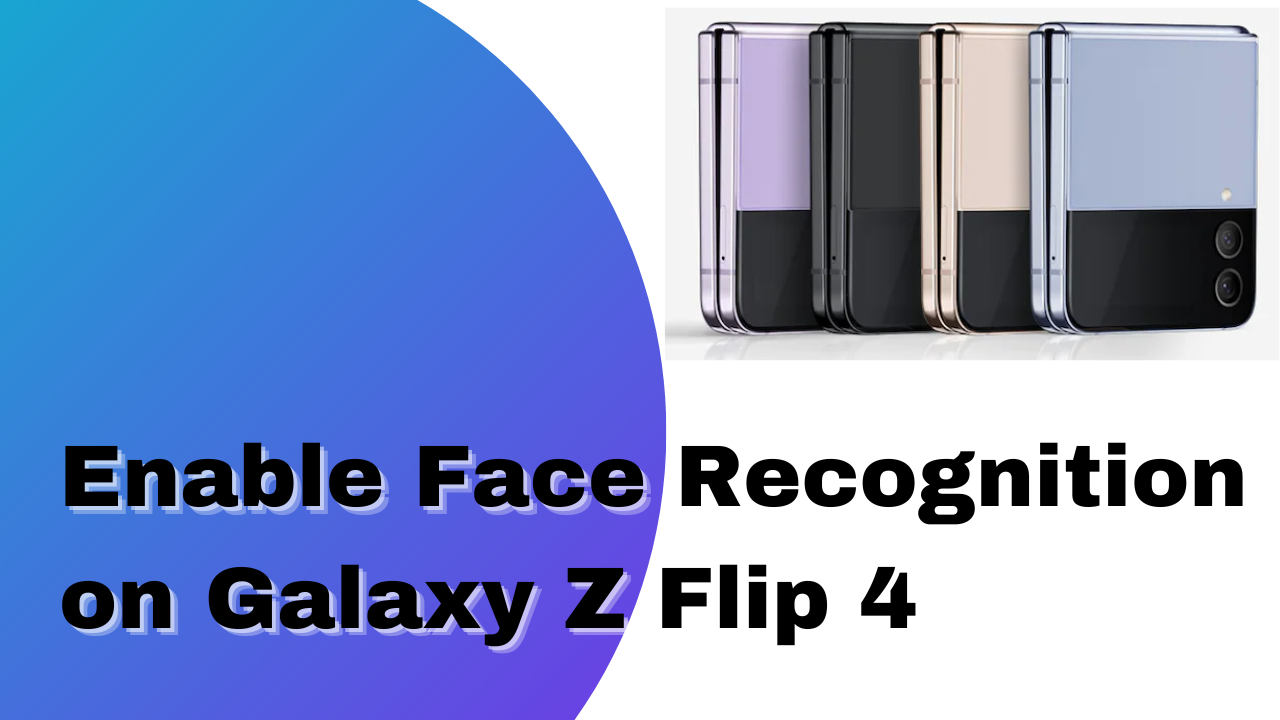 There are several ways to unlock your Samsung Galaxy Z Flip 4 from the lock screen. There's the PIN unlock, pattern unlock, fingerprint unlock, and the face unlock.
One of the quickest ways to unlock your phone and get to the home screen is by using face unlock. You only need to look at your phone display to unlock it.
In order to use the face unlock feature you will need to set it up first.
Setting up facial recognition on Samsung Galaxy Z Flip4
To use the face recognition feature of on your Samsung Galaxy Z Flip4 you must first set a PIN, Pattern, or Password. Once you have this set up you can now proceed with the face recognition process.
Open the Settings app.
Tap Biometrics and security.
Tap Face recognition.
Tap Continue. If you don't already have a secure screen lock, you will need to set one up.
To set up face recognition, hold the phone 8-20 inches away and position your face inside the circle. Hold the position until the progress bar reaches 100%. It's best to remove your glasses to finish the process.
Tap Done when finished.
Take note that even with face recognition enabled your Samsung Galaxy Z Fold 4 will still require a PIN, Pattern, or Password under the following conditions:
At least once every 24 hours.
If 4 hours have passed without using the device.
If the device has been restarted.
Facial recognition options for your Samsung Galaxy Z Flip4
Once you have already set up the facial recognition security you will be able to access several security settings. This can be accessed from Settings – Biometrics and security – Face recognition.
Remove face data: Delete the current face recognition data on your phone.
Add alternative appearance to enhance recognition: You can use this if you change your hairstyle, facial hair, or make up.
Face unlock: Unlocks your phone when your face is recognized.
Stay on Lock screen until swipe: Your phone remains in the Lock screen until you swipe even if you already used Face recognition.
Faster recognition: Improves the recognition speed but reduces security, increasing the possibility of a video or image being incorrectly recognized as your face.
Require open eyes: Your phone will only recognize your face when your eyes are open.
Brighten screen: Temporarily increases screen brightness so your face can be recognized in the dark.
Improve facial recognition feature
If your phone is constantly having a hard time detecting your face, then here are some tips to ensure a smooth unlock process.
Face recognition can be affected by glasses, hats, masks, makeup, and beards. You can add an alternative look which can help the device recognize you in different situations.
Make sure you are in a well-lit area and the camera lens is clean.
Make sure your image is not blurry.
Face ID is less secure compared to Pattern, PIN, Iris, or Fingerprint.
Keep in mind your device can be unlocked by someone that looks similar to you (such as a twin).
If you are having trouble unlocking your device, you can use Find My Mobile and other methods to remotely unlock it.
Frequently Asked Questions
How do I remove face data on my phone?

From a Home screen, swipe up or down from the center of the display to access the apps screen.
Navigate to settings then Security and privacy.
Tap Biometrics.
Tap Face Recognition.
Tap Remove face data.
To confirm, review the disclaimer then tap Remove.

Why does it take too long for face recognition to open the lock screen?

It's likely that you are in an area where there is not much light. In order for the phone to recognize you make sure that you are in a well-lit area. Try removing your hat or sunglasses if you are wearing one. To prevent this issue from happening you can set up an alternative appearance.

Is the Face ID feature secure?

Face ID is less secure compared to PIN, pattern, or fingerprint unlocks since there's a chance that someone who looks like you will be able to unlock your phone.

How do I update my Galaxy Z Fold 4 software?

Go to your phone Settings.
Scroll down and tap Software update.
Tap Download and install.

How do I reset network settings on my Galaxy Z Fold 4?

Open the Settings app.
Scroll down to and tap General management.
Tap Reset to view the reset options.
Tap Reset network settings.
Tap Reset settings and if prompted, enter your security lock.
Tap Reset to proceed with the network settings reset.