Does your Samsung Galaxy Watch 5 always restart or reboot randomly? There are several factors that can cause this issue such as a low battery power, corrupted third-party apps, old watch software update, or even a hardware problem. To fix this, you will need to perform several troubleshooting steps.
The Samsung Galaxy Watch 5 is the latest wearable device available in the market that runs on Wear OS. It has several outstanding health and fitness features making it the ideal device for the active individual. It's a considerable upgrade over last year's Galaxy Watch 4 model as it ow uses a much tougher sapphire glass and comes with a bigger battery as well as a powerful processor.
Technical Specifications:
Display: 1.19″ Sapphire Crystal Glass AMOLED 396 x 396px (40mm) or 1.36″ Sapphire Crystal Glass AMOED 450 x 450px (44mm)
CPU: Samsung Exynos W920
RAM: 1.5GB
Storage: 16GB
Battery: 284mAh (40mm) or 410 mAh (44mm)
Connectivity: NFC, GPS, Bluetooth 5.2, Wi-Fi (2.4Gz & 5Ghz), LTE (optional)
Durability: IP68, Waterproof to 50m (5ATM), MIL-STD-810H
Software: One UI Watch 4.5 atop Wear 3.5
Health sensors: Optical Heart Rate, Electrical Heart Sensor (ECG), Bioelectrical Impedance (BIA), Continuous SpO, Skin Temperature Sensor
Mobile payments: Samsung Pay, Google Wallet
Why does my Samsung watch keep rebooting?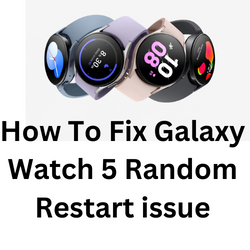 One of the issues that you might experience with your Samsung Galaxy Watch 5 is when it appears to be stuck in a reboot loop. This can be a frustrating experience as you won't be able to use the watch properly.
Here's are the possible solutions you need to do to fix your watch unexpectedly shuts down issue.
Solution 1: Charge your Samsung Galaxy Watch 5
The first thing you need to do when your Galaxy Watch 5 keeps rebooting is to make sure that the battery has sufficient charge. Your watch will restart randomly or get stuck in a reboot loop if its battery life is low.
The actual charge time will vary depending on the charger you use and the watch's state. Try charging your Samsung Galaxy Watch for at least and hour then check if the rebooting issue still occurs..
To properly charge your Samsung Galaxy Watch 5
Place the smartwatch on top of the wireless charger.
Allow the watch to charge for at least 1 hour.
If the charging indicator does not appear then press the Home key (Power key) once.
If an error occurs while charging remove the watch from the charger then place it back on the center.
If your watch heats up while charging disconnect it form the charger then close all running apps. When the watch cool down try charging it again.
If your Samsung Galaxy Watch does not charge, then here are the additional steps you need to do.
You should make sure that the wireless charging pad you are using is compatible with your Samsung Galaxy Watch 5. Don't use a wireless charging dock designed for another model this might not work.
Make sure that the charger cable and power adapter you are using is not damaged.
Try plugging the power adapter to another wall outlet.
Solution 2: Soft reset your Samsung Galaxy Watch 5
Sometimes a software glitch will cause the Galaxy Watch 5 to keep on rebooting. To fix this, you should try to do a soft reset. When you soft reset your watch it refreshes its operating system and removes any corrupted temporary data that could be causing the watch to get stuck in the reboot loop.
Soft Reset
Press and hold the Power button and Back button for approximately 7 seconds or until the watch power cycles.
Your Samsung watch should start rebooting.
Once the Reboot is complete, your Samsung watch should start up as normal.
Solution 3: Get the latest software updates for your Samsung Galaxy Watch 5
Your Samsung Galaxy Watch 5 might keep on rebooting because of a software bug on the outdated software version it is running on. To fix this you need to make sure that it is running on the latest software update.
Getting the latest software update using the Galaxy
Wearable app
Make sure the watch has at least a 30% charge.
On the connected Samsung phone, navigate to and open the Galaxy Wearable app.
Tap Watch settings.
Tap Watch software update.
If your watch displays a home tab, swipe to and tap Watch software update or Band software update.
Tap Download and install.
Once the latest firmware update has been installed try checking if the reboot problem still occurs.
Solution 4: Factory reset the Samsung Galaxy Watch 5
If the above possible fixes fail to fix the problem, then your last resort will be to do a factory reset on your Galaxy Watch. This will fix any firmware related issues that could be causing the problem.
Factory reset
Back up data on the internal memory.
Turn the Galaxy Watch off.
Press and hold the Power key until REBOOTING displays at the bottom of the screen.
Press the Power key three times quickly until the Select REBOOT MODE screen displays.
Press the Power key several times to highlight ' Recovery'.
Press and hold the Home key for three seconds to select, until the Galaxy Watch begins rebooting.
After performing the factory data reset do not install any third-party apps on your watch just yet. Try checking first if it still keeps on rebooting.
Solution 5: Contact the Samsung service center
If the problem persists, then this could already be caused by a faulty hardware component. You will need to have your Galaxy Watch checked at a service center.
Frequently Asked Questions
Why does my Samsung Galaxy Watch 5 keep on rebooting?

There are various reasons why this issue is happening ranging from a low battery power, current apps are corrupted, problem with software updates, or even a hardware problem.

Why does my Galaxy Watch screen not light up?

Try pressing the power key repeatedly to check if the display light up. If it doesn't then your watch might be low in power, consider charging your watch first.

Why does my Galaxy Watch 5 run slow?

Performance issues on your watch is usually caused by a software glitch. The most likely cause is a corrupted app or software. Try doing a factory data reset and check if the problem persists.

How do I enable power saving mode in Galaxy Watch 5?

On the Apps screen, tap Settings.
Tap Battery.
Tap Power saving.
Alternatively, tap the Battery icon on the quick panel to activate power saving mode.

How to install apps on Galaxy Watch 5 using the Galaxy Wearable app?

Open the Galaxy Wearable app on the connected phone. Swipe to and tap Store to open the watch version of the Play Store. Find the app you want, tap it, and then tap Install. It will automatically install on your watch.