Do you want to know how to transfer photos from your Samsung phone or any connected mobile device to your Samsung Galaxy Watch 5? You can easily do this with the help of the Galaxy Wearable app. In this short tutorial we will be showing you how this is done.
The Samsung Galaxy Watch 5 is the latest wearable device available in the market that runs on Google's Wear OS. It has several health and fitness features making it a must own device for the active individual.
Technical Specifications:
Display: 1.19″ Sapphire Crystal Glass AMOLED 396 x 396px (40mm) or 1.36″ Sapphire Crystal Glass AMOED 450 x 450px (44mm)
CPU: Samsung Exynos W920
RAM: 1.5GB
Storage: 16GB
Battery: 284mAh (40mm) or 410 mAh (44mm)
Connectivity: NFC, GPS, Bluetooth 5.2, Wi-Fi (2.4Gz & 5Ghz), LTE (optional)
Durability: IP68, Waterproof to 50m (5ATM), MIL-STD-810H
Software: One UI Watch 4.5 atop Wear 3.5
Health sensors: Optical Heart Rate, Electrical Heart Sensor (ECG), Bioelectrical Impedance (BIA), Continuous SpO, Skin Temperature Sensor
Mobile payments: Samsung Pay, Google Wallet
How to import/export images on Samsung Galaxy Watch 5?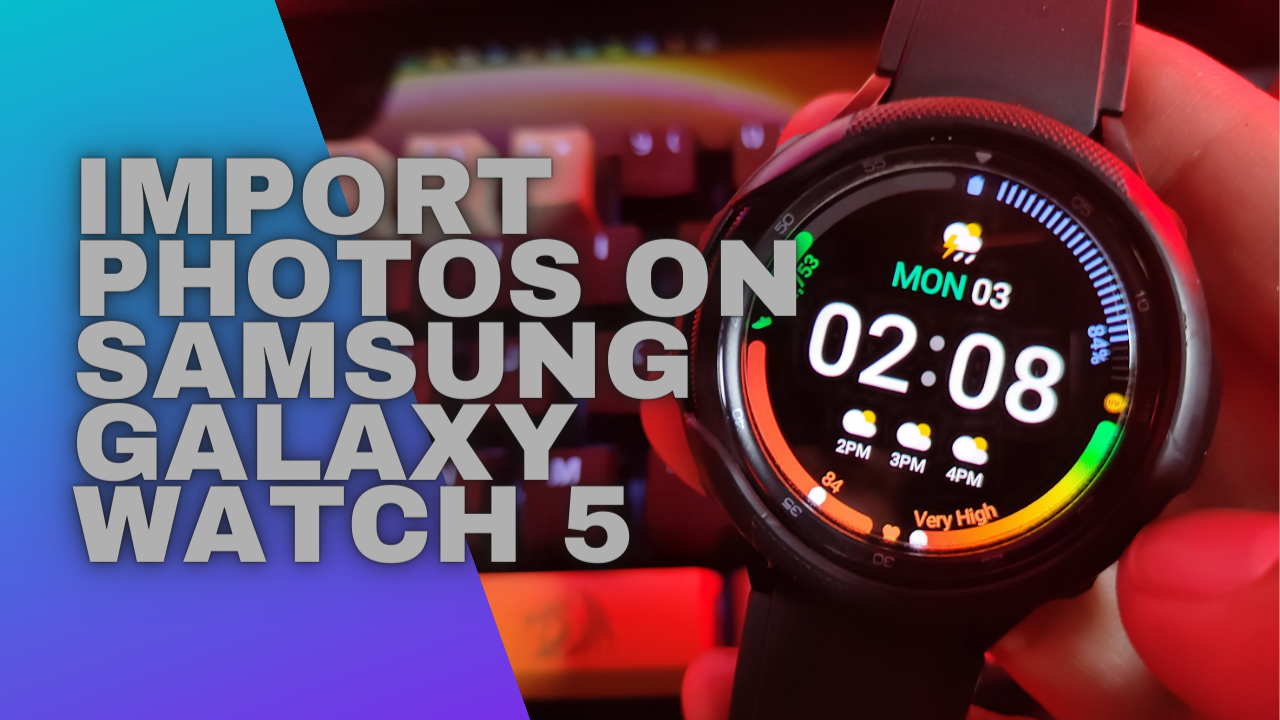 There are instances when you will want to use your own photo as your Galaxy Watch 5 watch face. In order to do this, you must first transfer the selected photos from your phone gallery to your watch.
Here's how this is done.
Send or import photo on Galaxy Watch 5
Open the Galaxy Wearable app on the connected Samsung phone.
Tap on Watch settings.
Tap on Manage Content.
On the Gallery section, tap on Add images. This allows you to select the photo or photos found in your phone gallery app which you want to transfer to your Galaxy Watch 5.
Select the photo or photos.
Tap Done.
Wait for the image or images to be transferred.
After the transfer process has completed you can check if the photo or photos have been successfully transferred by opening the Gallery app of your Galaxy
Watch 5.
Export photo from Galaxy Watch 5 to your phone
Open the Gallery app of your Galaxy Watch 5.
Select the photo you want to send to the connected Android phone.
Tap and hold the image.
Select the Send to phone option. This will send the photo to your phone.
You can check if the transfer has been successful by opening the Gallery app of your phone.
Frequently Asked Questions
How long does the battery life last on the Galaxy Watch 5?

Since the Galaxy Watch 5 has a superior battery life compared to the Galaxy Watch 4, it can last by as long as 72 hours on a single charge.

How do I get apps on my Galaxy Watch 5?

You can download apps to your Galaxy Watch 5 by using the Galaxy Wearable app on the connected phone or by using the built-in Google Play Store of the watch itself.

How do I pair my Galaxy Watch 5 to an Android phone?

To connect your Galaxy Watch to a mobile device, install the Galaxy Wearable app on the mobile device.
Launch Galaxy Wearable. If necessary, update the Galaxy Wearable app to the latest version.
Tap START THE JOURNEY.
Select your device on the screen. If you cannot find your device, tap MINE'S NOT HERE.
Tap TURN ON when the Bluetooth activation request window appears.
Follow the on-screen instructions to complete the connection.

Why does my Samsung Galaxy Watch keep getting disconnected from my phone?

Your Samsung Galaxy Watch will be disconnected due to a Bluetooth issue, software glitch, or because of hardware problems.

What compatible phone can I use to pair with my Samsung Galaxy Watch?

The Galaxy Watch 5 works best with a Galaxy phone with Android 8.0 and a minimum of 1.5GB RAM.