Samsung has announced that it will offer owners of the Galaxy S20 50% of their money back after a period of 24 months.
This means Owners of the galaxy s20 Ultra 5G can fetch up to $799.99 when they return their phone in good condition after two years.
This comes as the Galaxy S20 flagship managed to impress mostly due to the lack of eye catching features, barring the camera sensor.
Samsung's Galaxy S20 series is not off to a good start as most of you are aware at this point. But Samsung is looking to make the deal somewhat sweeter by announcing a new promotion wherein galaxy s20 customers will be eligible for a 50% buyback program after two years. This means if galaxy s20 owners kept their phones in good condition for two years, they get up to 50% of the device's cost.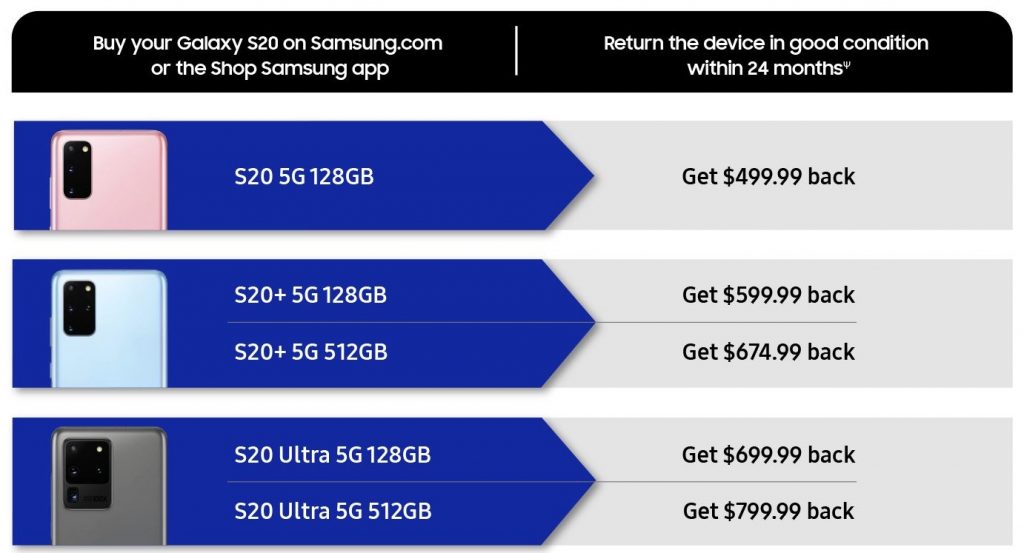 This is an excellent way to get half the money you spent on the galaxy s20, albeit only after 24 months, and assuming you maintain the phone in good condition. An owner of the galaxy s20 is not automatically entitled to this buyback program, however, as users will need to register their phones on Samsung's website or through the Shop Samsung app.
Samsung specifies that the 50% cashback will be sent to the user's payment account, so there are no caveats with regard to how you spend the money that you get back. This pretty much secures every galaxy s20 customer who wants to return their phone for a new one following the 24 month period. Owners of the galaxy s20 Ultra 5G (512GB) will end up receiving the most money back at $799.99, which could get you two half-decent mid-rangers in the market today.
This promotion is applicable to users of the galaxy s20, Galaxy S20+, galaxy s20 Ultra, and its 5G or LTE variants. It seems to be a U.S.-only promotion for the time being, and there's no clarity if the company is looking to expand this to other regions of the world.
What do you make of this promotion?
Source: Samsung