Booting up is a complicated thing and it becomes even more complicated with high-end devices like the #Samsung Galaxy S7 (#GalaxyS7) as there are a lot of apps and services that will be loaded and initialized together with the firmware and all its core services not to mention the hardware components that need to be powered up and run simultaneously with the software.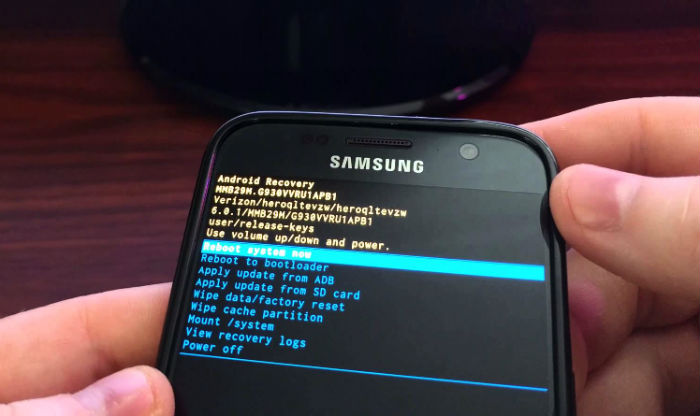 In other words, during boot up, everything must be in sync because if there's one thing that won't load or missing, the phone may power on but may get stuck somewhere and won't continue to boot up until the Home screen is visible. Among the most common scenarios are the following:
Galaxy S7 powers on but gets stuck immediately and the screen is black

Phone turns on, logo displays and gets stuck on that screen until the owner does something about it

S7 boots up, logo shows and then gets stuck on the black screen after the logo
So, in this post, I will tackle an issue involving the Galaxy S7 that won't boot up successfully. There would be other issues in the later part of the posts which can also be helpful in case you're experiencing the same problem. Read on to understand more about these issues and to learn how to fix them.
For those who have other issues with their phones, drop by our Galaxy S7 troubleshooting page for we have already addressed hundreds of problems sent by our readers since the phone was released. We may have already published some solutions or troubleshooting guides you could use. You may also contact us by completing our Android issues questionnaire in case you need more help.
Galaxy S7 can no longer complete the bootup process
Problem: My Galaxy S7 is 5 months old only but now I'm so worried I have to buy another device because it's stuck and won't power on. I mean it does light up and all but it cannot reach the home screen like it used to. I'm not really sure what happened let alone have any idea how to fix the problem. So, if you guys can be so kind to help me, I would surely appreciate all your efforts. Thank you!
Troubleshooting: What we know, so far, about your problem is that the phone just stopped booting up successfully. We don't know for sure if it's an app issue or a problem with the firmware. That's why we need to immediately isolate the problem, however, there's one thing I need you to do before anything else.
Step 1: Reboot your phone or force restart it if it becomes unresponsive
I understand this problem started without apparent reason and it may have already been happening for a few days already and I'm certain you already did countless reboots. However, if the problem is also characterized by freezing and lagging, there's always a possibility that it's caused by a system crash. That's why it's necessary to force restart your phone; just press and hold the Volume Down button and the Power key for 10 seconds and see if the phone reboots normally.
Step 2: Restart your phone in safe mode to isolate the problem
If your device didn't boot up successfully after the force restart procedure, it's time to isolate the problem. As of now, we don't know if the problem is caused by an app or the firmware but since it's easier to rule out the possibility of an app issue, let's do that first; boot your device in safe mode.
Press and hold the Power button.

When Samsung Galaxy Logo appears on the screen, release the Power button and immediately hold the Volume Down key.

Continue to hold the Volume Down key until the device finishes its rebooting.

Now, if "Safe Mode" appears on the bottom left corner of the screen then, you can release the Volume Down key.
If the phone boots up successfully in safe mode, then problem solved! You just have to find the app that's causing the problem and uninstall it. However, if it doesn't, then try doing the next step.
Step 3: Try booting your phone in Recovery Mode
Booting the device in safe mode will temporarily disable apps but booting your phone into the Recovery Mode will "sort of" disable the Android system especially the interface. So, if the problem is with the firmware only, it should be able to boot up without a problem in this mode. Try these steps:
Turn off your Samsung Galaxy S7.

Press and then hold the Home and Volume UP keys, then press and hold the Power key.

NOTE

:

It doesn't matter how long you press and hold the Home and Volume Up keys, it won't affect the phone but by the time you press and hold the Power key, that's when the phone starts to respond.

When the Samsung Galaxy S7 shows on the screen, release the Power key but continue holding the Home and Volume Up keys.

When the Android logo shows, you may release both keys and leave the phone be for about 30 to 60 seconds.

NOTE

:

The "Installing system update" message may show on the screen for several seconds before displaying the Android system recovery menu. This is just the first phase of the entire process.
If the problem persists, then it must be a hardware issue. Send the phone in for repair or be checked by a technician.
Galaxy S7 is stuck at AT&T logo during bootup
Problem: My Galaxy S7 is stuck at AT&T logo. I've tried to get on safe mode but it didn't work … it goes to recovery mode and I've cleared the cache partition but that didn't help either… my next option is to restore to a factory setting but that will erase my data… my main concern is I want to back up my data while it's on recovery mode … is there any option for doing that ? Any app or software that can do that?
Troubleshooting: Hi! We know that today's devices have sky-high technology especially when it comes to smartphones like Samsung Galaxy S7. They are very useful in every way in business or personal use, and can be carried anywhere you want to go. The manufacturers are also making sure that the performance and quality of every device they released are top of the line to guarantee the owners' satisfaction. The great things about Android smartphones is that the OS (Operating System) is open source code, meaning it can be customized depending how the developer wants it to be, but not everyone knows how to do it like us average users.
Modification is not always have a good outcome, it has some risks too. There are a lot of customized OS on the internet right now, from colorful interface design to maximizing the devices performance. Most of them carried many risks that sometimes leads the device to malfunction.
But, in your case, as long as the phone did not suffer from physical damages like unintentionally dropping it or was exposed to liquid or rain, the steps that we will mention later might solve the problem and can recover or can back up your data. We don't cover hardware damages.
You are asking if you can back up your data while on recovery mode. Yes. You can back up the data stored in your device while on recovery mode. In this mode, it will copy all the data and boot up your device to when it was running normally before the issue occur. When this happen, try checking the third party application that you installed and we highly recommend that you don't have to install that application causing problem. Below are the steps how to run in recovery mode and backup data.
Enter Recovery Mode

Highlight and select "Backup & Restore" option

Select "Backup" option and it will begin the backup process and automatically save it your SD card.

When its done processing, restart the device by choosing "Reboot system"

After rebooting, go back to recovery mode and do the factory reset

Choose "Yes — delete all data" option and confirm
If the process is complete and your phone runs normally all the way to the main screen, you can go back to recovery mode and restore the backup data. Below are the steps how to do it.
Enter Recovery Mode

Navigate using Volume up and down keys and select "Restore & Backup" option

Select "Restore" to begin restore process, wait until it finish

Notification message will display after the phone complete the process
Note: Recovery process will take several minutes to finish, whole system settings and apps before the issue occur will be restored completely. However, if the problem still occur, we highly recommend to find the nearest service center and bring your bring your device. That is the last resort to resolve the problem, it would be a waste if you will buy a new phone.
There are software that you can use to backup your data, however we don't cover those software or applications, but you can Google them and read the instructions how to use it. If you have intention to install an application to backup and restore your data, select wisely and be warned about the risks before installing it.
Galaxy S7 stuck on Samsung logo during bootup
Problem: My galaxy is constantly showing SAMSUNG logo and is not moving ahead of that. It all started when i started unrooting my phone! Please provide me some solutions (sorry about writing Galaxy S7 but I can't find other devices than this).
Troubleshooting: Hi! This kind of problem is very common to all android users who specifically likes to make their devices go beyond the manufacturer's default settings. We received several emails from the other owners with similar issue about their android that won't boot up completely.
Installing custom ROM or rooting your device can "unlock" incompatible apps, it will allow you to run applications that your device is not designed to and much more. But by doing that, it comes with a side effects or even greater risks and make the device to malfunction.
We know that your Galaxy S7 is one of Samsung's brilliant device ever released. However, it has it's limitations especially to some of its features and performance, we would assume that is the reason why you have decided to root the device as you mentioned to make it even more powerful or try some cool apps and games. But, don't worry we can recommend some methods to help you solve the problem.
Step 1: Booting the device in safe mode
Most likely, it happens after rooting the device and unrooting. Doing this can trigger issue (won't boot up) especially if you have installed a third party apps. Running in safe mode will help us determine if the third party app is causing it, once your phone boot in this mode, we highly recommend to uninstall the app/s causing problem. Below are the steps how to run in safe mode.
Turn off the device

Press and hold "Power key" and "Volume down key" together

When the Samsung Logo appears, release the "Power key" but keep holding the "Volume down key" until it loads to the Home screen

"Safe Mode" will display at the lower-side corner of the screen.
Step 2: Booting in Recovery Mode
If your device will not boot in safe mode, try running the device in recovery mode. This is the other way to boot your device, though they are pretty much similar, to check if your device will still respond to hardware combination keys.
When your device is in Recovery mode, you can delete the cache partition, it will let your device boot back to normal before the problem occurs. Here are the steps how to do it.
Make sure the device is completely off

Press and hold 'Volume up key' + 'Home key' + 'Power key' altogether until the Samsung logo appears and release all keys and it will display android mascot.

Use the Volume up and down key to navigate and select the 'recovery mode', press power key to confirm selection

When you're inside the Recovery Mode, select the "wipe cache partition"

After confirming, navigate to "Reboot system now" and select it.
Step 3: Factory Reset
Factory reset is the last resort if the mentioned ways above are not working. If you decided to choose this option, it will delete all personal data stored in the device, make sure that you made up your mind before you continue. This may be the only resolution to the problem. Below are the steps on how to factory reset the device.
Turn off the device

Press and hold "Volume up key" + "Home key" + "Power key" together

Wait until Android mascot appears then release all keys

Navigate using "Volume down key" and select "wipe data/factory reset" option and press "Power key" to confirm

Next, choose "Yes — delete all data" and press "Power key" to confirm

Select "Reboot system now" option and press "Power key"to confirm

Wait until the device done resetting the device
I hope this guide can help you. Feel free to contact us if you need further assistance.
CONNECT WITH US
We are always open to your problems, questions and suggestions, so feel free to contact us by filling up this form. This is a free service we offer and we won't charge you a penny for it. But please note that we receive hundreds of emails every day and it's impossible for us to respond to every single one of them. But rest assured we read every message we receive. For those whom we've helped, please spread the word by sharing our posts to your friends or by simply liking our Facebook and Google+ page or follow us on Twitter.