It seems that after the new #Marshmallow update  caused some issues to a lot of #Samsung Galaxy S6 (#GalaxyS6) owners. Mostly, they complained about their devices which keep on restarting and won't go through the Samsung logo. Such issues are obviously caused by software or firmware issues that won't allow the device to boot up normally.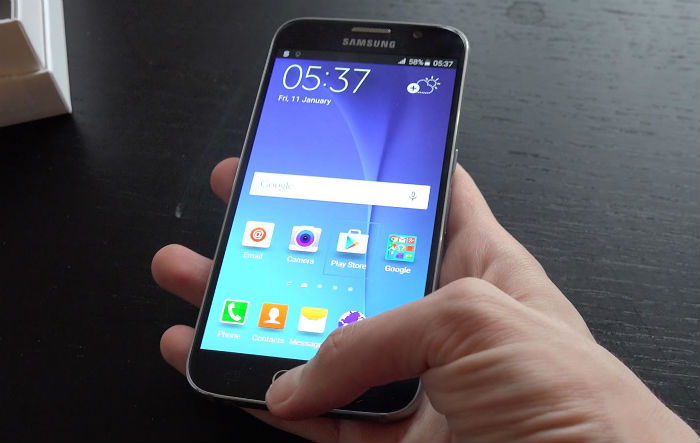 Continue reading this post, I will tackle this issue and recommend troubleshooting steps how to fix it and avoid it from recurring in the future. We've received several emails from our readers about this issues and addressed most of them and hopefully your issue is the same.
Before going any further, you can always visit our Samsung Galaxy S6 troubleshooting page, there we have some related issues that was already addressed. But, if you think that your issue is different and the troubleshooting steps that we recommended did not fix it, then simply fill out this form. Please provide us the most detailed information about how and when the issue started and we will research it for you.
Galaxy S6 keeps resetting itself after the Marshmallow update
Problem: Hey there! I have a Galaxy S6 phone, but after I updated it on android marshmallow 6.0.1 from android lollipop 5.0 it just keeps factory resetting itself after a month or 15 days. I don't know what to do. please help.
Troubleshooting: This issue usually happens if some files are corrupted or damage during the download process. In order to determine the issue, you have to perform some basic troubleshooting steps to isolate the issue.
Force Reboot Your Samsung Galaxy S6
The reason that you will perform this procedure is to let your device refresh the system by doing a simple reboot. And to successfully perform this procedure, your device must have at least 10% battery level to turn on the device. Simply follow the steps below on how to do it:
Press and hold Volume down + Power key for about 10-20 seconds. This is equivalent to battery pull to devices that has removable battery.
Run the Device in Safe mode
Sometimes, this issue is caused by a third party app that is not compatible with the new update and causing the system to crash. To figure out if the issue is caused by a third party, we highly recommend running your device in Safe mode. It will temporarily disable all third party apps installed and run only the manufacturer's pre-installed app.
Turn off your Galaxy S6.

Press and hold the Power key.

When 'Samsung Galaxy S6' appears, immediately release the Power key and then press and hold the Volume Down button.

Continue holding the Volume Down button until the phone finishes the restart.

When you see Safe Mode on the lower left corner of the screen, release the button.
If ever your device was able to run or boot up in this mode, then we are confident that it was caused by a third party. The next thing that you should do is to search for that app and uninstall it then, boot up your device normally.
Clear System Cache Partition
After you uninstall the third party app causing problem and the issue remained, then clear the system cache partition might fix the issue. This procedure is totally safe, it will not reset your device and your files will stay intact and since your device will not boot up normally then, there might be some temporary files that are corrupted or damaged that was not cleared during the update process then manually deleting it might fix it.
Here's how to clear system cache partition:
Turn off the device.

Press and hold the following three buttons at the same time: Volume Up key, Home key, and Power key.

When the phone vibrates, release the Power key but continue to press and hold the Volume Up key and the Home key.

When the Android System Recovery screen appears, release the Volume Up and Home keys.

Press the Volume Down key to highlight 'wipe cache partition.'

Press the Power key to select.

When the wipe cache partition is complete, 'Reboot system now' is highlighted.

Press the Power key to restart the device.
The procedure that you just did is a general troubleshooting step since you cannot delete the system cache files one-by-one nor have an access. After deleting the system cache partition, the device will create a new one that is compatible to the new firmware recently installed.
Master Reset Your Device
If the issue still occurs after clearing the system cache partition, then proceed and master reset your device. It will clear your device entirely and remove all files like your images, contacts, messages, etc. that are stored in your device memory and restore it back to manufacturer setting. You can try and backup the important files by plugging it to your PC if it will recognize and copy the folders containing your files.
If you are not sure to perform this procedure, you can ignore it. Then bring your device to the nearest Samsung service center to have the professionals fix the issue. In case, you will perform the procedure, follow the steps below:
Turn off your Samsung Galaxy S6.

Press and hold the Volume Up, Home and Power keys together.

When the device powers on and displays 'Power on logo', release all keys and the Android icon will appear on the screen.

Wait until the Android Recovery Screen appears after about 30 seconds.

Using the Volume Down key, highlight the option, 'wipe data/factory reset' and press the Power key to select it.

Press the Vol Down button again until the option 'Yes — delete all user data' is highlighted and then press the Power key to select it.

After the reset is complete, highlight 'Reboot system now' and hit the Power key to restart the phone.
You've perform pretty much all the basic troubleshooting steps, hopefully this guide was able to help fix the issue.
Samsung Galaxy S6 email sync issues
Problem: Forgot pattern on lock screen so I did a factory reset to clear of the device and now it won't let me get into my email account it says enter email sync on this device it's a Samsung Galaxy S6. Please help me!
Troubleshooting: The email sync problem is common and can be fixed right away. To resolve the issue, you need to make sure that you have a stable internet connection. If you have cloud service like Google Drive or any, verify it the account that you are trying to sync is working. Lastly, you need to make sure that your credentials are correct like username or password.
After you've double checked everything and still not fix, then follow these steps: Go to Settings > Data Usage > Menu > Auto Sync Data. You need to make sure that there's a check on Auto Sync Data checkbox to turn it on. If the problem still occurs, then the problem might be different.
Alternatively, you can try removing the current email account you are using or you can choose the option 'Sync now'. If you choose 'Sync now', it will check all checkbox and sync all from app data to all apps that is on the list. If you choose to remove the current email account, follow these steps: Go to Settings > Accounts > Tap the current email you are using (e.g. google, yahoo, etc.) > Tap Remove account > Then confirm.
Enter your credentials again to add an account, make sure all credentials are correct.
If the issue still occurs, then you might have to clear cache and data and/or clear system cache files. It will not reset the device, so it is safe to perform, but it will clear all email credentials that you recently used and enter it back again. Here's how to clear cache and data:
Go to Settings.

Proceed to Applications.

Select Manage Applications.

Tap the All tab.

Choose the name of the app in question.

From there, you will see the Clear cache and Clear data buttons.
To delete the system cache partition, follow these steps:
Turn the device off.

Press and hold the Power, Volume Up and Home buttons simultaneously.

When the phone vibrates, release the Power button but continue to press and hold the Volume Up and Home buttons.

Now, when Android recovery screen appears, highlight the wipe cache partition option using Volume Down button.

To confirm the selection, press the Power button.

Wait for a while until wiping the cache partition is finished.

Now, "Reboot System now" will appear on the screen. To highlight the option use the Volume Up/Down key.

Press the power button to confirm it, and your device will automatically reboot.
Samsung Galaxy S6 "Unfortunately, application has stopped" error message
Problem: I was getting messages such as "unfortunately, Samsung dm service has stopped" and "unfortunately, system update has stopped", and "com.samsung.syncservice has stopped". I backed up my data and attempted a factory reset. When I get to the terms of service screen, it displays every "unfortunately" message and will not continue the process past there. I have tried to hard reset again and again but keep getting stuck here.
Troubleshooting: Hi! It is a good thing that you already backup your important files. The problem now is the error message "Unfortunately, system update has stopped" and other error messages still appears even after doing a factory reset. To continue the troubleshooting to your Samsung Galaxy S6, based on the procedure that you did, we find it somewhat lacking but, don't worry we will provide additional basic procedure to help fix the problem.
Clear Your Device Cache Partition
If you perform a factory  reset, you might as well do wipe system cache partition. These are temporary files that sometimes causes a problem especially if your device downloaded a new firmware update. In some cases, some temporary files are not compatible with the new updates and caused the system to crash and manually removing them is the only solution.
Refer the steps above on how to clear system cache partition.
Connect with us
We are always open to your problems, questions and suggestions, so feel free to contact us by filling up this form. This is a free service we offer and we won't charge you a penny for it. But please note that we receive hundreds of emails every day and it's impossible for us to respond to every single one of them. But rest assured we read every message we receive. For those whom we've helped, please spread the word by sharing our posts to your friends or by simply liking our Facebook and Google+ page or follow us on Twitter.