This post highlights potential fixes to Roblox Stopped Responding error in Android 11. Read on to learn what to do if your Roblox game is not working stable on your Android smartphone or tablet.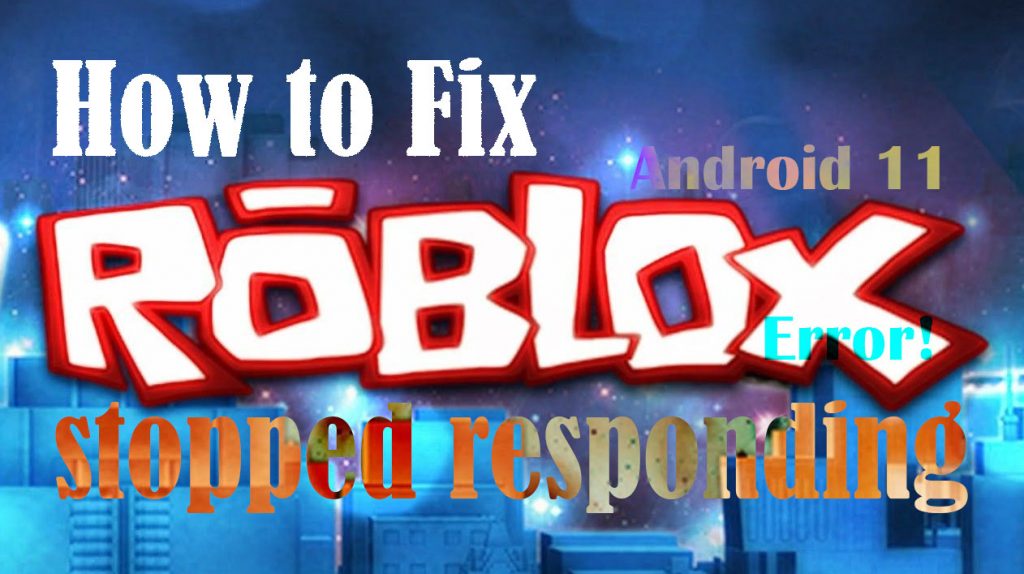 What causes Roblox to stop responding?
"Something went wrong, Unfortunately, Roblox has stopped, Roblox not responding." These are error messages that often pop up whenever an app is crashing.
There are many factors that can halt online mobile gaming apps like Roblox. Among the common culprits include internet problems, random bugs, software glitches and in some cases memory issues on the device. The same thing could happen to apps that aren't properly installed or corrupted. For server-based platforms, scheduled maintenance and unexpected server issues are also among the possible causes.
Given all the possible triggers, fixing this problem requires troubleshooting on both the device and the application itself. If you need additional input on how to deal with a similar error on Roblox for Android, I've mapped out some of the highly effective solutions you can try on.
Potential solutions to Roblox stopped responding error in Android
Before you go any further, check your internet connection. Slow internet, intermittent connection or no internet connection at all could be the main reason why Roblox is not working properly. If necessary, restart your modem/router to fix any existing internet issues.
Also care to check the current status of Roblox server. If Roblox is down, there's not much can be done on your end but to wait until it back up and running again. There are many platforms you can use to check on Roblox status. You can use downdetector or go straight to Roblox support page to view relevant information.
If there's no reported problem with Roblox but for some reason the game keeps crashing on your Android tablet or smartphone, then you may go ahead and start ruling out every possible cause.
Don't forget to test-run the game after performing each tweak to determine whether or not the problem is fixed. Proceed to the next applicable solution if needed.
First Fix: Force Stop Roblox then relaunch
For first instances, random app glitches are likely the triggers. It's possible that Roblox has encountered minor errors that eventually made it stuck and stopped working. To get rid of these glitches, restarting the game should suffice.
To force stop the app in Android 11, just follow these steps:
Open the Settings app.
Tap Apps.
Select Roblox from the list of apps. If you don't see Roblox, you may need to select the option to See all apps to view all opened applications on the device.
On the App Info screen, tap the Force Stop command.
If prompted, read the warning message then tap OK to confirm.
This method forcibly ends the app from being stuck and thereby makes it able to have a fresh start.
Ending all other apps that are left opened or running in the background is also recommended. Doing so will clear out any conflicting background apps from the underlying causes.
Second Fix: Clear Roblox Cache and Data 
Residual files and temporary data accumulated in the app's storage may contain some corrupted fragments that made the app unstable. To rule this out, clearing cache and data from Roblox is recommended. Here's how it's done:
Tap Settings.
Tap Apps.
Select Roblox from the list of apps.
On the App info screen, tap Storage.
To clear temporary files from the Roblox app, tap Clear cache.
To remove all temporary app data including any corrupted data fragment that's causing in-app glitches, tap Clear data then tap OK on the pop-up menu to confirm.
Clearing app cache deletes all temporary files from the app while clearing data permanently deletes all app data including login credentials, game progresses, databases and the like. This means that you'll have to sign into your Roblox account the next time you launch the game.
Third Fix: Restart  your device
A simple restart or soft reset on the device can help fix various types of system issues including the ones that made Roblox app erratic and unstable. It allows apps and the system itself to refresh and run clean.
So if you haven't already, turn your device off for a few seconds and then turn it back on. Or, you can just activate the Restart command from the power options.
Fourth Fix: Verify date and time settings.
Correct time and date are the main requirements for real-time apps like Roblox to work as intended on any supported device. So be sure not to miss checking that out.
To check the date and time settings in Android 11, simply go to Settings-> System-> Date & Time menu.
If the device is set to use network-provided time or network-provided time zone, try to change it manually.
To change the date, tap Date and then enter the correct date.
To check the time, tap Time and then enter the correct time.
Actual menu options may vary between devices but the labels are likely the same.
Fifth Fix: Install software updates available.
Updates are also deemed potential solutions to app issues attributed to system bugs and malware. This applies to both app and firmware updates. Period updates typically bring in new features and fix patches that are programmed to keep apps and systems optimized.
If you haven't set your apps to automatically download and install available updates, go ahead and check for updates. Here's how it's done in Android 11:
Open the Play Store app.
Tap on your Profile icon on the Play Store menu.
Select the option to Manage apps and device.
Then, tap Updates available to show apps with pending updates.
Look for Roblox and then tap the Update button next to it.
If multiple updates are available, you can perform a simultaneous update by tapping on the Update all button instead.
To check for new software/firmware versions available for your device, just head over to Settings-> System update menu. If a new software version is up for grabs, you will see more details on this menu.
Just follow the onscreen prompts to proceed with the software update download and installation procedures.
Be sure to keep your device connected to the internet, preferably through Wi-Fi. Also ensure that it's sufficiently charged prior to updating.
A lot of people have ended up facing more complex system issues following an incomplete update (post-update errors) due to insufficient battery on the device.
After updating, give your device another restart to apply the recent system changes and to refresh all apps and services.
Last resort: Reinstall Roblox.
This is often the last option many people have considered doing if none of the prior methods is able to fix the problem. The app might have been totally corrupted and is no longer able to run properly unless it's reinstalled. But this also means uninstalling Roblox on your device.
Should you wish to proceed, you can uninstall the Roblox app by heading to Settings-> Apps-> Roblox menu then tap the option to Uninstall.
You can also head over to the Google Play Store app, access your profile menu then tap Manage apps and device. Select Roblox then Uninstall.
After uninstalling Roblox, restart the device then reinstall Roblox from the Play Store app.
Other Suggestions
Most app-related issues including random to frequent crashes are typically resolved by reinstalling the erratic application. Nonetheless, there are some cases where the problem reoccurs even after a fresh reinstall. This is when escalating the problem is needed.
If none of the given solutions worked, then you can report the problem to Roblox Support. Doing so will give the game developers a heads-up of what's going on with the platform and therefore allow them to address the problem as soon as possible.
Hope this helps!
Relevant topics that you might want to read: