This post highlights a few potential solutions to a problem on Red Dead Redemption 2 Online Error 0x20010006 in Windows 10 (Rockstar Games Launcher.) Read on to learn what to do if you couldn't get this game to load up on your Windows computer via Rockstar Games launcher.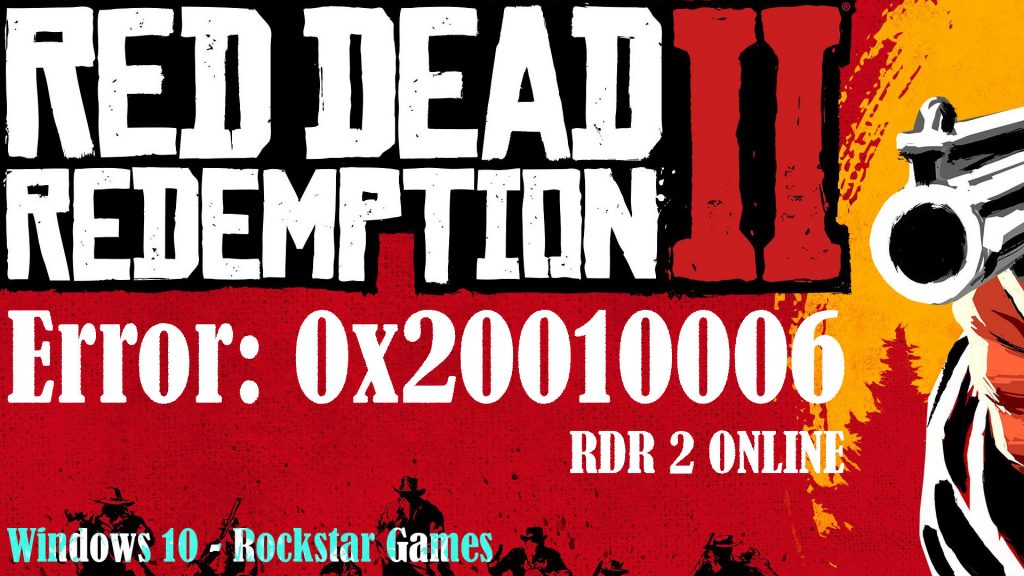 What does RDR 2 online error 0x20010006 mean?
One of the widespread errors encountered by RDR 2 players in Windows 10 is the Error: 0x20010006. This error usually prompts with a message saying that "You have been disconnected from Red Dead Online due to a fault on Rockstar game services." This error reportedly started since the Red Dead Online beta.
Most of those who are getting this error code were trying to play Red Dead Online mode but couldn't proceed because they got disconnected from the server.
Based on the error message alone, it's obviously not a problem on the user's end but more likely with the game launcher. But there could be some other factors that have triggered this error to occur while playing the game.
If you're here to get some input on how to fix the RDR 2 error 0x20010006 on your Windows 10 computer, then you can try any of the lined up tweaks in this post.
What to do if prompted with RDR 2 error code 0x2001000?
Basically, what you're dealing with is most likely a connectivity issue with the Red Dead Redemption 2 launcher, if not the RDR 2 server itself.
That said, be sure to check the RDR 2 server status to see if there are any ongoing outages or server maintenance. You can use any available server status checker tools to view real-time updates on the RDR 2 server.
If there are no reported outages or problems affecting the Red Dead Redemption 2 server at the moment, then you can try the following tweaks to eliminate the possible culprits that trigger the error from your end.
First Fix: Quit then restart the game launcher.
If this is the first time you encounter this error, it could be just a random glitch transpiring on the launcher services. Oftentimes, minor errors like this can easily be rectified by restarting the game launcher.
That said, close the Rockstar Game launcher and then open it again. Wait until it's finished loading up then retry launching Red Dead Online to see if the error is gone.
If that doesn't do any good, reboot your computer to clear out any random system errors that might have caused the launcher app to misbehave. A simple restart or system reboot can help fix various types of software-related issues in computers as well as mobile devices so be sure not to miss this step.
Second Fix: Refresh your Internet connection.
To rule out random internet problems on the computer system that might have affected online apps and services including the RDR 2 online mode, refresh your internet connection. This can be done in many different ways.
You can disconnect from your Wi-Fi network through the taskbar or by accessing the Wi-Fi settings from the Start menu.
If you've set up multiple networks on your computer system, disconnect from your current network and switch to a different network. This should help you determine whether or not the problem is isolated to a corrupted Wi-Fi network in use.
Alternatively, you can do a modem/router power cycle or reboot. This is by far the most effective solution to various types of problems affecting a Wi-Fi internet connection from slow browsing, intermittent/unstable connection or even no internet connection at all. If you haven't tried this tweak yet, then simply follow these steps:
First, power off your modem/router by pressing the Power button until the device powers down.
While the modem/router is turned off, unplug its adapter from the power source for about 30 seconds to 1 minute.
After the elapsed time, plug it back in and wait for it to boot up and the light indicators are stable.
Allow your computer to reconnect to the Wi-Fi network automatically or connect manually, if needed.
Test your internet connection by opening a browser then navigate through different websites. If all websites are loading properly, the internet connection is good.
At this point, you can open the game launcher again and then retry loading up your game to see if the problem is fixed.
Third Fix: Change DNS in Windows
Some users who have faced the same error managed to fix it by changing the DNS settings on their Windows computer. Should you wish to give this a shot, here's how it's done:
Access the Control Panel on your computer.
From the Control Panel, click Network and Internet.
Select Network and Sharing Center then click the option to Change Adapter Settings.
After that, right-click on Network Connection then select Properties.
Now, select Internet Protocol version 4 (TCP/IPv4) from the list then click Properties to proceed.
On the succeeding window, click/select the option to Use the following IP addresses then enter your preferred and alternate DNS server addresses.
When you have finished changing the DNS server, click OK.
Alternatively, you can configure a user-defined DNS server for IPv6 connections using Internet Protocol version 6 (TCP/IPv6).
Then, click Properties and enter IPv6 addresses.
Once you're done enter addresses, click OK to save changes.
After applying changes to the DNS settings, retry loading the game and see if the error is gone.
Fourth Fix: Play RDR 2 Online via Story Mode
Some people have managed to deal with this error by going online via story mode. It turned out that this workaround allowed the multiplayer mode to launch straight from the Story menu from the main game's menu.
Should you wish to try your luck in this tweak, you can do this by pausing the game and then accessing the Online menu from the left-hand section of the screen. Who knows that this approach will do wonders to you as well.
Fifth Fix: Reset your router/modem.
Aside from the power cycle method, complex network connectivity issues attributed to a corrupted router/modem system can also be dealt with by resetting the network device. If you think this option is applicable to you, then you can give it a try and see the results.
The reset button in most modem or wireless routers is typically placed on the back panel lined up with the Power or On/Off button. It usually looks like a small black circle but may vary between device models. Just look for the reset button then press and hold it for about 1 minute. This should help refresh the IP and DNS settings that are being utilized by the computer to play RDR 2 Online without overriding any custom settings that you've previously configured.
If you're not confident of doing the modem/router reset by yourself, then you can always call your Internet service provider and ask them to reset your modem/router remotely. They can do that using a dedicated tool on their end.
Other Suggestions
If none of the aforementioned tweaks is able to help you and the error 0x20010006 continues, try playing the game at some other time later.
There might be some unreported issues with the Red Dead Online server that crippled relevant services and made the game unplayable at the moment. In this case, the problem may actually be out of your control. Nonetheless, Rockstar must already be working on it. But if you can't wait, then you can go ahead and try using other launchers or gaming platforms like Steam.
Hope this helps!
Relevant topics that you might want to read: