This post highlights a few potential solutions to deal with the "Phantasy Star Online 2 has stopped responding" error in Windows 10. Read on to learn what triggers the game to suddenly crash and stop working on your Windows PC and how to fix it.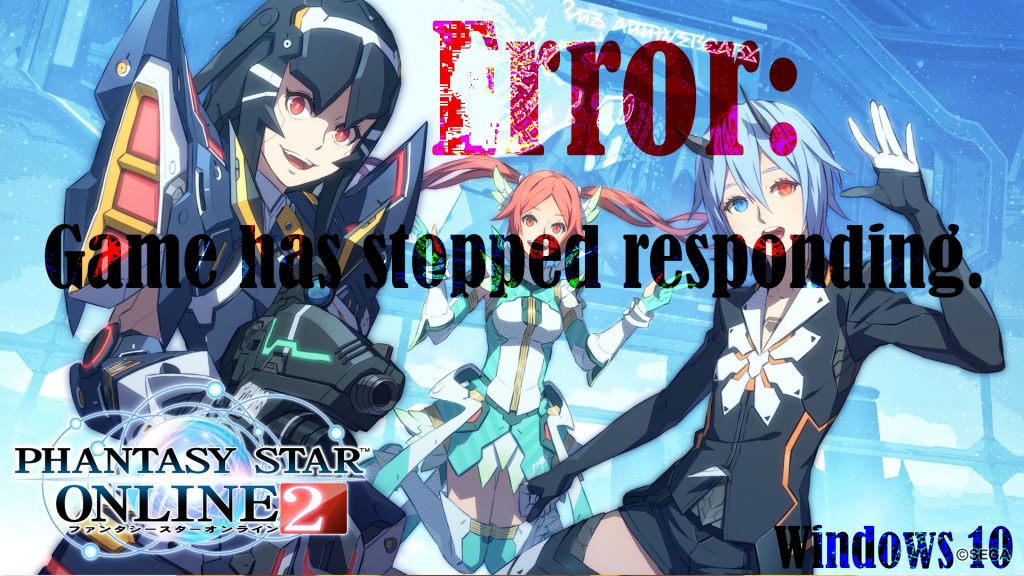 Sega's free-to-play online action role-playing game Phantasy Star Online 2 has been around since 2012 and it continues to emerge among the most popular video game titles in almost all platforms with several millions of users to-date. Among the main reasons as to why PSO 2 has become a thriving masterpiece are the constant updates pushed by its developers. But just like any other game, PSO2 is not spared from random lapses.
What triggers the "game has stopped responding" error?
Any program can succumb to random hiccups and you will just learn that something's not right because it's not working as intended. Oftentimes, the transpiring errors are just minor and therefore can easily get rectified by performing basic solutions. However, there are some instances when fatal system errors are the underlying cause thus, more advanced solutions are needed.
The "application has stopped responding" error is usually tied to corruption of some data fragments either from the main program or system components. It is generally tagged among other performance issues in mobile devices and computers.
What really happens is that the application has stopped working and then it freezes or gets stuck. There are many factors as to why problems like this occur. In the case where PSO 2 stopped responding in Windows 10, it could be due to an unexpected network interruption, data corruption, antivirus or firewall, insufficient memory and other software-related errors. In a worst case scenario, faulty hardware like a corrupted driver is to blame.
Troubleshooting Phantasy Star Online 2 has stopped responding error in Windows 10
Before opting for hardware upgrade or repair, you can try the following procedures to rule out software-related factors that might have triggered the game to suddenly freeze or stop responding on your computer. Don't forget to test run the game after applying each solution to determine whether or not the problem is fixed.
First solution: Force stop/end the game launcher.
If you're playing the game through a launcher app, it's possible that the launcher has encountered an unexpected error and that has caused the game to stop and get stuck. In this case, closing the launcher and restarting it will likely fix the problem. So, here's what you should do first:
Click the Start/Windows icon to launch the Start menu then type in Task Manager.
Select Task Manager app from the search results.
While on the Task Manager screen, click to open the Processes tab and then locate the game launcher app.
Right-click on the game launcher app and then click End Task.
If you see the Phantasy Star Online 2 among other running apps and processes, right-click on it and then click End Task. This will force the game to end and exit.
Close the Task Manager after ending the said applications from the background processes and system services. Then, run the game launcher again and retry loading your game.
Second solution: Verify integrity of the game files.
To rule out any corrupted data fragments from the game application, verifying integrity of the game files is recommended. This should fix the problem if missing or corrupted game files are to blame. The process of verifying game file integrity varies between game launchers. If you're running Phantasy Star Online 2 on your computer through Steam, just follow these steps:
Launch the Steam platform.
Navigate to the Steam Library then find Phantasy Star Online 2 from your games.
Right-click on the game then click Properties.
Click the Local Files tab then click the option to Verify Integrity of Game Files.
The system will then instigate scanning for missing and corrupted game files then redownload and fix any found items. The entire process may take several minutes so patience is key.
Once the game files verification is complete, close the Steam app and then run the game again to see if the problem is fixed.
Third solution: Eliminate conflicting programs.
Sometimes, unexpected errors would occur on a certain program or application due to software conflicts. This usually happens when you allow unnecessary software to launch during system boot-up. To clear this out, configure your computer to stop any unwanted tools from running. Here's how:
Launch the Run app by pressing the Windows + R keys on your keyboard simultaneously.
On the Run box, type msconfig then click OK.
Click the Services tab on the System Configuration menu.
Then, check the box next to Hide all Microsoft services at the bottom.
Locate the services that do not belong to the system sound card or graphics card manufacturers like AMD, Intel, Realtek and NVIDIA then click to uncheck the box next to each of these services.
Finally, tap the OK button.
After making these changes, restart the computer to refresh apps and system services. As soon as the computer gets back online, try launching PSO2 and see if it's already fixed.
Fourth solution: Scan and fix missing system files.
Verifying system files integrity is usually imperative to eliminate any corrupted system files that might have caused the game launcher or the game application itself to become flawed. In Windows 10, verifying integrity of system files is carried out through these steps:
Launch the Start menu and then type cmd.
Right-click Command Prompt from the results.
Select the option to Run as Administrator.
Click Yes on the next screen to confirm.
The Command Prompt window with administrative privileges will then launch.
Type in the command sfc /scannow and press Enter.
The system will then start scanning for some significant files that have gone missing or corrupted. The scanning usually takes several minutes. Once it's done, a message regarding the current status of your system files will be displayed. Based on the results, the computer will tell you what to do next. Just read the onscreen instructions to figure what to do next.
This method is highly recommended to fix Windows system files that have been corrupted over time.
Fifth solution: Update/reinstall drivers.
A lot of PC games have encountered the same problem due to some outdated or corrupted audio and video card or graphics driver. To make sure that this isn't inflicting troubles to your games, check your computer's graphics card drivers and update or reinstall them, if needed.
Updating and reinstalling of graphics card drivers on a Windows computer can be done manually or automatically.
To manually update drivers in Windows 10, just follow these steps:
Click the Start or Windows button on the taskbar.
Then, type Device Manager.
Click the Device Manager icon from the search results. That opens the Device manager screen.
Select or right-click on the computer's graphics driver and then select the option to Update driver.
To deal with a corrupted graphics card driver, you need to uninstall and reinstall the driver. Here's how:
Simply right-click on the graphics driver from the Device Manager menu and then select the option to Uninstall.
Restart your computer and allow the system to reinstall the driver.
You can also use a third-party tool for updating and reinstalling drivers on your system automatically.
Keeping drivers up-to-date is highly recommended for performance boost and stability. When the graphics driver in use is somehow faulty or obsolete, the operating system and programs that are utilizing that graphics hardware will become more prone to errors and unstable. GPU drivers or graphics card drivers are by far the most important components of a gaming computer. Without updating your GPU drivers, the graphics card will not function properly. As a result, you'll get terrible performance and awful gaming experience.
Other Suggestions
If you're using an antivirus software or firewall, there's a tendency that the antivirus has interfered with the Phantasy Star Online 2 or the game launcher due to some security threats. To rule this out, temporarily disabling the antivirus or firewall connection on your computer is recommended.
After disabling the security tools, retry launching the game and see if the problem reoccurs. If it doesn't stop responding without any security programs activated, you need to reconfigure your antivirus or firewall settings to set exceptions for your game launcher and Phantasy Star Online. Just add the launcher and the game to the exempted or allowed programs and processes on the antivirus settings.
Also don't forget to check the current status of the game server. Various problems and errors may occur if the game server is experiencing some downtimes or outages. You can use any down-detector tools to view real-time updates about the Phantasy Star Online 2 status.
Hope this helps!
Relevant topics that you might want to read: