This post highlights a few potential solutions to deal with "The Witcher 3 Wild Hunt has stopped responding" error in Windows 10. Read on to learn what triggers this error to occur when playing The Witcher 3 game on your computer and how to fix it.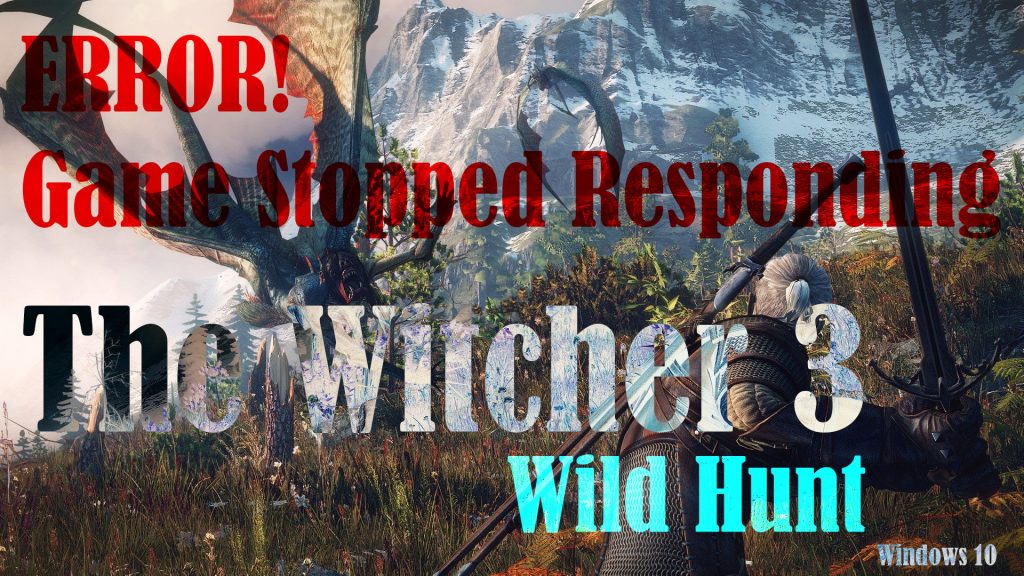 What causes stopped responding error?
Action role-playing game The Witcher 3: Wild Hunt has been cited among the best video games ever made for console and Windows devices. With over 30 million copies shipped, The Witcher 3 has joined the list of the best selling video games of all time.
If you're playing this game in Windows 10 and for some reason it keeps crashing or stops working, then you're likely dealing with a performance issue on the computer system or the game itself. In short, there's a problem that needs some fixing.
There are many factors that can trigger a PC game to suddenly stop responding. Among the common culprits include outdated game software, conflicting applications, post-update bugs, in-game data corruption, antivirus software, and faulty drivers. In some cases, system issues happened to be the main triggers.
Unless all hardware components on your computer are perfectly working, the problem must be software-related. That said, it can be resolved from the user's end.
Troubleshooting The Witcher 3 Wild Hunt stopped responding error in Windows 10
To give you some input on how to deal with this issue, I've mapped some of the most effective solutions shared by other PC gamers who have dealt with the same error while playing The Witcher 3 Wild Hunt game in Windows 10. It's going to be a trial-and-error procedure so you need to be patient until you finally find the absolute fix.
Before you begin, verify and ensure that your computer has met the minimum system requirements to run The Witcher 3 Wild Hunt game. Here's a summarized information for your reference:
OS : 64-bit Windows 7 or 64-bit Windows 8 (8.1)
Processor : Intel CPU Core i5-2500K 3.3GHz / AMD CPU Phenom II X4 940
Memory : 6 GB RAM
Graphics : Nvidia GPU GeForce GTX 660 / AMD GPU Radeon HD 7870
Hard Drive : 35 GB available space
Once you've confirmed that the minimum system requirements are met, you can start ruling out individual culprits using any of the following procedures.
First Fix: Verify Game File Integrity.
One of the most effective solutions to performance-related issues in PC games is verifying integrity of game files. This will help redownload any missing files of the game and fix those that are corrupted. As a result, in-game issues and errors are resolved and the game works as intended.
If you're playing The Witcher 3 through Steam, just follow these steps to verify game file integrity:
Launch the Steam platform.
Navigate to the Steam Library then find The Witcher 3 from your games.
Right-click on the game then click Properties.
Click the Local Files tab then click the option to Verify Integrity of Game Files.
The system will then start scanning for missing and corrupted game files then redownload and fix any found items. The entire process may take several minutes so just be patient and wait until everything is done.
After verifying game files, close Steam then relaunch the game and see if the problem is fixed.
Second Fix: Disable Vsync option on The Witcher 3.
Some users who encountered the same error have managed to resolve it by disabling the Vsync option on the game settings. Vsync is a display feature that's typically found in 3D games for PC. It allows users to reduce the frame rate for better stability during game play. Nonetheless, activating this feature can also trigger some in-game issues including random crash and other relevant errors. To rule this out, try to disable Vsync setting with the steps:
Launch The Witcher 3 on your computer.
On the game's main menu, click Options.
Next, click Video.
On the succeeding menu, click Graphics to view the current graphics settings for the game.
Finally, turn Off VSync.
After making necessary changes, quit then restart the game to see if the error is fixed or not.
Third Fix: Check the Computer for overheating
With extensive and heavy usage, the computer can easily get overheated. When this happens, any running programs including gaming apps may not be able to work as intended. In some devices, you'll get a warning prompt saying that the system has overheated and you need to give it some time to cool down before using again. But in most instances, particularly in PCs, you will see no such warning and so the game will just abruptly freeze or stop working.
The easiest way to check the CPU Temperature in Windows 10 is through third-party programs that are designed to gauge how hot the processor is getting. Among the widely used tools for this purpose include HWMonitor, MSI Afterburner, Core Temp and Throttlestop, to name a few.
Fourth Fix: Set Game to Play in Full Screen.
Another effective workaround that's been proven to work wonders against performance errors in PC games like abrupt stopping is by setting the display mode to full screen.
It turns out that the borderless window inflicts more load on the processor as the desktop is also running in the background. To rectify this flaw, you can try this tweak:
Run The Witcher 3 app.
From the game's main menu, click Options then click Graphics.
On the Graphics settings screen, find and select Display Mode then change the option from Borderless Window to Fullscreen.
Save all recent changes and exit.
To check and see if that fixes the error, relaunch the game and see how it works.
Fifth solution: Update graphics drivers.
Having an outdated or corrupted graphics driver on your computer may also be the root cause of the problem. Drivers are key components to facilitate the interaction between the hardware and the gaming application. Having said that, the game might not be able to display or perform properly if the drivers are outdated or corrupt. This is when you need to update or reinstall drivers on your computer.
You can update or reinstall drivers manually or automatically.
Manual updating and reinstalling of graphics drivers do require computer skills and technical knowledge. If you're not confident of doing it, then you can just use a third-party driver installer/updater for that matter. These tools already have built-in commands that you can click to instigate the process so all you have to do is follow the on-screen prompts until everything is finished.
Among the trusty driver updater tools for Windows 10 are the Display Driver Uninstaller (DDU), DriverFix, Smart Driver Care, AVG Driver Updater and System Mechanic Ultimate Defense, to name a few. Just pick your preferred driver updater and let it do the job.
Other Suggestions
Revert update.If the error started after installing the Creators update, you might want to try rolling it back. It turned out that many people were facing various issues following that update and rolling back to the previous version turned out to be an effective temporary solution.
Disable Overclocking. If your system is using overclocking to augment performance, chances are that it makes the system unstable. As a result, the app keeps crashing for no apparent reason. To clear this out, try to disable overclocking on your computer and then try launching the game again to see if things are already doing well.
Disable third-party Mods. If you're using Mods or third-party plugins for graphics enhancements, try to disable them. There's a chance that these mods have caused conflict with the game's very engine and cause various issues. Having said that, disabling all types of mods or transferring them to another folder or drive on your computer might also fix the problem.
Disable Antivirus Software/Firewall Connection. If you've got an antivirus software or firewall installed on your computer, it's possible that it's interfering with The Witcher 3 and thereby causing the game to stop working unexpectedly. This usually happens if the antivirus software detects some security threats while running the game. To clear this out, try to disable the antivirus and then run the game. If the error does not occur while the antivirus is disabled, then that means you need to reconfigure the antivirus settings to set exceptions for The Witcher Hunt 3 to run and use system resources.
Hope this helps!
Relevant topics that you might want to read: