This post highlights a few potential solutions to a problem on Twitch Prime that won't enable on account. Read on to learn what to do if you're prompted with the "Oh no! We can't enable Twitch Prime on your account" error while attempting to sign into your Twitch Prime account.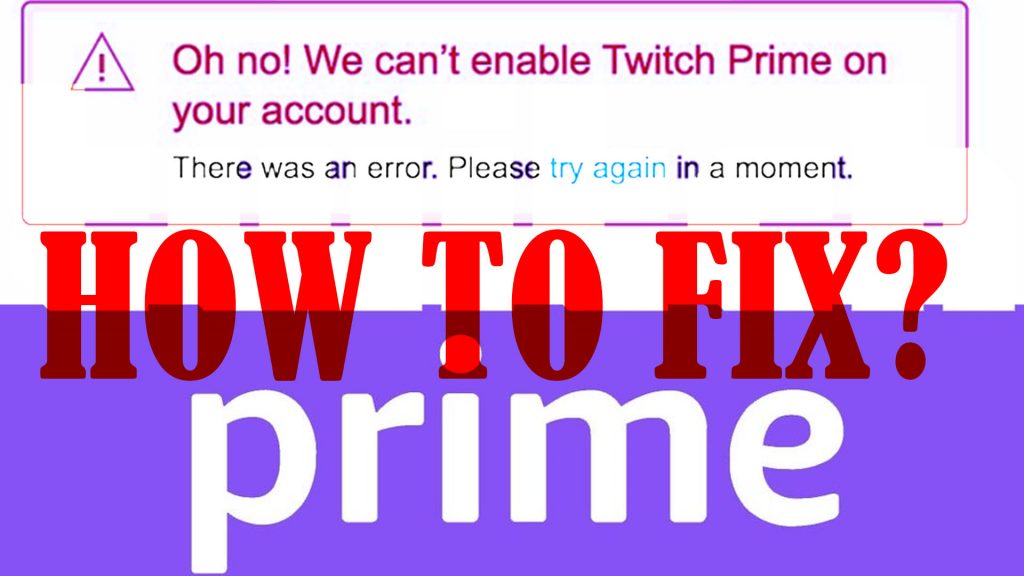 What is Twitch Prime?
As the name implies, Twitch Prime is a premium membership for prime member Twitch users. Becoming a Twitch prime member requires either an Amazon Prime or Prime Video subscription.
Once you become a member, you are entitled to access premium content that aren't accessible by common Twitch users, get free games, in-game content and subscriptions to your favorite channels for free. A special badge is also pinned to all of your chat messages as your Twitch Prime membership indicator. Majority of Twitch Prime members are gaming fanatics.
What causes the Twitch Prime account error?
The occurrence of this Twitch Prime error is often tied to an incorrect Amazon market in use, credit card issues like invalid card, outdated card details saved on the Amazon Prime record, and unspecified preferred payment method.
The "can't enable Twitch Prime on your account" error usually occurs among Amazon Prime members who are trying to sign into their Twitch Prime account from a different region, particularly those who are outside the US, Canada, Italy, France, Germany, Belgium, Austria, Spain, and the UK. However,Twitch Prime members who live in the said regions are no exceptions.
Troubleshooting Twitch Prime account error
The following solutions have been proven to work wonders when dealing with the same error on Twitch Prime.
First solution: Cancel Prime Membership Subscription
If you're living in any of the said countries or regions and you're getting the same Twitch Prime account error, then you should consider cancelling your current Prime membership beforehand.
How to Cancel Prime Membership Subscription?
The quickest and easiest way to cancel a Twitch Prime membership is through the Twitch app itself. Just follow these steps:
Launch the Twitch app on your device.
Log into your Twitch account.
Click on your profile icon and then click Settings from the menu options.
While on your Twitch account settings, open the Connections tab to view all your other accounts that are linked to your Twitch profile.
Click the Disable button before the Amazon connection box.
If prompted, click Confirm to confirm that you want to remove Amazon Prime from your Twitch account.
By then, your Twitch Prime membership will be cancelled or disabled.
Once you get the confirmation that your Prime membership has been cancelled, sign up for Prime Video again by going to the official PrimeVideo page. This time, be sure to select your region's marketplace.
Disable any auto-renew and/or cancel your membership in the incorrect region to avoid getting billed twice.
After signing up, navigate to the Amazon Twitch Prime page.
Select your region by tapping on your country's flag on this site.
Click the option to either Sign Up for Twitch Prime or Enable Twitch Prime.
Enter your login credentials, if prompted.
Once you've logged in, you can start claiming your Twitch Prime benefits. Just log into TwitchTV to proceed and then click on the crown in the upper-right corner.
Second solution: Verify/update your credit card information on Amazon Prime.
As mentioned earlier, incorrect credit card information is also among the underlying causes. To clear this out, go to your Amazon Prime account settings and double check your credit card information. Make sure every detail in the record is valid.
Aside from credit card details, also consider checking your preferred payment method for Amazon Prime and make sure that the same credit card is set.
After verifying credit card details and payment method, navigate to the Manage Your Content and Devices section and make sure that it's set to your country.
You have to note that the billing address on your credit card and the address, particularly the zip code on your Prime account must be exactly the same. If it isn't, then you will need to update your information.
Other Suggestions
Disabling Virtual Private Network connections on your device can also help fix relevant issues. If a VPN is enabled on your device, chances are that your IP address is disguised or not recognized when using the internet. To rule this out, disable it and see if that fixes the problem.
Also ensure that your credit card issues are not blocking temporary authorization transactions at the moment.
If none of that helps, then you should consider escalating the problem to the Amazon Twitch Prime Support team for further assistance.
Hope this helps!
Please visit our YouTube channel to view different troubleshooting and tutorial videos that might be helpful to you.
You Might Also Want To Read: