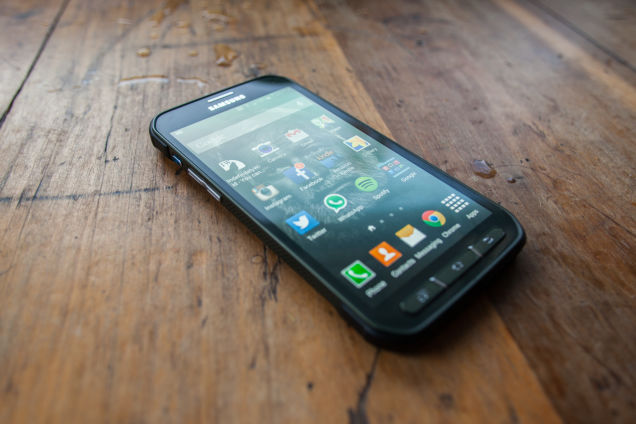 Hello everyone! Here are other #GalaxyS5 problems submitted by some users during the last few days. Don't forget to also visit this page for more S5 troubleshooting tips and solutions.
If you are looking for solutions to your own #Android issue, you can contact us by using the link provided at the bottom of this page, or you can install our free app from Google Play Store.
When describing your issue, please be as detailed as possible so we can easily pinpoint a relevant solution. If you can, kindly include the exact error messages you are getting to give us an idea where to start. If you have already tried some troubleshooting steps before emailing us, make sure to mention them so we can skip them in our answers.
---
Problem #1: Galaxy S5 screen has yellow-green tint and unresponsive
I woke up the other day and my phone was working fine.
I plugged it in to charge (factory charger), then quickly grabbed my phone to head out the door. Only to realize it didn't charge? As the phone was still black.
Later on I could hear my notifications, yet the screen was still black.
Removed the battery, and I had screen visibility again. HOWEVER my screen had a slight yellow-green tint to it and it was dimmer than usual, AND my screen is COMPLETELY unresponsive.
The screen dimmed and yellowed even more, to the point it is barely visible.
The power button does not turn off the phone, only removal of the battery.
I tried a soft reset as described on the site (removal of battery, hold the power button down for one minute, then replacing battery), and the brightness returned a little, yet the screen was still unresponsive and had an odd tint to it.
I tried to start the Android System Recovery mode to wipe Cache Partition and Reboot yet the screen was almost black and very hard to see, however after removing the battery and replacing several times I finally got some brightness again, followed the steps to wipe cache and reboot and still have response when I touch the screen.
And was greeted by the same text, Whatsapp and Gmail notifications as Ive seen for the past 2 days. Along with an "Unable to Download" error message (although I wonder if that is because I removed both SIM card and SD card for the above?)
I can use my S Voice and soft keys, volume buttons and that is it.
Im completely at a loss!
Help! — Aleashia
Solution: Hi Aleashia. Was your phone dropped or got wet before the screen problem occurred? If any of these two happened, there's high likelihood that the screen assembly got damaged. There is no software issue that we're aware of that can cause the problem you described here that's why the troubleshooting that you've tried did not change anything. Sometimes, exposure to direct sunlight for an extended period of time or any heat source can also cause damage to hardware components. To resolve the problem, you need to call Samsung for repair or have the device diagnosed and repaired by a qualified technician.
If your S5 is still covered by a manufacturer warranty, we highly recommend that you call Samsung first. Otherwise, any third party technician can take a look at it and possibly repair whatever the trouble is.
Problem #2: Galaxy S5 keeps saying it is on roaming mode
My mobile data suddenly stopped working. My S5 was working all the time then I bought a new phone, S5 Neo, and tested the SIM to S5 Neo. Mobile data was working on the new phone. I set up the new phone and chose Australia settings although I'm in UK because I will be sending the phone to Australia.
When I put back the SIMto my old S5, my mobile data won't work anymore and it's giving me error "Data Roaming. You have lost connectivity…"
It seems my phone S5 is now thinking that I'm on roaming and not in UK when I'm in fact in UK.  I only get this error when I'm outside UK where my network is based and it requires me to tick the roaming field.
I checked everything, APN etc, and they are all correct. I called customer service and their advice is to reset the phone to factory default. I don't want to do that so if you can assist that will be greatly appreciated.
You can reply on my facebook page. I already liked your page also:)
Thanks. — Bing
Solution: Hi Bing. If you inserted your SIM card (in the new phone) while setting it up, the situation may have sent a request to your wireless carrier that you are not in the UK because the phone's system is saying Australia. The first thing that you need to do is to ensure that such request is cancelled. Call your carrier again and check if their system shows that your account is not on roaming status. Doing so will prevent potential overcharges as well as fix the problem easily. This will also prevent you from doing a factory reset.
Problem #3: How to fix lag and slow performance issues on a Galaxy S5
No new apps, and I run a pretty clean phone- no games, minimal media, never multiple things running at once. Recently, my phone has been running super slowly — the keyboard is lagging when I type anything (especially in text messages), there are delays between screens, and everything is just sluggish.
I've wiped the cache partition, deleted non-essential apps, and cleared out photos and downloads. I don't keep music or videos on my phone, everything is in the cloud. I was using Swiftkey, but got rid of it- I thought that might be the problem, but the native keyboard is just as slow. I'm not sure what else I can do, save a hard reset, which I'm reluctant to do because of some voicemails I don't want to lose. I'm open to any advice you can give.  Thank you so much. — Jenn
Solution: Hi Jenn. Slow/unstable performance can be an indication of a software or hardware problem. To know which of these two is the problem, you must first try doing software troubleshooting. If the issue remains after doing all you can do in terms of software troubleshooting, you can assume that a hardware malfunction is to blame.
It's good to know that you've tried wiping the cache partition but another troubleshooting step that you can try is to restart the phone in safe mode. If a third party app is creating a conflict with other apps or the operating system, booting your S5 in safe mode is a good option.
Also known as diagnostic mode, safe mode prevents third party apps and services from running. If the issue fails to occur while safe mode is enabled, that's a clue that one of your apps is the culprit. If you haven't tried doing it in the past, simply follow these steps:
Turn the device off.
Press and hold the Power key.
When 'Samsung Galaxy S5′ appears on the screen, release the Power key.
Immediately after releasing the Power key, press and hold the Volume down key.
Continue to hold the Volume down key until the device finishes restarting.
Safe mode will display in the bottom left corner of the screen.
Release the Volume down key when you see Safe Mode.
If you continue to suffer lag while texting even when Safe mode is on, the next logical troubleshooting step is doing a master reset. Here's how:
Power down the Galaxy S5.
Press and hold the Volume up button, the Home button, and the Power button together until you see the Android on screen.
Use Volume down to highlight the wipe data/factory reset option and press the Power button to select it.
Use Volume down again to highlight Yes – delete all user data and press Power to select it.
Use the Power button to select Reboot system now.
When the S5 restarts it should be completely wiped and ready to set up again.
Once you've fully reset the phone, try to replicate the problem again. Make sure you don't install any app before testing how texting works. If the phone continues to show lag and/or slow performance issues, you can assume that a hardware error is causing them. A repair may or may not fix the issue depending on what component is not working properly.
Problem #4: Galaxy S5 won't connect to home Wi-Fi
Hello. I have been having wi-fi connection issues with my S4 since the beginning of time, but not until recently after upgrading my internet modem has it been unbearable. 
So my modem has a secured wi-fi (otherwise my HOME) and an open xfinity hotspot. The connection strength is equal on both, but for some reason my phone prefers the open xfinity to the Home wifi. Problem is that the open xfinity doesn't seem to work correctly on my phone — web pages wont load and connection timeouts. I've tried to "forget" this open wi-fi but it keeps connecting. How can I set my phone to be locked on my HOME wi-fi? Thanks for the help. — Kirby
Solution: Hi Kirby. First of all, make sure that you delete the phone's system cache. Temporary information and logs needed by the system to load apps are stored in the cache partition. Making sure that the cache partition is up-to-date may fix the issue easily. Here' how:
Turn the phone off.
Press and hold the following buttons together: Power, Volume Up and Home.
Release the buttons once the Android system recovery menu appears.
Use the Volume buttons to navigate to Wipe Cache Partition option.
Press the Power button to confirm selection.
Select Reboot System Now option after deleting the cache. Wait for the phone to reboot.
After wiping the cache, try to observe how your phone behaves when trying to connect to Wi-Fi again. If the same thing happens, consider doing a factory reset.
Problem #5: Galaxy S5 won't power on after charging
Hi. My phone died from drained power. So I put my phone on charge until it was 100% and when I turned my phone back on, a funny screen popped up saying something like "Android software update 11/12" and then my screen just went black.
I literally tried everything from reading other people's Issues and your solutions, even a factory reset that did not even want to work. So I have a screen of death and a phone of death.
The phone did not get any water damage or fell or any of that sort, it just stopped working.
Please help as soon as possible. I need my phone for work related issues and I can not afford to be offline. And since it is Sunday there won't be an open place who can help me.
Kind regards. — Anél
Solution: Hi Anél. As much as we would like to help you, our support for this type of problem is very limited, especially that your phone won't even power on. The most that you can do is to try booting it in other modes (like safe mode, recovery mode, download mode) so you'll know if it's still responsive. Otherwise, you have to have the battery or hardware checked.
Problem #6: Galaxy S5 camera won't focus properly
My camera alternates between not being able to focus on things that are far away and not being able to focus on things that are close. Its one or the other. Only sometimes, for a short period will it focus on things from both distances. I have already tried clearing the camera data and cachr and that didn't work. And I've put it in safe mode to see if it was from an app, but the problem still persisted. The only thing I haven't done is reset the whole phone, which I haven't done because I was hoping there is another option or way to fix it, as resetting it annoying. This problem had been on and off ever since I had this phone, for two months, and it's very inconvenient. — Lizzy
Solution: Hi Lizzy. The Galaxy S5's camera focusing mechanism is implemented by a combination of both hardware and software processes. Because there's no pinpoint way to know exactly what may be wrong, the general rule of thumb is to do software troubleshooting first. If the issue won't be fixed by basic software troubleshooting, then you can assume that the camera's hardware is problematic. Be sure to wipe the cache partition, boot the phone in safe mode, and do a factory reset.
If you think the problem is hardware-related, contact Samsung or your carrier for a replacement.
Samsung did admit before that a very limited number of early S5s had camera problems although they had already addressed the issue. It's still worth calling them though to see if there's something that they can do about your unit in particular.
---
Engage with us
If you are one of the users who encounters a problem with your device, let us know. We offer solutions for Android-related problems for free so if you have an issue with your Android device, simply fill in the short questionnaire in this link and we will try to publish our answers in the next posts. We cannot guarantee a quick response so if your issue is time sensitive, please find another way to resolve your problem. 
If you find this post helpful, please help us by spreading the word to your friends. TheDroidGuy has social network presence as well so you may want to interact with our community in our Facebook and Google+ pages.