Are you experiencing the Amazon Firestick optimizing system storage issue? There are several factors that can cause this problem ranging from not enough power, a software glitch, faulty HDMI port, or a damaged USB cable. In order to fix this you will need to perform several troubleshooting steps.
The Amazon Fire TV Stick is a media streaming device that allows your non-Smart TV to connect to the internet and access your favorite streaming platforms such as Netflix, Hulu, or Amazon Prime just to name a few. You just need to power the Fire Stick, connect it to the HDMI port of the TV, and have it access your internet connection in order to use it. If you are not keen on upgrading your TV just yet but want to enjoy streaming services then getting a Firestick device is the best option for you.
How do I get my Fire Stick out of boot loop?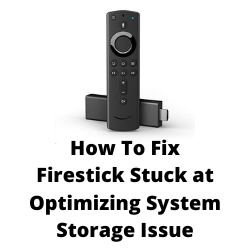 One of the issues that you might experience with your Fire Stick is when it is stuck in optimizing system storage and applications. When this occurs you won't be able to use the streaming device.
Here's what you need to do to fix this Fire Stick optimization loop issue.
Solution 1: Unplug Firestick
When you get the optimizing system storage message on your Fire TV the first thing you will have to do is to unplug the Fire Stick from the HDMI port and the USB cable. This will disconnect the Fire TV Stick from the TV and cut off its power supply. Wait for at least 5 minutes before plugging back the HDMI and USB.
What this does is it refreshes your Amazon Firestick software and remove any software glitches that could be causing the problem.
Unplug the Fire Stick from the HDMI port and remove USB cable as well.
Turn off the TV and then wait for 5 minutes until it became cool
Connect the Fire Stick to the HDMI port to the TV and connects Micro USB with a power adapter.
Turn on the TV and turn on the button for the Power adapter as well and wait until it boots.
Once boots are complete if you still see Optimizing Screen just wait for the 10 more minutes.
Try to check if the Fire Stick optimizing system storage and applications issue still occurs.
Solution 2: Try using a different HDMI port
Sometimes the problem can be caused by an issue with the HDMI port of your TV. If your TV has a different HDMI port then try connecting your Fire Stick device to this port. Remember to change the source using your TV remote or Firestick remote ( example from HDMI 1 to HDMI 2).
Make sure to plug Firestick straight to the HDMI port of the TV and not to an HDMI extender or HDMI switch.
Solution 3: Try using a different USB cable
One of the common reasons why you will get the Fire Stick optimizing system storage and applications message is because the Fire Stick is not getting enough power from its power supply. This could be due to a faulty USB cable which acts as the power cable or an issue with the power supply.
What you will want to do is to try using a different USB cable first. If you still get the same optimizing system storage and applications message then try using a different power adapter. If possible try using your Firestick's original power adapter as this will have the correct power output to drive the Fire Stick. If you can't get your hands on an original adapter then make sure that the one you will be using has an output of at least 1Amp.
Don't connect the USB cable to the USB port of your TV as this will usually only provide 500mA of power which isn't enough to drive the Fire Stick.
You should also make sure to connect the power adapter straight to the wall outlet instead of passing through a power strip.
Solution 4: Factory reset the Fire Stick
Sometimes the optimizing system storage and applications error is caused by your Firestick's firmware which has become corrupted. To fix this you will need to bring your Firestick device back to its factory defaults.
Factory reset process
On your Fire Stick remote, press and hold the back key and right navigation key for about 10-15 seconds or until the "Reset Factory Settings" confirmation box appears.
Click on Reset.
Wait for the reset process to complete.
Once your Fire Stick resets to its default factory settings, check if the optimizing system storage and applications error persists.
Solution 5: Contact Amazon support
If the above troubleshooting steps fails to fix the problem then this might already be caused by a hardware failure. If this is still under warranty then you can contact Amazon support to have your Firestick replaced or repaired.
Frequently Asked Questions
Why is there buffering when I watch shows using my Firestick?

The buffering you are experiencing is usually caused by a slow internet connection. Try checking the internet speed you are getting and if it is slow then you need to improve this.

What internet speed do I need for my Firestick device?

You will need at least 3Mbps speed for standard viewing while 5Mbps is needed for HD video streaming.

Why is there a sound delay on my Firestick?

To fix audio delays try restarting the Firestick device. If you're still having trouble, go to Settings > Display & Sounds > Audio > AV Sync Tuning.

Why is my Firestick remote not working?

One of the main causes of a remote control not working is weak batteries. Try to replace the battery then check if the issue still occurs.

What to do if my Amazon Fire TV is defective?

If it is still under warranty then you can contact the Amazon Firestick customer support team for assistance. The device will either be repaired or replaced.