Are you getting the Facebook content is not available error message? There are various factors that can cause this issue such as if you have been blocked by the person sharing the content, you are logged out of the Facebook app, or if the post had been deleted just to name a few. To fix this you will need to perform a series of troubleshooting steps.
Facebook is a popular social networking website that allows you to connect with your friends, family, and even people that you don't know. A Facebook user can post anything on their wall or like and comment on posts made by others. Initially stating as a school based social network in 2004, it now has nearly 3 billion users worldwide.
Facebook's Content Is Not Available Error message and What It Means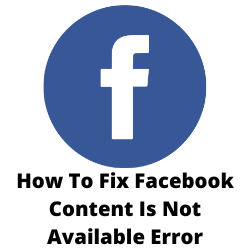 One of the Facebook error message that you might get is "content isn't available right now" or " sorry this content is not available". This can appear when you click on a new notification or open old notifications.
There are various reasons why this error message will appear. Here's what they usually mean.
Content isn't available : This could mean that the content has been deleted in Facebook or the URL has changed.
Content not found: This means that the link you are trying to open is wrong, invalid, or the media has been deleted.
This page isn't available: This mean that someone has deactivated or deleted their Facebook profile. It could also be caused by internet connectivity issues.
Solution 1: You have been blocked
One of the reasons why you will get this Facebook error is if you have been blocked by the person who is sharing the content. Take note that this will apply to old content that they shared to you before you were blocked as you won't get any notifications at all from the person once you have been blocked.
To know if you have been blocked by a particular person just open their Facebook page. If you are unable to open the user's profile then you are most likely blocked. However, if you are getting the "this page isn't available error" then you are not blocked as that person might have deactivated or deleted their Facebook profile.
In case you have been blocked then you can request the specific person to unblock you.
Solution 2: Content has been deleted
Another reason why you will be getting this Facebook error is if the Facebook post has been deleted or the link no longer exists.
If the original poster did not delete the content then it's likely that Facebook deleted it for a policy violation. The Facebook content violation team usually reviews reported posts for possible community guidelines violations and removes these posts.
Some of the most common reasons why posts will get taken down are as follows:
Hate speech or anything that threatens a person or calls for violence.
Anything that promotes or endorses a violent organization or organized crime.
Anything that promotes or glorifies violent crime, theft, and fraud.
Anything that promotes the sale or trafficking of regulated goods.
Anything that encourages or depicts graphically self-harm.
Anything that is an invasion of privacy, sharing confidential or personal information.
Solution 3: The post content has changed privacy settings
It's possible that the person changed the post's privacy settings. When sharing content in Facebook a person can set who can view the post by making it public or private. Some of the options available are Public, Friends, Friends except, Specific friends, Only me, or custom.
If the post has been shared to a private group and you are not included in this group then you can request the page admin to be a member of the Facebook group.
Solution 4: Location or age restrictions
One of the common causes of this content isn't available error message is if the person who shared the post decided to keep the content restricted to a specific age group or location. The person can place age restrictions if the topic is not suitable for kids. You can try changing your birth year in Facebook settings to get around this restriction.
Some companies place country restrictions in order to target ads to specific audiences. If the post has specific country restrictions then you should consider using a VPN to access the content.
Solution 5: Malware or bug intrusion
Several Facebook users have stated that they have experienced content isn't available error due to their computer being corrupted by malware. If such an error occurs then try running an antivirus scan on your computer to remove the malware.
Solution 6: Facebook server is down
It's possible that you are getting the content isn't available error because of site related issues. The Facebook server might be offline or there might be a Facebook issue that needs to be addressed.
You can try to check if there are issues by using a service called DownDetector that finds and reports site related issues.
Solution 7: Try logging in again to Facebook
Sometimes this content isn't available error is caused by a glitch which can be fixed by logging out and logging back in to your account.
Frequently Asked Questions
What Does It Mean On Facebook When It Says This Content Is Unavailable Right Now?

There are several reasons why this error message appears. The post might be deleted due to an inappropriate topic, it could be a spam post, or it might only be available to a specific Facebook group just to name a few.

What Does It Mean On Facebook When It Says Creating content with this name is not allowed?

It means that the name you chose is invalid or currently unavailable.

What Does It Mean On Facebook When It Says You're Blocked on that Facebook Group?

It means that you have been removed from a Facebook group and can no longer join back in unless the page admin adds you back.

Will I get the content isn't available error if a person blocked me?

If a person has blocked you then you won't be getting any new notifications from then therefore you will not be getting any new content isn't available error.

Can a person prevent me from seeing their posts?

If the person has not blocked you then they can still prevent you from seeing their posts by changing the privacy settings of the specific post.