This post will show  you how to configure the Galaxy Note 20 settings to make the videos better and more vivid. Read on to learn a simple way to enhance video quality on your new Samsung phablet.
Built-in Enhancer
Aside from third-party apps, recent Samsung devices like the new Galaxy Note phablet do have a built-in feature that can be used to improve media outputs . All you need is to enable the video enhancer settings on the phone.
Video enhancer is among the new advanced features that was introduced since the Android 7.0 Nougat beta build on the Galaxy S7 edge.
When enabled, the image and sound caliber of your media contents will be enhanced, allowing viewers to enjoy brighter and more vivid colors as well as clearer audio.
If you're wondering how to access and manage this feature on your new Note smartphone, then you can refer to this quick demo.
Steps to Enhance Video Quality on your Note 20
The following steps will prompt the new Note phablet to multimedia apps to enhance image outputs for better viewing. This method is likewise applicable when activating this media enhancer on other Samsung Galaxy devices that are running on the same Android version. Slight variations on the actual screens and menu items may be present though depending on the device's model and service provider.
1. To get started, swipe up from the bottom of the Home screen to access the Apps viewer.
On the Apps viewer, you will see different app icons that served as shortcut controls to built-in and downloaded applications.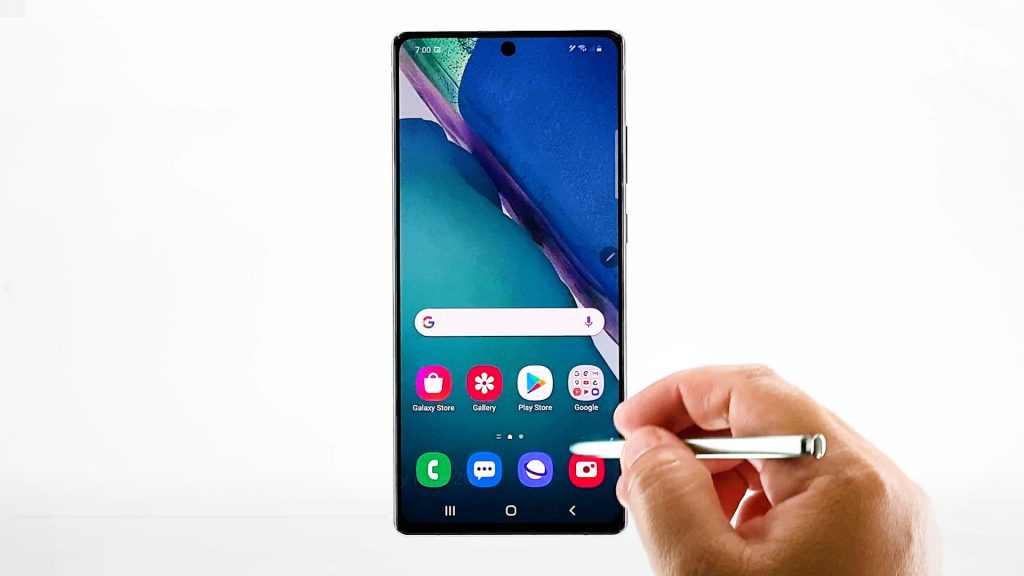 2. Tap the Settings icon to continue.
You will be routed to the main settings menu of your phone.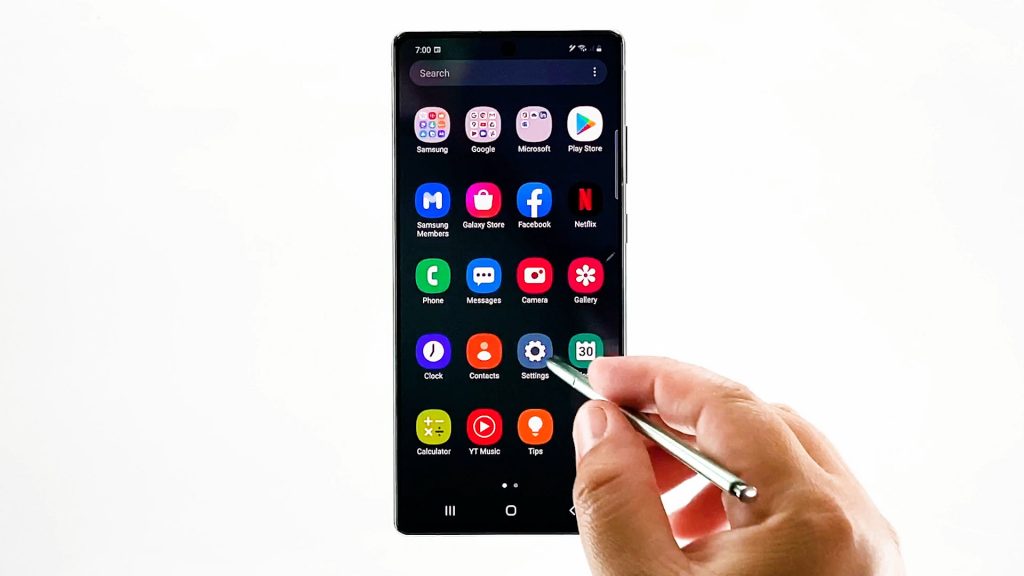 Here, you will see a list of all basic and advanced features you can manage and make use of.
3. Scroll down or up to view more items. Then, tap Advanced features.
Another window opens, highlighting the Advanced features of your device.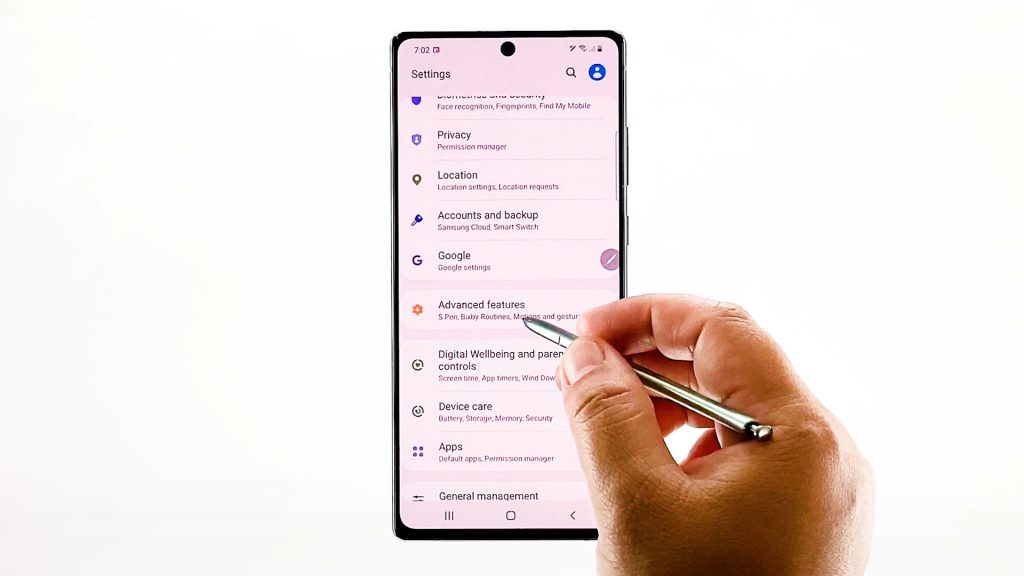 4. Scroll down and locate the Video enhancer feature and then toggle to turn on the switch next to it.
The status label beneath it will then switch to ON. This means that the image enhancer feature is already enabled and in effect.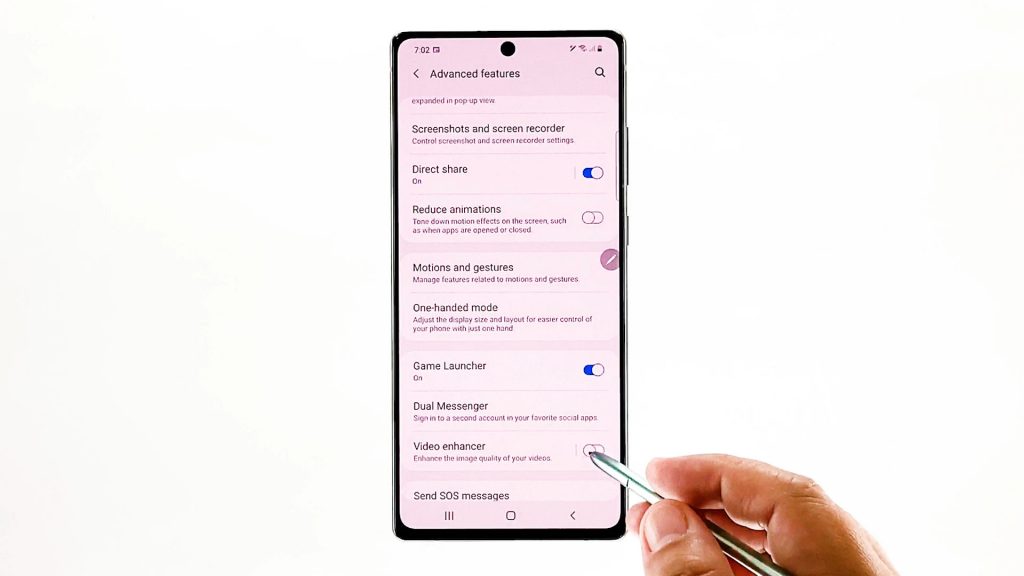 5. Tap Video enhancer to access its main menu.
On the next screen, you will see a list of relevant applications that utilize multimedia file enhancer. That said, the image status of the media files played through these apps is expected to have brighter and more vivid colors.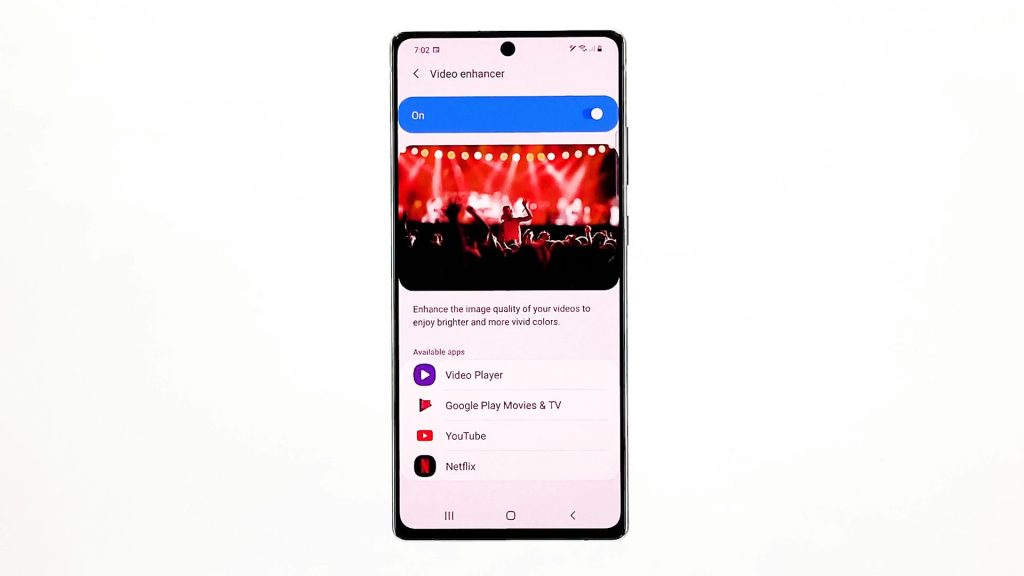 To see how it works, you can test play any video using any of the listed apps and see the result. If the actual video outputs are still not that good, then the problem could be isolated to a certain app in use. Should this be the case, updating the app could be the key to resolving the issue. App updates rolled out by software developers usually contain dedicated fix patches and program enhancements that are designed to make the app better.
Not satisfied with the Output?
Aside from installing app updates, installing the latest software version available for your phone is also recommended. Not only that software updates embed bug fixes, they also offer new features and system enhancements.
In the case where problems occur when playing multimedia content through a certain app and that app is up-to-date, corrupted temporary files that are cached in that app might be to blame. To deal with this problem, clearing the app's cache could do some wonders.
Also ensure that your device has fast and stable internet connection. The image status of multimedia files played on the device regardless of the app in use can also be directly inflicted by a poor internet connection.
Online streaming apps like YouTube typically require fast internet access to render multimedia content in full resolutions, especially HD and 4K contents.
For contents with a 4K resolution, the recommended sustained internet speed is 20Mbps. HD 1080p and HD720p resolutions would need 5Mbps.
Third-party Apps You can Use
Aside from enabling the built-in image enhancers, you can also improve your phone's video caliber using third-party video enhancer apps. Among the most popular and widely used apps for this purpose include Adobe Premiere Rush, GoPro App, KineMaster Pro, FilmoraGo, Power Director, Inshot and more.
These apps can be downloaded for free or via one-time charge.
Just pick the app that's compatible with your device. Be sure to review the system requirements to ensure software compatibility. To gauge the app's efficacy and credibility, check out what other people say about the app. Thus, reading prior reviews made by previous users of the can help.
More Video Tutorials
To view more comprehensive tutorials and troubleshooting clips on different mobile phones and tablets, feel free to visit The Droid Guy channel on YouTube anytime.
You might also want to read: