Is the Disney Plus app not working on your TCL TV? There are several factors that can cause this problem such as a poor internet connection, server outage, Disney Plus app glitch, or even an error on your TCL Roku TV. To fix this, you will need to perform several troubleshooting steps.
TCL is a Chinese company that develops and designs various consumer products ranging from air conditioners, washing machines, and television sets. The company however is best known for their various TV models as it has already become the second largest television manufacturer by market share. The company to offer their TCL TVs at low prices yet with several great features. Some of their TV models even offers QLED and Mini LED displays with Dolby Vision HDR and Dolby Atmos support.
Why does Disney Plus not work on my TCL TV?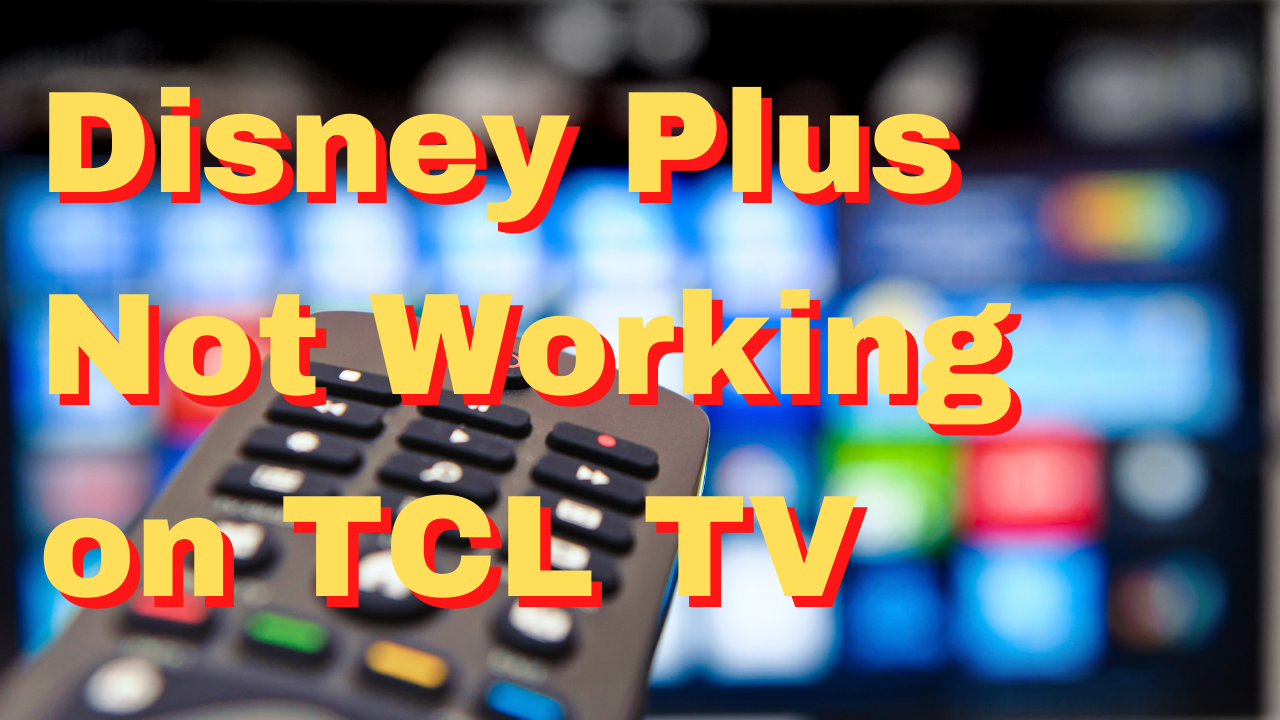 One of the issues that you might experience on your TCL TV is when the Disney Plus app does not work. The app might freeze, buffer, or stop working at all preventing you from accessing your favorite shows such as Star Wars, National Geographic, or the popular Marvel movies.
Here's what you can do to fix the Disney Plus app issue on TCL Roku TV device.
Solution 1: Perform a system restart on your TCL TV
One common cause of apps not working on a TV Roku device is a software glitch. A power reset or soft reset will usually fix issues caused by minor software glitches or bugs.
How to Restart Your Roku TV
Press on your remote control to open the main screen.
Scroll up or down and select Settings
Press the right arrow button and select System
Press the right arrow button and select Power
Press the right arrow button and select System Restart
Press the right arrow button and select Restart.
Another way to do this is to unplug the power cord of your Roku TV and wait about 60 seconds. Reconnect the power to your TV and make sure it's turned on.
Connect the TCL Roku TV to your WiFi network then check if this fix Disney Plus app issue.
Solution 2: Check the internet connection of your TCL Roku TV
The Disney Plus app will need an internet connection to work properly. If you have a slow internet speed or have internet connectivity issues then there's a possibility that the Disney Plus app will not work on your Roku device since this is a streaming app.
What you will want to do first is to check your internet connection speed.
Checking your internet speed
Open a browser on your Roku TV.
Go to speedtest.net. This is an online speed test tool that is free to use.
Click on Go. This will start the speed test.
In order for the Disney Plus app to stream content you should have a fast and stable connection. The results should match your subscription plan from your internet service provider.
The recommended speed to view shows on Disney Plus are as follows:
5.0 Mbps for High Definition content
25.0 Mbps for 4K UHD content
If you have a slow or no internet then you can check if this is caused by an issue with your Wi-Fi network.
Turn off your Roku TV.
Unplug your Modem and Router from the power source.
Wait for a minute then plug your modem and router back into the power source.
Wait until the lights turn back on.
Turn on the Roku TV.
Reconnect the Roku TV to the internet.
Try to check if the Disney Plus app now works.
Here's what you can do to get a stable internet signal.
Try to disconnect other devices connected to the Wi-Fi router while you use Disney Plus app. This will allow the Disney Plus app to use the maximum internet bandwidth.
Move the Roku TV closer to the router . This will allow the device to get a much stronger Wi-Fi signal strength.
If you have a dual band router try to connect the Roku device to the 5Ghz band instead of the 2.4.
Solution 3: Try to Reset the network connection
There are instances when a glitch in the network connection of your TCL TV will cause problems with your streaming channels . You should try resetting the network connection and check if this fixes the problem.
TCL TV network reset
Press Home home button on Roku TV remote control.
Scroll and select Settings
Select Advanced system settings
Select Network connection reset
Select Reset connection
Set up the WiFi network connection
Press Home home button on TCL Roku remote control.
Scroll and select Settings.
Select Network.
Select Set up connection.
Choose Wireless.
Select your network from the list of available networks. If you do not see your network, select Scan again to see all networks.
Enter your network password. To see the password as you type, choose Show password.
Select Connect.
Try checking if the Disney Plus channel is now working.
Solution 4: Check for Disney Plus streaming service outage
One way to fix Disney Plus not working issues is to check if there is a service outage. You can check the status of the Disney Plus server by going to a third party server checker such as DownDetector.
Another way to check for a server outage is by checking the social media accounts of Disney Plus such as Twitter. The company will usually post updates regarding any server issues.
If there is a reported outage then you will have to wait for this to be resolved.
Solution 5: Clear cache and data of the Disney Plus streaming app
There's a possibility that corrupted cached data in the Disney Plus app is causing the problem. To fix this you will need to clear Netflix cache.
Turn on your Android Powered TCL Smart TV.
Using the remote control select your profile icon on the Google TV home screen.
Choose the Settings menu.
Select the Apps option and then click on See all Apps.
You will be shown a list of all that are installed on your TCL Android Smart TV.
Select the Disney Plus app.
Select the Clear Cache option. This will clear the cache of the app.
After performing this step you will need to log in again to your Disney Plus account before you can use it.
Solution 6: Reinstall Disney Plus App
Roku device owners will usually experience Disney app issues if the app itself is corrupted. In order to fix this you will need to uninstall the app then install a fresh version.
Uninstall Disney Plus app
Press the Home button on your remote control.
Go to Settings on the home page of your TCL smart TV.
Select Apps under the device.
You can see all the downloaded apps, choose the one you want to delete.
Choose Uninstall to delete.
Install Disney Plus app
From the Android TV Home screen, navigate to Apps.
Select the Get more apps.
Browse or search for the Disney Plus app then select Install.
Press Open to launch the app.
Solution 7: Perform a software update on your TCL Smart TV
You should make sure that your TCL Roku streaming device has the latest software version installed as this will usually have several improvements as well as bug fixes that could fix the Netflix issue you are experiencing.
Updating TCL Android TV
Press the Home button on the TCL Android TV remote control to display the Home screen.
Use the navigation button to move the cursor to the Settings icon, located on the right top of the screen, then press OK
Scroll and select More Settings
Scroll and select Device Preferences
Scroll and select About
Scroll and select System Update
The Software Update pop-up box will display, select Network Update
The TV will search for an available software update, once prompted, click OK to confirm.
Update TCL Google TV
Press the Settings button on the TCL Google TV remote.
Select the Settings options in the panel.
Navigate to System > About > System update.
Select the Network Update option on the dialog that appears.
If an update is available, the TV will display a Software Update message box. Follow the onscreen instructions to download and install the latest updates.
Once the latest software is successfully installed, your TCL TV will automatically restart.
Solution 8: Check for geo-restrictions
The Disney Plus streaming service is only available in certain countries such as the United States, Netherlands, Canada, and the UK. It will however expand to more countries soon.
Solution 9: Perform a factory reset on your TCL TV
If after performing the troubleshooting steps listed above the TV still is experiencing issues connecting to wireless networks then you should consider doing a factory reset.
Factory Reset TCL TV
Press Home on your remote to open the main screen.
Scroll down and select Settings
Press the right arrow button, scroll and select System.
Press the right arrow button, scroll and select Advanced system settings.
Press the right arrow button, scroll and select Factory reset.
Press the right arrow button, scroll and select Factory reset everything.
To proceed with the full factory reset, enter the code listed on the screen and select OK.
Frequently Asked Questions
Why do my streaming apps buffer when I play a movie?

A buffering show is most likely caused by a slow internet connection. Try restarting the router and your TV then check if the issue still occurs.

How to Remove Streaming Channels on TCL TV?

Press the Home button on your TCL Roku remote to open the main screen.
Scroll to the right, navigate the screen and highlight the channel you want to remove or delete .
Press the to display options menu.
Scroll down and highlight Remove Channel.

I'm getting an error code 012 on my Roku TV.

You will get this error if the TV is connected using an ethernet cord to the router. Confirm that you Ethernet cable is securely connected to your TV and router. If possible, try a different Ethernet cable. If the cable if good, restart both your wireless router and TV.

I'm getting an error code 018 on my Roku device.

You will get this error if internet bandwidth is poor. If you are subscribed to a slow internet speed plan then consider upgrading your internet connection to a faster one.

How to use a wired connection on TCL TV?

At the back of your TCL Roku TV, locate the Ethernet port.
Connect an Ethernet cable coming from your router or modem to the TV
Press the Home button on the TV remote control.
Scroll down and select Settings
Press the right arrow button and select Network
Press the right arrow button and select Wired (Ethernet)
The TV will then verify connectivity to your local network and the Internet.